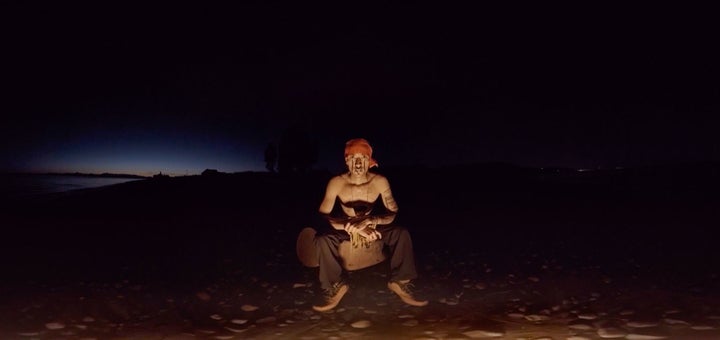 Nahaan in Ch'aak S'aagi aka Eagle Bone directed by Tracy Rector
While Hollywood struggles to make excuses for its embarrassing track record on women, Seattle's film scene continues to be led by talented female filmmakers. Two of these women, producers Lacey Leavitt and Mischa Jakupcak are aiming to build the world's leading creator of VR content. Over a period of just a few months their company Mechanical Dreams VR - housed by the University of Washington and the start-up incubator CoMotion - is producing over half a dozen projects as ambitious as they are varied.
First there was Eagle Bone - a kind of docu-poem by indigenous filmmaker-activist, Tracy Rector, which recently screened at the Toronto International Film Festival. Using VR format to its full advantage, Eagle Bone is a lyrical, visually mesmerizing contemplation on indigenous identity, heritage and our relationship to nature. On the other end of the genre spectrum is Power by indy maverick Lynn Shelton and featuring a genius performance by Cherdonna Shinatra. The cerebral and quirky comedy explores issues of access, gender-as-drag and the uneasy dynamic between an artist and a patron. Dacia Saenz' Experience Pride teleports the viewer into the midst of crowded Pride celebrations - an experience that promises to be overwhelmingly affirming, joyous and possibly life-saving for LGBT youth and adults for whom attending real Pride may not be an option. Joe Jacobs-directed immersive horror short Arcadia Flats cleverly uses 360 technology to reinvent the werewolf genre. Other projects include a dream-like drama Slow Moving Houses, Cory McAbee's music video Fake Mercy and a documentary about a black dominatrix by queer African filmmaker, Netsanet Tijrongo.
Clockwise from the top, Mechanical Dreams VR are Mischa Jakupcak, Lacey Leavitt, Joe Jacobs, Chris Mosson, Mara Auster
In the burgeoning landscape of VR entertainment, there are a couple of things that make Jakupcak and Leavitt stand out. One is their scrappy resourcefulness. When Eagle Bone was selected to play at the Toronto International Film Festival, it was one of only 5 VR shorts chosen by the festival. The other Toronto selections cost millions dollar to make, but Eagle Bone was made on a tiny budget with in kind donations, without compromising the film's stunning visuals.
Also setting Mechanical Dreams apart is their unwavering focus on underrepresented voices. Mara Auster, another Mechanical Dreams producer, explained: "It's no secret that both the film and tech worlds are dominated by one demographic. In VR, we are at the beginning of something new and that gives us an opportunity to break with convention. We have the chance to start fresh and build an inclusive and diverse industry of both storytellers and tech innovators." Indeed, Leavitt and Jakupcak made it their mission to make sure that the emerging field of VR doesn't replicate the status quo of the traditional film industry but becomes a reflection of a diverse world where women and minorities get to tell their own stories.
Ch'aak S'aagi aka Eagle Bone
Writer, filmmaker and game designer, Daryle Conners, is working with Mechanical Dreams and CB Shamah on producing Cory McAbee's Fake Mercy. Conners, who also designs VR games for Virtual Therapeutics, praised the VR's unique potential for affecting change: "They call VR the empathy tool - and I've seen that with my own eyes - people watching immersive VR documentaries and weeping, or stretching their hand out to help someone in the video. It's an indescribable experience. The immersive experience is incredibly powerful. It can entertain us, but also teach us, train us, move our minds, and give us a totally new perspective. The reason that it is so powerful is that it takes advantage of our spacial memory, which is our most potent and enduring kind of memory. It is also experiential, rather than observational, so you learn much more quickly. It's like the difference between reading a recipe for a cake, watching a cooking show where someone makes a cake, being in the room with your mother as she makes a cake, or making a cake yourself. Those are all different degrees of learning, but making the cake yourself is by far the most memorable and effective way to learn how."
For the filmmakers themselves working in VR offers exciting creative challenges. "I come from an editing background, so for me the biggest challenge in working with VR was the lack of control that I usually find within the edit room. I therefore used this project as an opportunity to push myself outside of my comfort zone and give a level of freedom to my performers (and to the audience) that I'm not usually used to when I'm working in the realm of cinema and television," says Lynn Shelton. Shelton previously directed indy hits Humpday and Your Sister's Sister as well as episodes of Mad Men, Fresh Off The Boat and Master of None.
To find out more about Mechanical Dreams productions and support their work, click HERE
Popular in the Community