Father and son documentary filmmakers Gerald and Adam Krell have spent the last decade chronicling faith in America. Their work has earned them national acclaim, and their empathetic approach has helped to cast even the most sensitive issues in a humanizing way.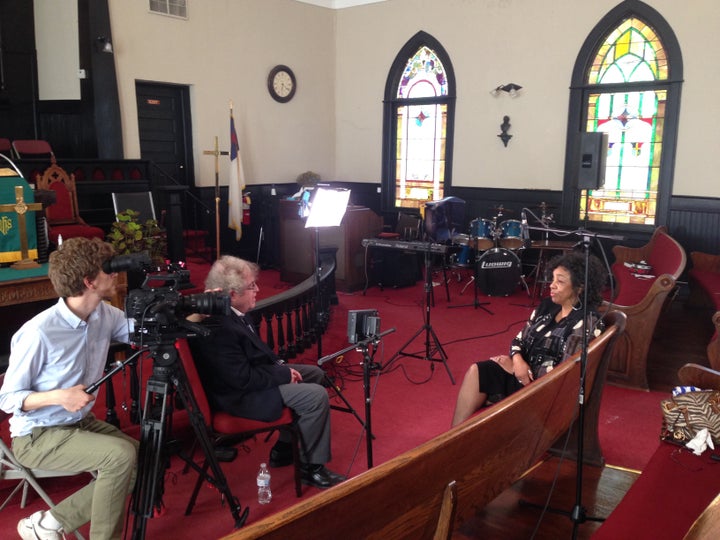 But in their latest work, Your Health: A Sacred Matter, the Krells took on a subject that is as intimate as spirituality. In doing so, they have brought to light the history of how faith and health have been intertwined for centuries, and why this is such a complex and deeply personal issue.
"I think that as filmmakers, as we found this vein of documentary filmmaking connected with spirituality and religion, it just seemed like a natural progression," said Adam Krell. "Health, on its own, can be seen as a religion. Health is so closely linked to our lives, just as religion is."
The Krells, in addition to filmmaking partner Meyer Odze, spent more than 10 years raising the money to film the documentary. What made the project even more personal was that Odze passed away right before filming began. Both Gerald and Adam Krell recalled visiting Odze in the hospital as he was being treated for prostate cancer.
"[His death was an] added layer of meaning for this project," Adam Krell said. "His spirit was there with us in making the film."
Your Health: A Sacred Matter deftly weaves through personal stories of patients and providers on what faith means in modern healthcare. Some of the anecdotes include faith leaders, doctors, and patients suffering long term illnesses. One interviewee, who suffered brain damage, was "able to understand that the love of her family kept her alive," Adam Krell noted.
"Every time that scene played, I was really moved to tears," added Gerald Krell. "Being in very sensitive situations, and being involved in people's lives was a privilege."
The film's underlying premise, through the voices of its subjects, is that spirituality and healthcare were at one time intertwined, often in the most intimate of ways. However, as Gerald Krell notes, Western medicine moved away from that connection while Eastern medicine remained tied to spirituality as an important factor in holistic healthcare.
"In Asian religions, the mind-body connection is more accepted," said Adam Krell. "Only now in the West, there is a more openness to a holistic approach.
The documentary also features insights from Dr. Siva Subramanian, one of the nation's top pediatricians and a renowned Hindu American leader. Subramanian, a co-founder of the Sri Siva Vishnu Temple in Lanham, Md., said the film can play a critical role in erasing misconceptions about the supposed incompatibility between religion and medicine. He noted that the Krells themselves were surprised.
"When Jerry started doing this film, he associated doctors with no religion," Subramanian said. "I think he started seeing the connections between what we do and matters of mind and body."
As a result of input from Subramanian, Gerald Krell said he gained new insights on the problematic framing of Western medicine, and why it is important to look at the global history of medicine and religion. Krell noted that the ancient Hindu-rooted practice of Ayurveda is now becoming more popular in the West, but that its importance stretches thousands of years.
"The kind of sophistication Ayurvedic medicine was dealing with back then is remarkable," Krell said.
As the filmmakers conducted their interviews, they came to understand the inextricable links between healthcare and matters of the mind and soul. Adam Krell noted that the film informed his own views on healthcare.
"I see it as a positive," he said of his experience. "If this documentary helps to make people a little more aware of the spiritual roots of medicine, they might be more open to talking to their doctors."
Subramanian agreed, noting that the medical field has transformed the way it views spirituality.
"If you had asked the same question to me 20 years ago, I would have said absolutely not," he said. "With now so many people in the field now looking at the holistic methods, I think this is where medicine is going."
The Krells plan on reaching out to more universities to show the film to aspiring healthcare professionals to highlight how a "new" trend in Western medicine isn't so new after all.
"There's a movement within medicine to bring doctors back to their core values," Adam Krell said.
There will be a screening and panel for Your Health: A Sacred Matter at 6:30 p.m. on May 23 at the National Press Club in Washington, DC. For more information about the movie, please visit https://yourhealthasacredmatter.com/
Popular in the Community