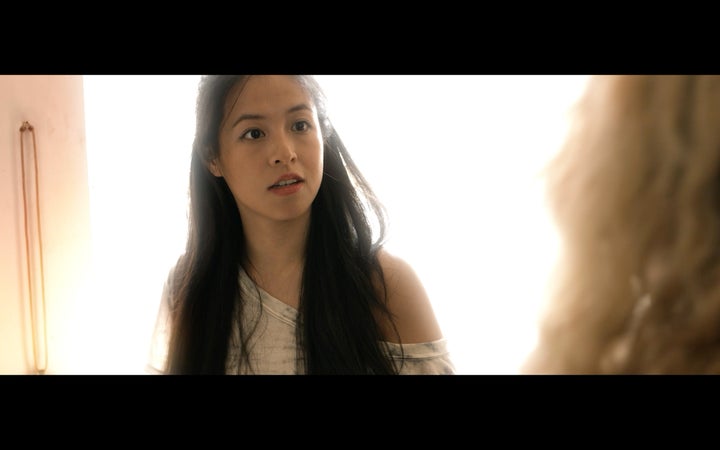 In a career of 50-plus years as actress, journalist and biographer, there has been no role more fulfilling to me than serving as a mentor to gifted young artists. Especially as head of the Playwrights-Directors Unit at the Actors Studio for three years, where I was able to nurture many new talents and guide their innovative projects into being. To this day, I feel most inspired when surrounded by burgeoning creative minds with huge ambitions and potential.
That's exactly how I felt seeing the diverse collection of young visionaries gathered on the Lower East Side last week for the inaugural Third Eye Film Festival (TEFF). TEFF founders Darian Brenner and Namrata Desai — award-winning filmmakers in their own right — curated a three-night program at the historic Howl! Happening gallery to celebrate horror, fantasy and spiritual works, most with female directors and producers at the helm. Gore and darkness abounded, like in Eugenie Muggleton's dystopian fable Twenty Forty-Three, an Australian short earlier shown at Cannes. But there were also mystical tales with strange beauty weaving among the terror, such as Michelle Sutherland's I Like It Better When You Do It, where innocent sexting quickly leads to a life-or-death power struggle. Not surprisingly, Sutherland (the noted artistic director of the experimental collective Theater Plastique) took home an award for Best Visionary Film.
Each offering left its unique impression, but I couldn't stop thinking about In the Cards (A Very Dramatic Film), a 3-minute short about reading Tarot. It tells the suspenseful yet tongue-in-cheek story of a woman whose relationship woes guide her toward a psychic and a mysterious talisman; things soon take a destructive turn. I had seen the film online already during the summer, as part of the NBC/Comcast-sponsored competition "Interpretations," which dared filmmakers to create a narrative around four disparate lines of dialogue by Tony-winning playwright David Henry Hwang. But watching In the Cards on the big screen, surrounded by audiences who cheered and roared with laughter its whole running time, was something else. I marveled at the short's ability to captivate people — even so briefly.
I wanted to learn more about its backstory, so I met with the film's director and star, Kalista Tazlin. Tinier than she appears onscreen, Tazlin is nevertheless a dynamo, enthusiastic energy burning in her dark eyes. She likes to call herself "a citizen of the world" — born in Indonesia, educated in London and Paris, always restless for new adventures — and says that making In the Cards was a personal challenge.
"The world is not enough," she laughs. "And no, I'm not talking about the James Bond film. I'm open and curious about spiritual journeys. Tarot is something I never really understood until I made In the Cards. And of course we had to kick it up a crazy notch here because it's a funny, scary little movie, but this can really teach people about what it is. It taught me a lot. We were super authentic in keeping to which card meant what."
Tazlin is a stickler for authenticity. Like me, she's a student of The Method, having graduated from the Lee Strasberg Theatre and Film Institute last year. And she's had plenty of opportunity to use her life experiences in her acting – her role as boarding school student Lark Ohta in Investigation Discovery Channel's A Crime to Remember, for instance, or her French-speaking bad girl in the short Untouched, which placed in a top slot at the Asian American International Film Festival and aired on the TV series Film Lab Presents. But her performance for In the Cards was something different.
"We wanted it to be a parody of the genre," Tazlin says. "I'm a bit macabre, always writing about characters that die, while my producing partner has a real knack for writing love scenes. The story was actually meant to be the pilot for a webseries, but we realized it could fit very well into [NBC/Comcast's] four-line experiment, and we wanted to have fun with it."
The final product is rapid-paced fun. I'm particularly fascinated by how Tazlin and her crew managed to build a complete beginning, middle, and end structure into just three minutes. In fact, In the Cards has myriad elements to recommend it — sensuous lighting and composition, eerie music, and a wonderful car crash scene that proves the talents of cinematographer Andre Bonk, sound mixer Kym Lukacs, and editor Timmy Beckmann (all of them under age 25). This is a fine example of filmmaking for a new era, and the subsequent webseries could be even more so.
"Sometimes through fantasy you find something very close to yourself," Tazlin explains. "My partner told me about the concept of Otherkin, people who don't really see themselves as human beings but feel that they're another species – a dog or other animal, even a witch or a mermaid. And I thought that's so current. I have transgender friends who are going through changes now, and even if you're not transgender, everyone has days where they don't accept themselves. I don't usually like to give messages in art, but with this project I want to help people see the world in a different way."
That's what the Third Eye Film Festival as a whole is achieving: grand experiments with fresh perspectives — art that's sorely needed in today's unpredictable climate. And although I didn't mentor Tazlin or any of the other bright minds who shared their work that weekend, I came away from the program rejuvenated. Life often imitates art, and as we head into the next phase of the world, it's understandable that artists want to embrace alternate dimensions and genres to make sense of it all. If they continue to approach it with the same earnestness as Tazlin, Brenner, Desai and their colleagues, then our future's in better hands than we think.
Popular in the Community