"If the adults don't do enough, we have to do it because we will live on earth for another 80 or 90 years and our children will live even longer." These are the words of 11-year-old Felix Finkbeiner, who initiated a campaign to plant more than one billion trees around the world to fight global warming. Felix is one of the many young people featured in the Young Voices for the Planet film series, which shows how youth are combating climate change by developing their own successful CO2 reduction projects.
The positive environmental stories in the Young Voices for the Planet films present a stark contrast to the recent grim reports on the worldwide effects of global warming issued by the United Nations Intergovernmental Panel on Climate Change (IPCC). The IPCC states that climate change will adversely affect the environment, increase poverty levels, slow down economic growth, exacerbate health problems, reduce access to food and lead to more violent conflicts. The latest report notes that as greenhouse gas emission levels continue to rise at ever-increasing rates, international cooperation is required in order to mitigate global warming.
The young environmental activists in the Young Voices for the Planet films are not waiting for political leaders to move collectively to reduce global warming. They are busy working on their own solutions to fight climate change. Among the young people featured in the nine films are:
Four Miami middle school students who conduct an energy audit and save their school $53,000 in energy bills, while reducing carbon emissions
Eleven-year-old Olivia Bouler, who raises $200,000 for bird rescue efforts after the BP oil spill in the Gulf of Mexico and lobbies her congressmen to support renewable energy
Massachusetts high school students who, despite numerous obstacles, shrink the carbon footprint of their cafeteria fare by changing from processed to locally-grown food
The short documentary films are produced by Lynne Cherry, director of the Washington, D.C.-based non-profit organization Young Voices on Climate Change. Over the past 30 years, during her visits to schools as a children's book author and illustrator, Cherry realized that messages of gloom and doom elicited reactions of fear, hopelessness and denial. However, true stories about children taking action to protect the environment motivated kids to try to make a difference. Cherry decided to use the power of positive storytelling as an antidote to fear and a catalyst for change.
Worldwide screenings of the Young Voices for the Planet films have sparked action. After watching the films, for example, nine-year-old Alice Van Evera started a club called "Save Tomorrow," which overturned a ban prohibiting solar panels on town buildings in Lexington, Massachusetts.
Other young people have encouraged their parents to reduce their CO2 emissions, thereby reducing their electric bills at home and work. One girl's father traded out air conditioners in office buildings he owned for Energy Star units and saved thousands of dollars.
Cherry says, "The logic in taking a positive approach is gaining currency among educators, scientists, organizations, government agencies and institutions that had focused on tactics that alarmed, discouraged and fundamentally turned people off."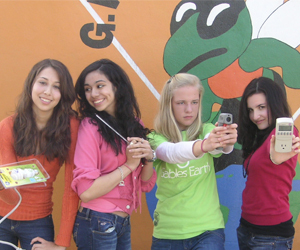 Young Voices on Climate Change has forged partnerships with numerous groups that share the films' messages through their Web sites and social media sites. The documentaries have been screened throughout the world at film festivals, educational and scientific conferences, schools, climate change workshops and many other venues. Cherry recently co-authored a companion teacher guide, Empowering Young Voices for the Planet, which helps educators teach students the science of climate change by featuring the films' youth success stories and offering practical tips on how students can develop carbon-reduction emissions projects relevant to their own communities.
Cherry's current Young Voices for the Planet film is near completion. We Sing Out! features the Rivertown Kids chorus (based in Beacon, New York), singing with folk icon Pete Seeger about their vision of a sustainable world.
As political leaders and policymakers around the world grapple with the severe impacts of global warming, Lynne Cherry hopes that by championing youth solutions to climate change, young people and adults will be inspired to fight global warming in their own towns and cities, thus helping change the course of this looming crisis.
Related
Popular in the Community