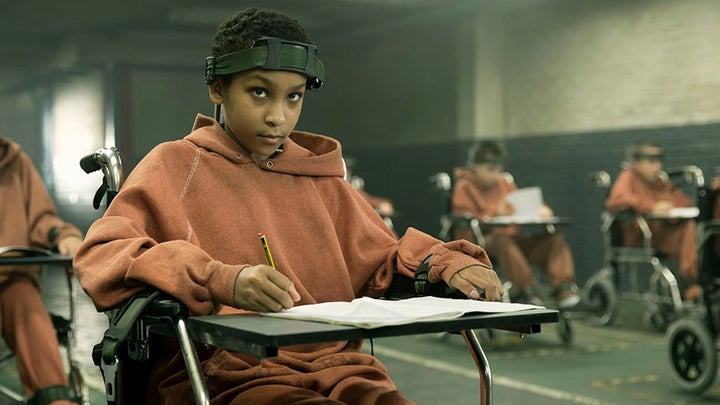 Seeing activists like Tarana Burke, Ai-jen Poo, and Rosa Clemente given a platform at the Golden Globes was a welcome change, but much more needs to be done to change who is given the resources of Hollywood to tell their stories. As Girls Trip star Tiffany Haddish said at the recent New York Film Critics Circle Awards, "There's so many people like me that you guys have no clue about. But they're coming. Because I kicked the fucking door open."
Below are the top ten films of 2018 (plus a few more), for those who want to support a more conscious cinema.
2017 was the 25th anniversary of the LA Uprising, and two new films looked back at the events of those days in April 1992, and the events that preceded it. Daniel Lindsay and T. J. Martin's LA 92, which is made up entirely of archival footage from the time, is the better of the two films, immersing the viewer in the moment and the historical context without narration or explanatory interviews. John Ridley's Let It Fall: Los Angeles 1982-1992, which uses much of the same footage, is too dependent on present-day interviews, including many with LA police officers depicted as heroes.
The Movement for Black Lives is a presence in several other 2017 films, including Peter Nicks' The Force, which looks inside the Oakland Police Department as it claims to pursue reform from inside. Jacqueline Gares' Free CeCe profiles CeCe McDonald, who became a criminal justice activist and abolitionist after being targeted by police when she defended herself against anti-trans violence. Yance Ford's Strong Island is a deeply personal film about a family member killed by racist violence, and the indifference and inaction of the Long island criminal justice system. Matt Ruskin's Crown Heights dramatizes the twenty-year struggle to free Colin Warner, a young Black man wrongfully convicted of a murder, starring the always-excellent Lakeith Stanfield. Dee Rees' historical epic Mudbound tells a story of systemic racism and violence in the 1940's.
Other notable films that nearly made this year's list include Graduation, a film by Romanian director Cristian Mungiu, who directed 2007's excellent 4 Months, 3 Weeks and 2 Days, and 2012's devastating Beyond the Hills. His latest drama demonstrates how a corrupt system compromises the lives of everyone living in it. Taylor Sheridan has built a career on writing thrillers that have ideas behind them, like the class politics in 2016's Hell or High Water. His directorial debut, Wind River, is a brutal but flawed thriller that also shows the continued violence and dehumanization perpetrated against Native communities. Doug Liman makes entertaining Hollywood films with a social conscience and his American Made is a sly comedy/thriller about Barry Seal and other CIA contractors involved in providing arms to the Contras and bringing cocaine to the US. Macon Blair's I Don't Feel at Home in This World Anymore is an unpredictable working class thriller from the producer of Blue Ruin and Green Room. Trey Edward Shults' It Comes At Night is solid, creepy, horror. David Lowery's A Ghost Story finds a new way to convey longing and loss. Eliza Hittman's Beach Rats is a gay coming of age story set in working class Brooklyn.
And now the ten best films of 2018:
10) Colossal - Nacho Vigalondo's Colossal explores trauma and toxic masculinity through the unique story of a woman (played by Anne Hathaway) and a Godzilla-esque monster.
9) Girls Trip – This summer hit was in some ways a typical Hollywood comedy about adults on vacation getting drunk and into trouble, a story that's been told from The Hangover to Bridesmaids. But Malcolm D. Lee's Girls Trip is not only one of a very small group of films in the entire history of Hollywood to star four Black women, it also features a hilarious, unforgettable performance by Tiffany Haddish, who rightfully became the breakout star of 2017.
8) Whose Streets - Sabaah Folayan and Damon Davis came to the protests in Ferguson, MO as activists and filmmakers. Davis is from St Louis, Folayan is from South Central LA, and was an organizer of the response to the killing of Eric Garner in New York. Their documentary from the streets and the homes of activists is one of the best films to be made about the Black Lives Matter movement.
7) The Girl With All The Gifts – Zombie movies are often read as social commentary, from the anti-consumerist message of Dawn of the Dead, to the anti-corporate themes of Resident Evil, and militarism and sexual violence in 28 Days Later. The Girl With All The Gifts has been praised as an Afro-Pessimism horror film, a response to the Trump era, and a nightmare for white supremacy. Whether or not director Colm McCarthy (who also directed the Black Museum episode of Black Mirror) meant for all the subtext that has been read into it, the film is not a typical horror film.
6) I, Daniel Blake – British socialist Ken Loach has dedicated his film career to the struggles of the working class. His latest feature shows the devastating effects of bureaucracy and a crumbling safety net, focusing on a widowed older man and a young single mother. While specific to current UK policies, the film is sadly relevant nearly everywhere.
5) Okja – Bong Joon Ho's Okja is not only the best film ever made about animal rights, it's also a genuinely original, charming, and quirky film, anchored by excellent performances from Tilda Swinton, An Seo-hyun, and Paul Dano.
4) Roman J Israel, Esq – Generally, any film starring Denzel Washington receives at least some award-season hype, and director Dan Gilroy became a critic's darling with 2014's Nightcrawler. But, perhaps because of its clunky title, Roman J Israel, Esq., has mostly been left out of critic's best-of lists. That's a shame, because the film features one of Washington's best recent performances, as a revolutionary 70's civil rights attorney left adrift in today's world. It's also the most complicated and moving film ever made about activist lawyering.
3) BPM (Beats Per Minute) - Robin Campillo's historical drama about activists in the Paris chapter of ACT-UP captures not just the excitement of direct action and queer sex in the early 90s, but also the drama that rises in activist meetings and political conflicts within movements.
2) The Florida Project – Sean Baker's 2015 Tangerine was a moving and empathic film about Black trans women sex workers in Los Angeles, and one of the rare films to feature trans women in the cast. His new film is a powerful story about growing up in deep poverty in the shadow of Disney World, and the everyday hustles to survive.
1) Get Out – Jordan Peele's brilliant directorial debut is more than one of the highest grossing films of the year. It's an entertaining, crowd-pleasing, funny and horrifying, deeply layered pop phenomenon that has introduced new phrases and references to our ways of describing racism and microagressions. People will still be quoting this film decades from now.
Popular in the Community