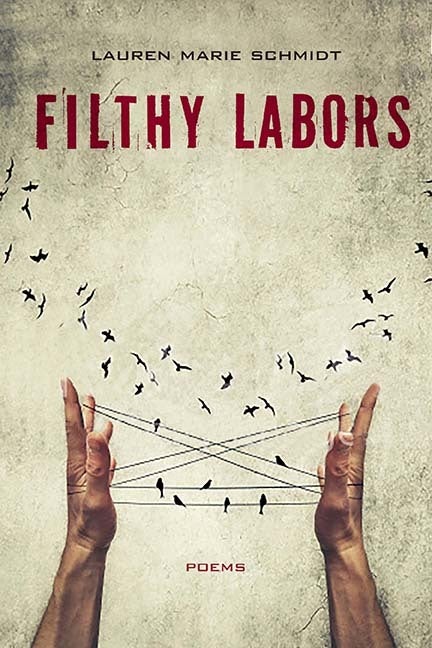 Lauren Marie Schmidt is the author of three other collections of poetry: Two Black Eyes and a Patch of Hair Missing; The Voodoo Doll Parade, selected for the Main Street Rag Author's Choice Chapbook Series; and Psalms of the Dining Room, a sequence of poems about Schmidt's volunteer experience at a soup kitchen in Eugene, Oregon. Her work has appeared in journals such as North American Review, Alaska Quarterly Review, Rattle, Nimrod, Painted Bride Quarterly, PANK, New York Quarterly, Bellevue Literary Review, and The Progressive, among others. Her awards include the So to Speak Poetry Prize, the Neil Postman Award for Metaphor, the Janet B. McCabe Poetry Prize, and the Bellevue Literary Review' s Marica and Jan Vilcek Prize for Poetry.
Loren Kleinman (LK): Talk about the story behind your latest poetry collection Filthy Labors.
Lauren Marie Schmidt (LMS): Like my first full-length collection, Psalms of The Dining Room, at the heart of Filthy Labors is a sequence of poems about my volunteer work with homeless populations in my community. In Filthy Labors, I wrote about me experiences at a transitional housing program for homeless mothers and children in Monmouth County, where I lived for about three years. Since I was new to the area, I wanted to find some community service work to do while working and going to school. I came upon a program that welcomed people from the community to bring to the women any variety of skills. (Some people taught cooking class or meditation while other volunteers taught resume writing, and time management workshops, etc.) As a long-time teacher, I thought I could make an impact that way, and pitched the idea to the volunteer coordinator, a lovely woman who was excited by the prospect of me visiting every week.
My service there lasted more than two years, and in that time---while sharing poetry and giving the women writing prompts and even bringing in other writers to read their own work---I began writing about my experiences teaching and learning from these remarkable young women, whose stories are so often misrepresented or left out altogether in our society. At the same time, I was writing all of these poems about my family life, a sort of continuation of other poems I'd written about my family for other collections. What I didn't want to have happen was what happened the last time: I had two totally different collections come out around the same time, one about my family and personal past and one about my service. With Filthy Labors, it was really important to me to find a way to join these two "lives" together, since they were both parts of my existence. The process took me the greater part of two years. I couldn't even look at the poems for long stretches of those two years.
LK: How did Paterson enter this collection? Do you find this city entering many other poems? Why?
LMS: Paterson entered into this collection because I spent three years working there. Not only was I teaching in Paterson---I taught Developmental Reading and Writing---I was a poet in the schools for Paterson Public Schools, and I was a volunteer at a comprehensive social services organization, specifically a drug and alcohol rehabilitation center within that organization. I would bring poems and the occasional writing prompt to men and women in recovery, which were used to spark discussion about their own struggles with addiction or any challenges related to their addiction. When I figured out that some of these men and women were completely illiterate, I started a tutoring program. The goal was to get larger literacy organizations involved, as it wasn't anything I couldn't sustain myself. That aspect of my service didn't really go beyond three months over one summer, unfortunately, but I made strong connections through poetry and through kitchen service, which I sometimes shared with my students.
While teaching in Paterson, I started a poetry club, and part of the mission of the club was a strong commitment to community service. My poet-students, as part of their membership, were asked to go above and beyond the school-required two hours per semester of community service to something much more frequent. Many of the students read poetry at a local daycare center, others accompanied me to the program I'd mentioned earlier to read poetry to men and women in recovery or serve in the community kitchen, and still others joined me in visiting local high schools to talk to kids, do writing prompts, and to read poems together. For the three years I was in that teaching position, Paterson was a big part of my life. The poem "Paterson" was one of the last poems I wrote for Filthy Labors, and I suspect that those three years will turn up in future poems.
LK: One of my favorite poems is "How We Go." Can you explain your vision and re-vision for this poem?
LMS: Like many of the poems in the collection, this one is based on an actual conversation the women had about the death of one of the children's fathers. The details of the poem are taken from what I remember about that conversation, including the thought that my understanding of death was completely different from these young women. Though the poems about "The Haven House" (which is not the organization's real name, for obvious reasons) are not about me, I'm present in quite a few of them, not only because I was literally there with these women, sharing in these conversations and experiences, but because hearing their stories puts into rather harsh perspective the difference where a person comes from can make in someone's life. And too many people, even the most well-meaning among us, take our circumstances for granted. I wanted to shed some light on that by juxtaposing the stories of my family life with the stories of the women's.
LK: How has Walt Whitman inspired this collection? What's his relationship to this book?
LMS: [It] was really important to me to find a way to bring the poems about my family and the poems about the Haven House together in a collection. I also didn't want to have, say, the first half of the poems to be about one thing and the second half to be about the other, to, in other words, jam two chapbooks together. Figuring this out was a tremendous creative challenge. And the idea of the framework of the sacraments, using Whitman's language in lieu of any religious language, came to me while revising the poem, "Communion," which is one of the sacraments. Something just clicked for me. (I was in Piedmont Triad International Airport on my way back from presenting at a conference, I remember!)
When people read my work, many assume I'm religious, which couldn't be further from the truth. In fact, I'm an Atheist. But I was raised with a very strong Catholic faith---it just so happens that what eventually stayed with me was not the belief in God or Jesus, but the principle of service. Whitman's poetry speaks to the very people I have served: the marginalized, the poor, and so on. It felt quite natural to bring in the language of a poet in whose tradition I write. "Holy Orders," a sacrament that is often repeated in the collection, is the call to religious service. As a non-practicing Catholic, I wanted to make that point within the context of these poems that not all calls to order are necessarily religious, and that a belief in a higher being isn't necessarily part of one's call.
LK: What's next for Lauren Schmidt?
LMS: My life has been in serious transition in the 18 months Filthy Labors went into production. I recently accepted a teaching position in Massachusetts and will be moving there this summer. To say that my writing life has taken a backseat to the goings on of life is a serious understatement. That said, I have started a Young Adult novella. My goal is to make serious progress on the work---and maybe even finish it---before the academic year starts back up. This is likely wishful thinking, but hey, a poet can dream, can't she? I really admire people who can write in different genres, so I thought I'd give it a whirl. If nothing else, it's been a blast to write and maybe that's the project's sole purpose.
Related
Popular in the Community