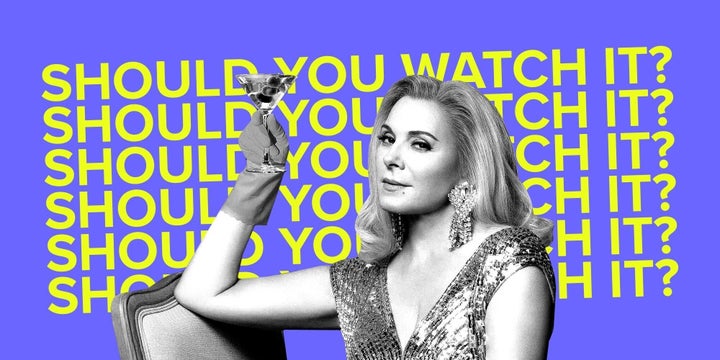 Fall TV is slowly revving up, even if 2020's coronavirus-hobbled lineup looks a bit thin. "Filthy Rich," premiering Monday on Fox, marks one of the few new shows completed in time to get the season going.
"The Help" and "The Girl on the Train" director Tate Taylor developed "Filthy Rich" based on a New Zealand series of the same name, casting Kim Cattrall as a wealthy TV personality whose husband (Gerald McRaney) runs a lucrative Christian network that doubles as a lifestyle brand. A tragic accident sets into motion a series of soapy twists that will make "Rich" either a primetime addiction or an immediate write-off. Set in New Orleans, the show offers a humorous look at a family whose Southern-fried enterprise starts falling apart around them.
So, is "Filthy Rich" worthy of heralding this strange new TV season? HuffPost reporters Leigh Blickley and Matthew Jacobs talk through the highs and lows of a comedy that's as foolish as it is fun.
The Bottom Line
"Filthy Rich" is very, very silly, but, if you're into soapy, overlit network dramas, it just might just be your cup of quarantine tea.
Initial Thoughts
Leigh Blickley: Matt, when I first heard Kim Cattrall would be back on TV playing a mega-rich Christian network host and lifestyle maven, I was in. And although "Filthy Rich" is campy and oh so ridiculous, it's also somewhat a snoozefest? Please, share your initial thoughts.
Matthew Jacobs: Agree, this is a delicious premise and a role that fits into Cattrall's lane. Religious profiteers watching their empire crumble? Hell yes. Margaret Monreaux — have you ever heard a more Southern name? — is as over-the-top as Samantha Jones, though Margaret gets her ecstasy from prayer instead of sex. But "Filthy Rich" is pretty much exactly what we knew to expect: broad, soapy and impossibly silly. You and I have seen the first two episodes, and I'm not sure I can stomach any more of it.
LB: I had higher hopes! Though, I must admit, I did push on into the third episode just because I got a bit sucked into the storyline. Forgive me???
MJ: I'd definitely read the CliffsNotes on what happens next, so let me know.
Honestly, I think I'm trained at this point, for better or worse, to turn my nose up at the conventions of broadcast dramas. Not saying I'm proud about it, but I don't really watch overlit, fast-paced shows like this anymore. In a way, I was looking forward to delving back into one, especially something that feels like "Dynasty" meets "Desperate Housewives" meets "Studio 60 on the Sunset Strip." But the plot's conflicts are explained away too easily, and the ideas behind the show aren't much more complex than "these wealthy zealots are hypocrites." Help, I've become a snob!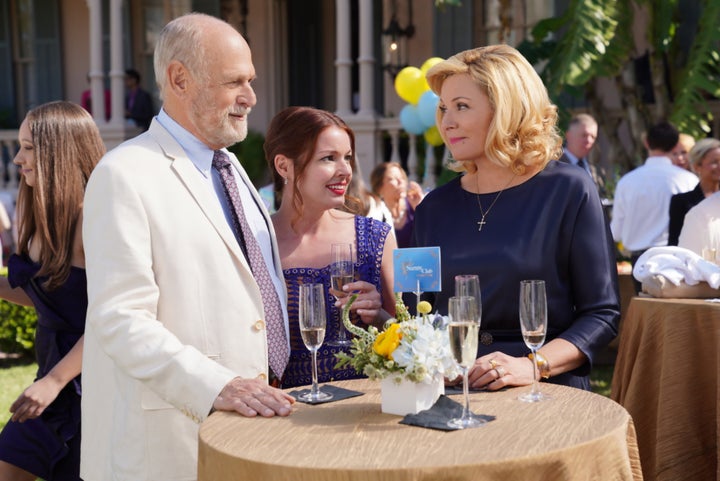 What's It All About?
LB: Yes, let's get into some of those conflicts. In the pilot episode, we meet the Monreauxs (aka the Monroes), a Louisiana family who own and operate the highly successful Christian television network Sunshine. The always-put-together Margaret and her seemingly doting husband Eugene (McRaney) have two adult children ― a passionate daughter, Rose (Aubrey Dollar), and a disagreeable son, Eric (Corey Cott), who is expecting his first child with wife Becky (Olivia Macklin). Becky also happens to be the sister of the Joel Osteen-esque reverend of Sunshine network, Paul Luke Thomas (Aaron Lazar), who has his own fame-tinged agenda.
At the start of the series, the dysfunctional group of characters is getting ready to launch the retail side of their company ... that is until this world of Godly money turns upside down. Tragically, Eugene is presumed dead in a plane crash and while going through his will, Margaret learns her husband was not at all the faithful man he appeared to be.
MJ: And then come the three illegitimate adult children he spawned behind Margaret's back and somehow kept secret for 30-odd years. The thrust of the show starts with Eugene dividing his assets among all five of his kids, which Margaret does not appreciate. Another person who doesn't appreciate it is Ginger (Melia Kreiling), Eugene's vengeful daughter who runs a porn studio and bribes Margaret into getting more than the $1 million she's being offered.
That summary sort of underscores why I think "Filthy Rich" can't escape its hyper-mainstream trappings. The three kids are contrived to be such obvious foils for the Monreauxs' moral theatrics, and the show isn't witty enough to mine that clash for actual humor. Of course Ginger runs a porn studio; what could be more threatening to a Christian corporation? Of course Jason (Mark L. Young from "The Comeback") is a marijuana grower. And Antonio (Benjamin Levy Aguilar) is a caricature of a devout single father who, unlike everyone around him, doesn't have a cynical bone in his body.
Highs And Lows
LB: It does feel like "Filthy Rich" is just ticking off boxes when it comes to the cast of characters, as is the case with a lot of network dramas. Vengeful wife? Check. Perfect daughter? Check. Stoner boy? Check. So what could be a compelling look at the ins and outs of a first family of Christian TV sort of falls into this soapy, sudsy hole. (This isn't premium TV.) I loved Margaret, and Cattrall's performance, for about 15 minutes before the boredom set in. There's just not enough for her to bite off and chew. And the plot itself sets up high stakes that quickly mean nothing?
MJ: Cattrall is having fun hamming it up, and I think that's nice. Here's what I do appreciate about "Filthy Rich": It doesn't take itself seriously. (So far, there's no heavy-handed attempt to shoehorn in commentary about Donald Trump's evangelical flock as if that would somehow give the series weight. The closest we get is Margaret telling her TV audience, "People like us, people of faith, we are under constant attack.") The problem with having drifted away from broadcast TV is that a lot of the hourlong programming on HBO and Netflix can feel like homework. With time, maybe this show can find a middle ground between soap opera and prestige. I'm just not sure I trust the writers based on the evidence we've seen thus far.
LB: That is true. It's nice to watch a show that is just fun. Within the constraints of quarantine, I personally found myself switching to channels or shows or movies that would make me smile or forget about my worries for an hour rather than watch something that would trigger a whole other level of anxiety. And, if I'm being honest, I was totally on board with series like "Nashville" or "Revenge" when they first came out, so this is in my wheelhouse. "Filthy Rich" is here to entertain.
An interesting fact is it's developed by "The Help," "Get On Up" and "The Girl on the Train" director Tate Taylor. What do you think about his move to the small screen?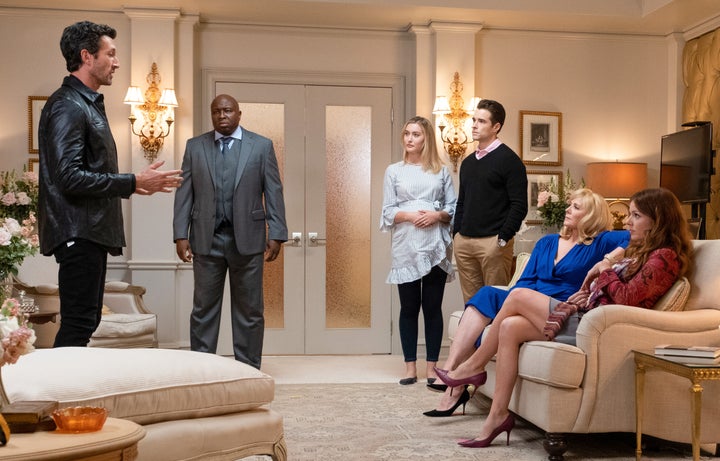 A Network Drama, Through And Through
MJ: This is a Tate Taylor production through and through: straightforward and a little trashy but full of kicks. (One caveat to that: "Get On Up" is an underrated movie and the best example of Taylor's talents to date.) Honestly, it's a little surprising that Taylor hasn't worked in broadcast TV before. He's perfect for it. "Filthy Rich" feels less like a new chapter for him than "Big Little Lies" and "Sharp Objects" was for Jean-Marc Vallée, to pick one of many recent examples. The question is whether audiences will stick around. Recent primetime soaps like "Blood & Oil" and "Grand Hotel" didn't last long. Do you think people might get hooked on "Filthy Rich" because they're starved for quarantine distractions?
LB: Absolutely. As we look toward the fall TV schedule, it's ... bare. Most pilots aren't premiering until midseason due to production delays in light of the coronavirus pandemic, and even longstanding network dramas like "Grey's Anatomy" have been pushed to November debut dates. People will be craving new content and "Filthy Rich" is just that. Fox has another series, "Next," starring John Slattery, about a rogue AI debuting Oct. 6, and ABC's "Supermarket Sweep" reboot hits the air Oct. 18, but that's really it for new series in terms of the Big Five networks. (Streamers like Netflix, HBO, Amazon and Hulu have their own offerings, of course.)
Still, if you had all the options in the world, would "Filthy Rich" land on the top of your must-see list?
So, Should You Watch It?
MJ: Definitely not. I can't vibe with the hackneyed writing and broad characters. But I wish the best for Cattrall in all her Southern bedazzles.
LB: Luckily, she has me to make sure her diamonds are forever. I might keep watching. You know, if I'm desperate.
"Filthy Rich" airs Monday at 9 p.m.