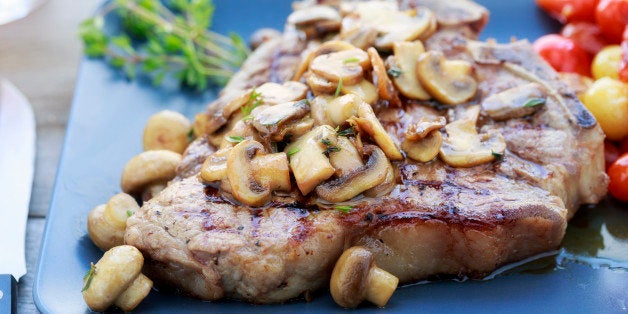 I have watched as the "Paleo" movement gained popularity, inspiring people to eat an enormous and ridiculous amount of meat. The premise behind this misguided trend is simplistic at best. They claim health problems exploded as a result of people eating crop foods that became popular as agriculture took hold. From their perspective, humans have not evolved with the changing food supply and can therefore not effectively or safely process these "modern foods". Grains, beans, potato and legumes are at the top of the hit list along with refined sugar and oils. Depending on what branch of paleo you follow, dairy may also be removed from the diet.
While some of the principles make sense like reducing intake of poisons commonly found in food such as coloring, additives, HFCS, refined oils, trans fats and of course sugar, they take things too far by recommending as much meat as they do and removing ALL grains from the diet under all circumstances. This approach to eating is too black and white, does nothing to address individuality and most importantly ignores the fact that the microbiome is one of the biggest factors in good health and negatively impacted by excessive meat.
Over the long run, people must start to ask the big questions-how does eating large quantities of meat affect health over time and what are the scientific facts? This becomes especially important to understand when the diet revolves around burgers, sausage, bacon, meat snack bars, cured meats, jerky and meat sticks.
A report published just this past October by the International Agency for Research on Cancer detailed the findings of 22 scientists on the effects of meat consumption and cancer rates (1). Data from 800 epidemiological studies were analyzed concluding processed meat like bacon, sausage and hot dogs are "carcinogenic to humans" and red meats such as veal, beef, lamb and pork are "probably carcinogenic to humans". The study defined processed meats as products that are preserved through curing, smoking, salting or adding chemicals to improve shelf life. The evidence was strongest for colorectal cancer however cancers of the pancreas, prostate and stomach were also involved.
The good and bad news is the risk is dose dependent, meaning people who ate the most meat were at the highest risk. Eating a balanced diet of plants, whole grains, healthy lean proteins like poultry, fish and organic eggs will be very different than following a diet that mainly revolves around red and processed meats. According to the report, 50g of processed meat per day can lead to an 18 percent increase in cancer where as 100grams of red meat can do the same. To put things in perspective, that is equivalent to just 2 pieces of bacon or a steak. So what happens to someone eating piles of sausage, salami, meat snack bars, bacon, jerky and T-bones?
In a 2011 landmark study on microbial balance, Harvard researches found conclusive evidence that the gut microbiome changes in response to foods eaten and it happens very quickly (2). 9 volunteers were put on 2 extreme diets for just 5 days each to track changes in bacterial levels and populations. The first menu was comprised of meat and cheese with things like pork rinds for snacks. After a break, the same people were then given high fiber plant foods like vegetables, legumes, whole grains and fruits for 5 days. Amazingly, bacterial levels and types shifted-within just 1 day of changing the diet to be in balance with and digest the foods that were being eaten. During the high protein phase, bile loving species were increased like Alistipes, Bilophila and Bacteroides. In particular Bilophila wadsworthia was also increased which has been linked to inflammatory intestinal conditions as well as appendicitis while Firmicutes that normally break down plant compounds were decreased. And, after 3 days the genes expressed by bacteria actually changed as well.
So here is the ironic part. While the paleo community would have us all believe eating lots of meat is safer than eating whole grains because humans lack the genetic evolution to handle them, it turns out we don't need to. There is more and more evidence mounting deepening our understanding of just how interconnected we are with the trillions of bacteria in the gut microbiome. They have the power to change, almost immediately in response to the types of foods eaten. Bacteria are known to break down and ferment plant and fiber molecules producing important compounds like vitamins and SCFA such as butyrate conferring enormous health benefits to humans. On top of that, all of that meat may just be laying the groundwork for cancer.
The paleo diet is a metabolic misfit when it comes to the health and well being of the humans, intestinal microbiome and long-term good health.
My approach has always been to focus on intestinal health as the foundation of any real treatment protocol. The microbiome diet is one that focuses on strengthening the numbers and types of bacteria that confer good health on humans. The focus is on plant foods that are prebiotic in nature like jicama, garlic, onion, Jerusalem artichoke and radish. In healthy proportions, high fiber legumes, fruits and whole grains can be beneficial for those who tolerate them. Fermented foods are very important to increase quantity and help our little friends to colonize. Proteins are used in much smaller amounts as a side dish rather than the main course. There is a place for everything, even beef but proportion is key. This is not a one-size fits all approach and is tailored to the specific needs of each individual. The microbiome diet focuses on health and healing from the inside out. It's time for the new Paleo-the true health movement- the microbiome diet.
1) Bouvard Veronique et al. IARC. Carcinogenicity of consumption of red and processed meat. The Lancet Oncology online, October 26 2015
2) David a Lawrence, et al. Diet rapidly and reproducibly alters the human gut microbiome. Nature 505, 559-563 (23 January 2014)