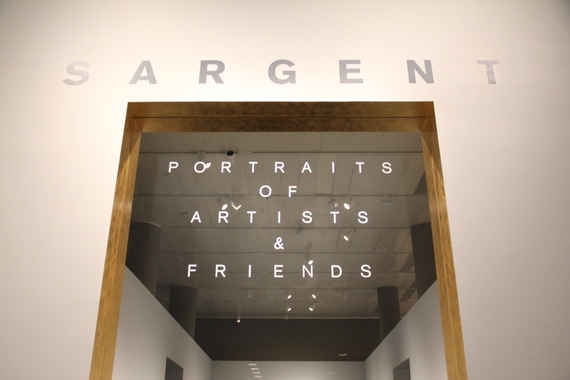 The exhibit at the Metropolitan Museum of Art John Singer Sargent: Portraits of Artists and Friends is in its final days, ending October 4th. I was fortunate to be invited to give two talks during the exhibit examining Sargent's work from an artist perspective: how he painted, what was his thought process and execution. I found it particularly interesting that he decided not to paint portraits in 1907 and spent more time on his landscapes. For me it was also fun to return to the Metropolitan Museum of Art where, many years ago, I was one of 15 summer interns, and part of my summer internship was to give tours through the museum.
The exhibit highlights about 90 portraits of artists, writers, actors, and musicians, many of whom were his close friends, and many of the paintings were given by Sargent as a gift to the sitter. Included in the exhibit are portraits of artists Claude Monet and Auguste Rodin; writers such as Robert Louis Stevenson, Henry James, and Judith Gautier; and the actress Ellen Terry. The exhibition also explores Sargent's relationships with influential patrons and collectors including Isabella Stewart Gardner. There are intimate paintings of friends, family, and scenes of painting with other artists (not to be missed). These paintings offer insight into how artists worked outside at that time. When Sargent was traveling with friends and other artists, they would try and avoid his glare at breakfast as they did not want to end up becominge his model for the day.
The exhibit includes about 20 works on paper from the Metropolitan collection. Most of these were given to the Metropolitan by Mrs. Francis Ormond, Sargent's sister. (A previous Huffington Post piece about Sargent's watercolor exhibit at The Brooklyn Museum and the Boston Museum of Fine Arts can be found at - http://www.huffingtonpost.com/barbara-ernst-prey/an-artists-perspective_b_3462560).
The exhibition is organized chronologically according to the sequence of places where Sargent worked and formed artistic relationships during his career: Paris, London, the English countryside; the United States, especially Boston and New York; Italy; the Alps; and other locales in Europe. The exhibit was organized by the National Portrait Gallery, London in collaboration with The Metropolitan Museum of Art. This is the final venue.
A few years ago I was invited by the Corcoran Gallery of Art to give a walk through the exhibit Sargent and the Sea with Bechhoefer Curator of American Art Sarah Cash who curated the exhibit (Curator Cash also curated my exhibit Barbara Ernst Prey: An American View at the Mona Bismarck Foundation in Paris). Included in the exhibit was a painting I knew well from the Sterling and Francine Clark Art Institute (while an Art History major at Williams College, I took graduate courses at the Clark Art Institute and volunteered as a docent there leading tours through the collection) - Neapolitan Children Bathing. I was fortunate to see another familiar painting from the Clark's collection on view in this exhibit, the portrait of Sargent's teacher Carolus-Duran. The accompanying book has an excellent essay by my friend Marc Simpson but nothing replaces seeing the work in person and Sargent's ability to make something out of a few bold, quick brushstrokes of color is masterful.
Follow Barbara on Twitter
Like Barbara on Facebook
Related
Popular in the Community