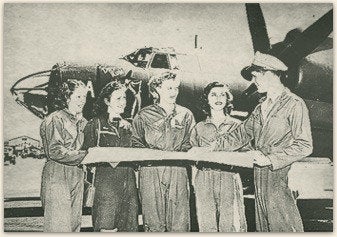 An article I wrote about "WASP" Millie Dalrymple a year ago concluded with the following "CODA":
I mentioned that America loses approximately 1,000 World War II Veterans every day.

There are approximately two million of these brave men still alive today.

There are less than 300 WASP still with us today.


Too many of them on their "final approach"

We must cherish each one of them

God bless them all
Sadly, Millie (Mildred Inks Davidson Dalrymple) made her "final landing" on Wednesday, Nov. 14.
The Austin American-Statesman published her obituary that said in part:
"Millie Dalrymple, a member of the "Greatest Generation" who served her country and her family in war and peace, is now at rest. Millie was born on February 14, 1920, to Roy Banford Inks and Myrtle Louise Moss. She died peacefully on Wednesday, November 14, 2012 at the age of 92. At birth Mildred Banford Inks weighed only a few ounces over three pounds and was placed in an improvised incubator -- a shoe box with a lamp... "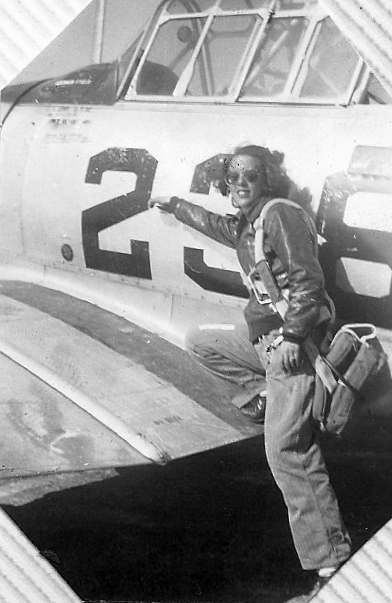 I learned in her obituary one or two aspects of Millie's life that I was not familiar with, for example how small Millie was at birth.
But there is nothing small about the rest of Millie Dalrymple's career and life.
As mentioned in the obituary, Millie was indeed a member of the "Greatest Generation." She served her country bravely, meritoriously and was a pioneer in women's military aviation during World War II.
I met this beautiful lady a year ago on the eve of Veterans Day and while I have visited Millie several times since then, I now wish I had done so much more frequently.
She made an immediate and indelible impression on me.
But, in the scheme of things, it is the impression she made on her contemporaries, the contributions she made to the progress of women's careers in the military and the legacy she leaves behind that really matter.
As a final tribute to Millie and with my sincere condolences to her family and to all who were touched by Millie, I quote parts of a previous article on Millie:
Millie Dalrymple, daughter of the legendary Roy Banford Inks -- who has a Texas lake named after him -- was one of 25,000 women who, starting in 1942, answered our country's call for women pilots to serve at home in order to free male pilots to fight the war overseas. Those who qualified would become part of a brand new, "experimental" Army Air Corps program called "WASP" for Women AirForce Service Pilots.
Millie was one of the 1,830 applicants who were accepted into the program and one of the only 1,074 talented women to complete the program -- to become one of the first women in our history to fly military aircraft.
Finally, Millie was part of a group of extraordinary, patriotic women who wanted to do even more for their country than what those hundreds of thousands of dedicated American women -- symbolized by "Rosie the Riveter" -- were already doing here at home while their husbands, brothers, and sons where fighting the war "over there." These WASP would fly transport, weather, target towing, ferrying, maintenance checkout and other missions; they would fly trainers, fighters and bombers to and from factories and air bases; they would make sure that those marvelous aircraft built by the "Rosies" were ready for combat service overseas.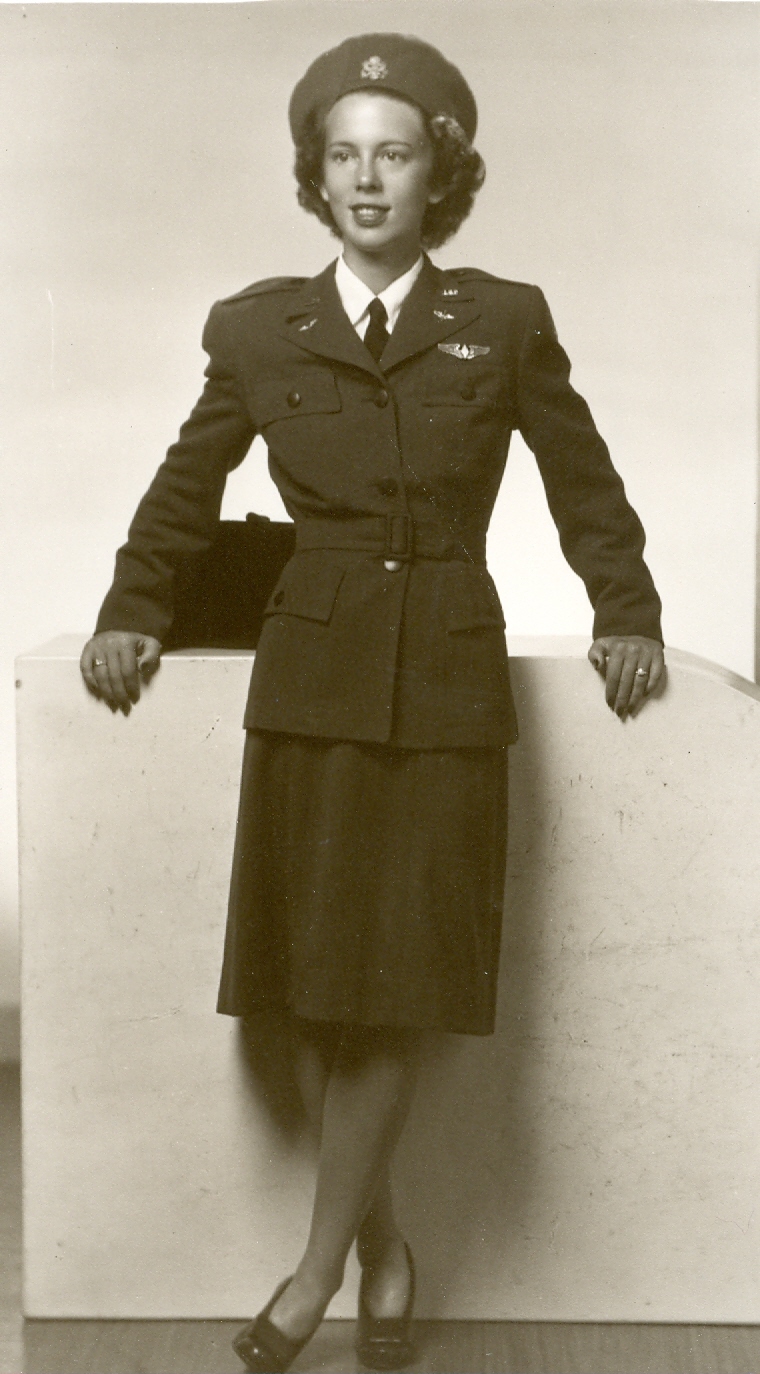 Millie in her WASP uniform
Millie, a University of Texas journalism graduate, who loved to fly, had just lost her young husband, Bill Davidson, a B-17 pilot, to German fighter aircraft while returning from a bombing raid on a German ball bearing factory. It is thus no surprise that Millie eagerly heeded the words of First Lady, Eleanor Roosevelt:
"This is not a time when women should be patient. We are in a war and we need to fight it with all our ability and ever weapon possible. Women Pilots, in this particular case, are a weapon waiting to be used."
Millie took flying lessons on her own, soloed after only 11 days, successfully applied to the program and on Nov. 5, 1943, she reported to Avenger Field near Sweetwater, Texas, for seven months of intensive flight training in Class 44-4.
Millie graduated on May 23, 1944, a day and a ceremony she will never forget. For, in addition to receiving her silver WASP wings, Millie also accepted the Air Medal for her husband who had given his life for his country only a short time before.

After graduation, Millie was assigned to Maxwell Field, Ala., where she was fortunate to fly under an officer who believed in the capabilities of these young women. There, she flew an amazing number and variety of military aircraft, including B-17s, C-45s, BT-13s, AT-6s and the venerable B-24 "Liberator" bomber, an aircraft Millie says, she "usually flew for four or five hours after repairs to make sure they were ready for combat service."
Nancy Parrish, a former Public Broadcasting Service producer/director, whose mother was also a WASP, said once: "These women went through the same flight training as the men... They flew dilapidated planes; they flew every kind of aircraft, and they flew every kind of mission except combat." A few exceptionally qualified women were allowed to test rocket- and jet-propelled aircraft.
The WASP program would last only 18 months, but during that period Millie and her fellow patriots would be stationed at 120 Army Air bases across the country; would fly sixty million miles in every kind of mission; would receive hardly any recognition and see 38 WASP and WASP trainees pay the ultimate sacrifice for their country.
In December 1944, the WASP program was suddenly and unceremoniously terminated. WASP did not receive any military benefits and little or no recognition for their wartime service.
Inexplicably, the WASP records were classified and remained sealed for 33 years. Even historians had no access to the records containing the WASP significant contributions to the war effort, thus denying Americans the opportunity -- the duty -- to honor these heroic women.
Again, Nancy Parrish: "When the WASP disbanded, these women had to pay their way back home. Thirty-eight of them were killed, but because they had no benefits, the women had to take up collections to get their bodies back home to their families."
The army would not even allow the U.S. flag to be put on fallen coffins of the WASP corps.
Millie, however, said she harbors no ill will or bitterness towards the government and considered herself to be "one of the luckiest women in the United States to have had the opportunity."
In 1977, after a two-year WASP "Battle of Congress," President Jimmy Carter signed legislation granting the WASP corps full military status for their service.
Subsequently, in 1984, each WASP was awarded the World War II Victory Medal and many of them also received the American Theater Ribbon/American Campaign Medal for their service during the war.
Finally, in 2009, Congress was pressured into granting the WASP the Congressional Gold Medal -- legislation that President Obama signed on July 1, 2009.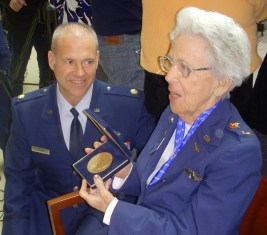 Millie receiving the Congressional Gold Medal
In March 2010, Millie Inks Dalrymple, along with approximately 200 surviving of the WASP corps, traveled to the U.S. Capitol to accept the Congressional Gold Medal, a well-deserved and long overdue honor for their distinguished and trailblazing service during World War II.
Millie, thank you for having been such an incredible part of that historic, myth-busting, magnificent "experiment" called the Women AirForce Service Pilots -- or simply WASP.
Photos: Courtesy Dalrymple family
Related
Popular in the Community