 WASHINGTON -- The final two polls on the Florida presidential primary are in, and they show little or no change over the last two or three days of the campaign. Former Massachusetts Gov. Mitt Romney appears headed for victory in the Sunshine State, with polls differing only on the size of his margin.
The final poll from the American Research Group (ARG), conducted by live interviewers from Jan. 29 to 30, shows Romney leading former House Speaker Newt Gingrich by 12 points (43 to 31 percent), with Rick Santorum (13 percent) and Ron Paul (9 percent) running a distant third and fourth.
And the final Florida update from the Democratic Party-affiliated firm Public Policy Polling (PPP), based on automated, recorded-voice interviewing conducted from Jan. 28 to 30, gives Romney an eight point lead over Gingrich (39 to 31 percent), followed by Santorum (15 percent) and Paul (11 percent).
Both firms report what PPP described as a "lack of movement in the final 72 hours of the campaign" that is a "far cry from the dramatic shifts Florida Republicans made in their preferences over the last four months." During the three days of tracking, PPP reports, the results for Romney, Gingrich, Santorum and Paul on any given day never varied by more than a percentage point or two from the poll's final result.
Similarly, the 43 percent support that ARG found for Romney is unchanged from a survey the firm conducted two days earlier, and Gingrich's support has decreased by just a single percentage point (from 32 percent).
The automated, recorded-voice polls conducted by PPP have shown a slightly closer margin between Romney and Gingrich than most of the other polls conducted over the last four days. Seven surveys conducted since Saturday show Romney leading by margins ranging from 10 to 20 percentage points.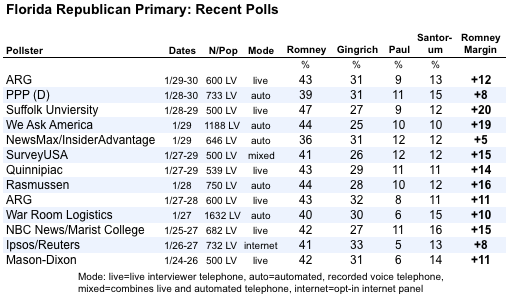 The HuffPost Pollster chart, derived from all available public polls in Florida, now shows Romney leading by more than 13 points (42.3 to 29.0 percent), followed by Santorum (11.9 percent) and Paul (11.1 percent).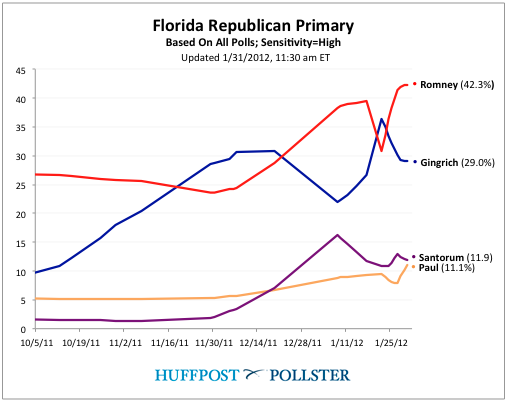 One factor at work behind the varying margins may be the inability of some polls to survey voters with mobile but not landline telephones. Pollsters are barred by federal law from making automated calls to cellphones, so calls to cellphones must be made by live interviewers. The NBC News/Marist College, Quinnipiac University, SurveyUSA and Suffolk University polls all say they interviewed samples of both landline and cell phones.
The landline-cellphone distinction may be most acute among Latino voters, estimated by the network exit poll as 11 percent of those who voted in Florida's 2008 Republican primary (7 percent identified as Cuban, 4 percent as other Hispanic). The most recent CDC study shows that 40.8 percent of Hispanic adults nationwide live in households served only by wireless phones, a much higher percentage than that for non-Hispanic white adults (27.6 percent) or non-Hispanic black adults (32.5 percent). The CDC study also shows that roughly half of adults between the ages of 18 to 34 live in cellphone-only households.
So even though many pollsters weight their results based on age, race and other demographics to try to compensate for the missing cellphone-only voters, those not calling cellphones are effectively substituting younger, Latino voters with landlines for those with cellphones only. The differences may be compounded by big age differences, with most of the polls showing Romney doing best among older Florida Republicans.
As blogger Harry Enten noticed, the two pollsters finding the narrowest overall margin between Romney and Gingrich -- PPP and Newsmax/InsiderAdvantage -- both use an automated, landline methodology and both show Gingrich leading Romney among the Hispanic voters they sampled.
Either way, the heavy rate of early voting in Florida gives Gingrich little hope for a last-minute surprise. ARG estimates a slightly greater percentage have voted early (36 percent) than PPP estimates (32 percent), but both show Romney leading by a much larger margin among the early voters than those expected to vote at polling places on Tuesday. ARG estimates that Gingrich would need to win 51 percent of all votes cast today to tie Romney at 43 percent, which would represent a shift of 21 percentage points for Gingrich among Election Day voters.
Before You Go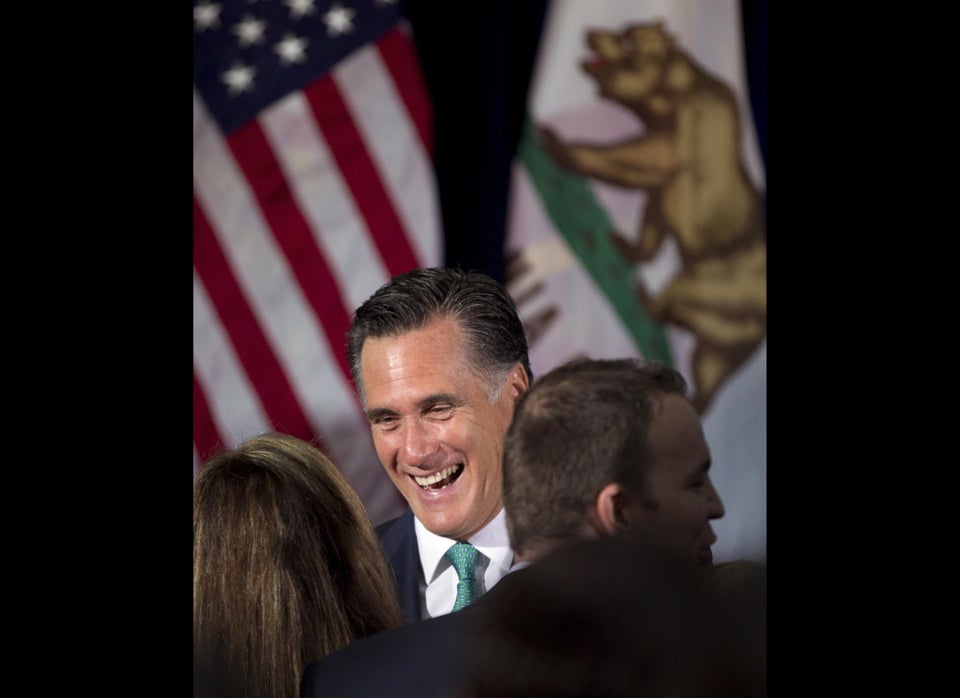 Mitt Romney 2012
Popular in the Community