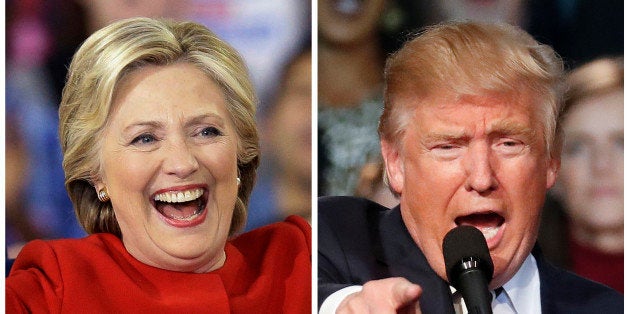 Many tens of millions of voters need to wake up tomorrow and actually vote, but if they do in the numbers we expect, Hillary Clinton will win the presidency. She holds a clear and consistent national lead in SurveyMonkey's Election Tracking polling, and she appears poised for a decisive victory based on exclusive polling in all 50 states.
Our final snapshot of the national popular vote gives Hillary Clinton a six percentage point lead over Donald Trump, 47 to 41 percent, with 6 percent for Libertarian Gary Johnson and 3 percent for Green Party candidate Jill Stein.
Clinton's lead has been remarkably steady during the Fall campaign. As reported by our partners at NBC News, "Clinton has not only maintained a lead over the Republican nominee since the end of July, but the margin of her lead has been between 4 to 6 percentage points since the second week of September."
That six point lead in the popular vote translates into a lopsided Clinton advantage in the all-important Electoral College. Our final snapshot of voter preferences in all 50 states plus DC, based on more than 74,186 interviews conducted during the final week of the campaign, gives Clinton a lead of three percentage points or better in 21 states. That's a total of 257 electoral votes, which is thirteen shy of the 270 needed to win. Although Trump leads by three percentage points or better in 23 states, they earn him just 188 electoral votes.
While the race is closer in seven states -- classified as "toss-ups" colored in grey on our map -- SurveyMonkey's tracking has given Clinton modest but consistent numerical leads in five states, two of which alone (Florida and Michigan) would assure an Electoral College victory. Clinton would pick up a total of 45 more electoral votes if she were to win both.
Three more states -- Arizona, Georgia, and Nevada, representing another 33 electoral votes -- have been genuine toss-ups in our tracking, with very narrow margins that have not consistently favored either candidate.
Should Clinton prevail in all of the states in which she has a numerical advantage, she will win the presidency with 334 Electoral College votes, putting the final tally between President Obama's victories in 2008 (365 Electoral College votes) and 2012 (332). Trump has clear numerical advantages in 23 states, which total 188 Electoral College votes. One state, Georgia, is a tie in our final pre-election estimate.
Across a range of possible scenarios given by SurveyMonkey's 50-state results, the average outcome is 321 Electoral votes for Clinton to 217 for Trump. The chances of a Clinton win are 96 percent.
The Senate currently consists of 54 Republicans, 44 Democrats, and two Independents who caucus with the Democrats. If four Senate seats flip from red to blue, and Clinton wins the presidency, Democrats would control the Senate based on the Vice President's tie-breaking vote. If Trump wins, Democrats would need to win five seats to gain a Senate majority, which they are poised to do.
SurveyMonkey's final poll snapshot shows the Democratic candidates leading by margins of three percentage points or better in five states, exactly the number they need to assure a Senate Majority: Illinois, New Hampshire, Pennsylvania, Missouri and North Carolina. In addition, we show a true toss-up in the nearly deadlocked Florida contest between incumbent Republican Marco Rubio and challenger Patrick Murphy.
The Nevada Senate seat currently held by retiring Democratic Minority Leader Harry Reid is relatively close, but Democratic candidate Catherine Cortez Masto currently leads Republican Joe Heck by a three percentage point margin.  
Finally, SurveyMonkey has been tracking races for Governor in a dozen states, with relatively close races coming down to the wire in Indiana, Missouri, Montana and Vermont.
Read more about our methodology here, and about how we assure representation of the likely electorate here.
Calling all HuffPost superfans!
Sign up for membership to become a founding member and help shape HuffPost's next chapter