Our crew is heading home after two busy weeks of filming (first in Italy, then in Greece -- since Orthodox Easter was a week later than Western Christian Easter this year). Meanwhile, our second crew shot Easter festivities in Spain and Slovenia. Our challenge now is to squeeze all of the amazing footage we collected into 60 minutes. We'll do it...and it promises to be an hour that informs, entertains, and inspires -- as I hope you've come to expect from public television. Watch for it during Easter season, 2016.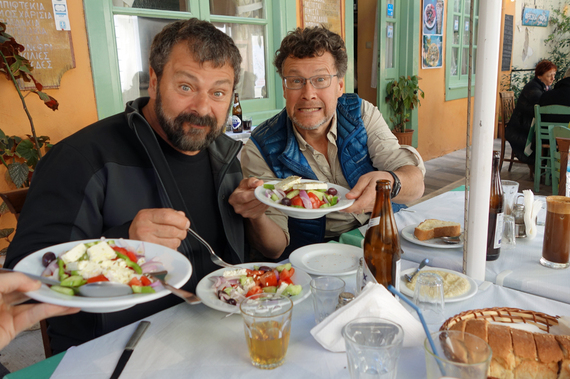 When filming in Greece, our crew loves the Greek salads. The waiters respond with wonder when each of us orders a salad. When we asked our guide if we did something wrong, she pointed out that each salad came with serving spoons; they were designed to be shared. Remember: In Greece, most dishes are meant to be eaten family-style.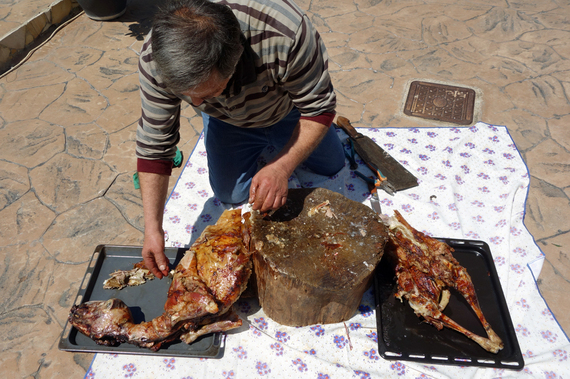 In Greece, Easter is not Easter without lamb roasted on a spit. Wandering through a village, it seemed every family was roasting an entire lamb. I'll not forget watching the lamb go limp when our host withdrew the skewer. He then laid it across a chopping block, pulled out a big cleaver, and, in about two minutes, reduced the entire roasted lamb to two platters of meat -- watch out for the bones!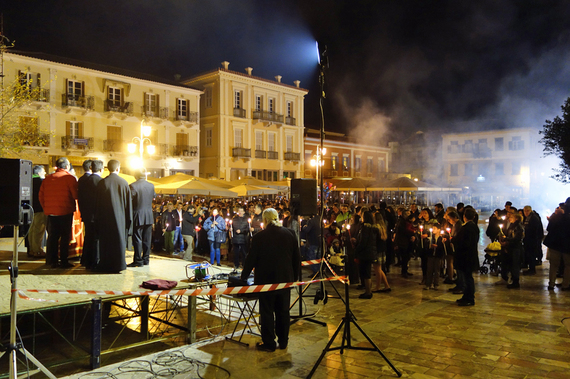 The finale of Holy Week is celebrated the moment midnight strikes, announcing the arrival of Easter Sunday. The town square is packed, and the bishop spreads the "light from Jerusalem" as every candle is lit. He declares, "Christ is risen!" Deafening firecrackers light the square behind the silhouetted crowd, everyone shares the traditional "Easter kiss of love," and -- candles still flickering in hand -- they all head home for a giant feast. (Impressed as we have been with all of this, the Greeks seem impatient with all the Easter-related rituals.)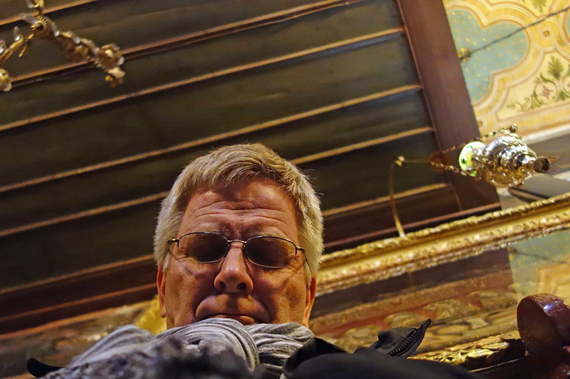 Greek Orthodox services are very long if you come from a Catholic or Protestant tradition. And there's little interaction. Father Dionysis explained, "We stand when we pray because when you stand, your entire body participates."