WASHINGTON, D.C. -- The final round of polls in Michigan has yielded one of the closest forecasts yet for the 2012 Republican primaries. Collectively, they give Mitt Romney a laser-thin margin over Rick Santorum, one that falls well within the real-world margin of error for a primary election. Either candidate could come out on top of Michigan's popular vote tonight.
Three more new polls released as Michigan voters headed to their polling places confirm the close results of those that appeared on Sunday and Monday. New automated polls conducted by two Michigan firms, Mitchell Research and Beydoun/Foster, show Romney leading Santorum by margins of one and two percentage points, respectively. The combined results of a two-night automated poll by Public Policy Polling gave Santorum a one-point advantage, but PPP reported "momentum swinging" to the former Pennsylvania senator, due to a shift from a slight Romney edge on Sunday to a five-point Santorum lead on Monday.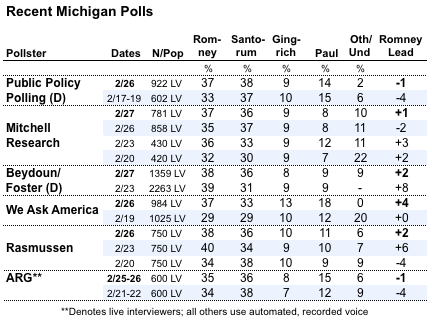 PPP and Beydoun/Foster conduct surveys for Democratic party candidates for local offices. Mitchell Research and Communications is a Michigan public relations firm that has represented both Democrats and Republicans.
The HuffPost Pollster chart, which uses all of the recent public polls to derive a common set of trend lines, estimates a roughly one and a half percentage point advantage for Romney over Santorum (37.4 to 35.8 percent), followed by Ron Paul (10.5 percent) and Newt Gingrich (8.8 percent).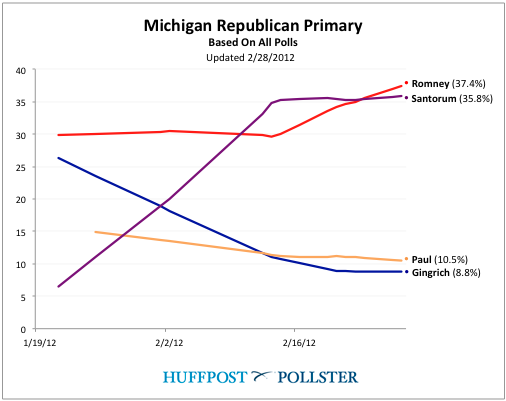 A more sensitive set of trend lines, which places greater weight on the most recent polls but also tends to capture more statistical noise, shows an even closer race, with just two-tenths of one percent separating Romney (36.8 percent) and Santorum (36.6 percent).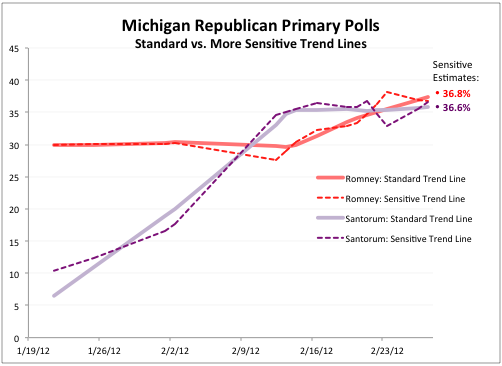 Either way, the final polling snapshot forecasts a gap between the candidates so narrow as to fall into the statistical blind spot common to predicting primary elections. It would not be at all surprising to see either candidate win Michigan's popular vote by a significantly larger margin than forecast by the final polls.
Here are two theories for why the actual vote may differ from the polling averages:
The polls may understate Santorum's vote -- The former Pennsylvania senator has significantly outperformed his polling estimates in previous contests, particularly in the Iowa, Colorado and Minnesota caucuses and the non-binding Missouri primary. But those contests featured exceptionally low turnouts, allowing Santorum's energized evangelical Christian base to have an outsized and unexpected impact.
In 2008, exactly a third of Michigan Republican primary voters (33 percent) identified themselves to exit pollsters as white, born-again Protestants, considerably less than in the Iowa caucuses this year (56 percent). But given the close nature of the race, a small understatement of Santorum's vote would be enough put him ahead.
The polls may understate Romney's vote -- Over the past two weeks, surveys have indicated a trend in Romney's favor that appears to have leveled off or perhaps reversed in recent days. That reversal may be an artifact of the automated, recorded-voice methodology used by most of the final surveys and a controversial, last-minute robocall effort undertaken by the Santorum campaign.
TalkingPointsMemo reported on Monday that the Santorum campaign was making automated robocalls to Democratic voter households throughout Michigan, urging them to "join Democrats who are going to send a loud message to 'Massachusetts Mitt' Romney by voting for Rick Santorum for president." On Monday, PPP also reported a big upswing in Santorum's favor, based mostly on the growing number of Democrats participating in their automated telephone survey, who favored Santorum by a wide margin.
While the slight Santorum rebound in the final round of polling may reflect a real uptick among some Democrats who plan to vote for him today, it may also be something of a polling artifact. The universe of voters willing to respond to an automated, recorded-voice survey may include a disproportionate number of Democrats who were also willing to listen to and absorb similar telephone messages from the Santorum campaign. As such, they may exaggerate the impact of the Santorum campaign's last-minute robocalls to Democrats.
Or, as political scientist Josh Putnam speculated on Twitter:
Either way, the outcome is too close to be forecast with confidence by the final round of polls. Moreover, as The Huffington Post's Jason Linkins argues, in the event of a close statewide vote, the winner of the Michigan's overall delegate tally will likely be determined by how many of state's 15 congressional districts each candidate carries.
So Michigan could be a place where the popular vote produces one winner and the delegate hunt yields another.
Popular in the Community