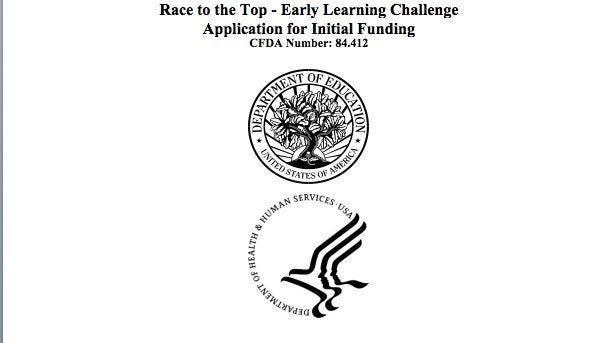 To win money from the federal government's early childhood Race to the Top contest, states are encouraged to implement "kindergarten entry assessments," according to new guidelines released Tuesday by the Education Department and Health and Human Services. But U.S. Secretary of Education Arne Duncan emphasized that the stakes won't be as high as they are for older students.
"We will never ask 3-year-olds to take bubble tests," Duncan said on a call Tuesday with reporters. "That would just be ludicrous."
Assessments are one component of the $500 million Race to the Top -- Early Learning Challenge. States have until Oct. 19 to submit applications, which are then scored by outside reviewers -- though Duncan noted he has the authority to override the reviewers' decisions if he deems it necessary. States will vie for grants ranging from $50 to $100 million.
The $500 million competition is part of a larger $700 million package announced by the Obama administration to continue RTTT, which began as part of the stimulus package. States that lost previous rounds of RTTT, which focused on implementing Duncan's favored K-12 reforms, will be able to compete for the remaining $200 million.
"The overarching goal of the challenge is to make sure many, many more children enter kindergarten ready to succeed," Duncan said.
The Education Department worked with Health and Human Services to develop the guidelines. "We can't outcompete the rest of the world unless we can out educate the rest of the world ... unless our children get a healthy start in life," HHS chief Kathleen Sebelius said.
The assessment component of earlier draft guidelines drew criticism from early childhood experts. "Assessment is the third rail of early childhood because children develop at very different rates, young children especially," said Yasmina Vinci, executive director of National Head Start Association, an early childhood advocacy group, according to Education Week. "You have to be very careful as to what that would look like and for what purposes. It should not be for the purposes of classifying the children. It has to be observational."
Duncan and his colleagues responded to that scrutiny by stressing that they are not calling for multiple choice standardized exams. "We're talking about assessment in the broad context," said Jacqueline Jones, Duncan's early learning adviser. "We want to make a distinction between specific tests and an assessment process, which is an ongoing process of collecting information about children's behavior."
States can earn the most points -- 75 out of a possible total of 300 -- for developing systems that publicly rate early learning programs. The ratings system as well as assessments are listed as the competition's two "competitive priorities."
States need to show which early childhood plans they will implement and how they will do it, with the proposals counting for more points than states' track records. States can earn points for things like "past commitment" to early learning; spelling out a comprehensive reform plan; aligning existing services; developing and promoting a ratings system; tying education to health initiatives and enhancing personnel.
The final criteria were posted after the agencies read over 300 comments on a draft version. Most of the changes, Jones said, involved reducing states' burdens. "We have choice built in now," she said. "Many said it was too much to do."
Officials released the early childhood criteria just as winners of the earlier RTTT competition are implementing their plans. Since receiving their money, all of the winning states have filed amendments to their education plans, seeking to delay deadlines for implementation.
Duncan said he is not changing the rules to the new competition based on states' attempts to delay using their winning funds. "This is work we're trying to get folks to do in different ways than they have for the last few decades," Duncan said. "We're much more interested in getting this right than in rushing through something that perpetuates the status quo. We're hoping that the impact on the early childhood states is as transformative as it was in the K-12 work."
Beverly Falk, who directs CUNY's graduate programs in early childhood education, said she's not sure $500 million is enough to make a big change. "It's not sufficient, but a very positive beginning step of reversing the underinvestment in young children and families that has been characteristic of this country for many years."
Calling all HuffPost superfans!
Sign up for membership to become a founding member and help shape HuffPost's next chapter