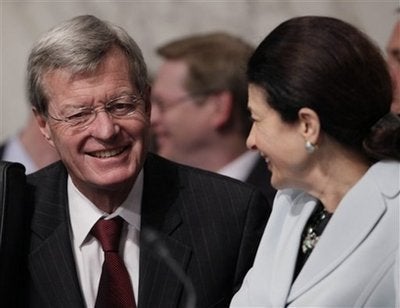 Sixty-four years ago, President Harry Truman stood before a joint session of Congress and called on the body "to assure the right to adequate medical care and protection from the economic fears of sickness."
Forty-nine years later, President Bill Clinton made the same demand.
On Tuesday afternoon, the U.S. Congress moved closer to achieving that goal than it ever has. The hold-out Senate Finance Committee voted by a 14-to-9 margin to move the fifth and final health care reform proposal through the conservative panel.
The package, coming in at under $900 billion over 10 years, is the least generous in terms of subsidies for working- and middle-class Americans to purchase health insurance, and it does not include a national public health insurance option. But the bill would dramatically reorganize the nation's system of health care and health insurance and stands as the foundation on which Democrats hope to build a strong reform package with negligible GOP support.
Sen. Olympia Snowe (R-Maine) was the lone Republican to support the package. "My vote today is my vote today. It doesn't forecast what my vote will be tomorrow," she said, although her vote does keep her at the negotiating table and at the center of the health care reform debate. Snowe risked marginalizing herself with a no vote.
With the bill having officially moved through the panel, deliberations will migrate to the Capitol, where Senate Majority Leader Harry Reid will huddle with Senate leaders to merge the finance bill with a more generous version from the health committee, which passed earlier this year.
Snowe stressed that her support for the final bill would depend on its resemblance in total cost, at least, to the finance bill. "I'm probably more vigilant about that point now than I've ever been," said committee chairman Max Baucus (D-Mont.), addressing her concern. Baucus added that he was ready to fight changes to "the so-called merged bill."
Republicans, meanwhile, stand in lock-step opposition -- minus Snowe -- to the reform effort. They know their history: the year after both Truman and Clinton's failed efforts, the GOP retook control of Congress and any hope of reform faded to minority status.
President Obama intends to avoid the same fate. The White House couldn't have been happier to have Snowe's support to give the bill the sheen of bipartisanship. Obama said Tuesday the finance vote "is obviously another step forward in bringing about a better deal for the American people," but he said he wouldn't "count chickens before they're hatched."
Obama singled out Snowe as an exemplar of bipartisanship shortly before after she declared her support for the finance bill. "I thank not only Chairman Baucus and others, but in particular Sen. Snowe has been extraordinary diligent in working together so that we can reduce costs of health care, make sure that people who don't have it are covered, make sure that people who do have insurance have more security and stability, and that over the long term we're saving families, businesses and our government money," Obama said.
"We have today a bipartisan bill," White House Press Secretary Robert Gibbs said later Tuesday.
Along with Snowe, every Democrat on the committee offered some measure of praise for Baucus, even the staunch public-option advocates whose amendments were twice blocked by the chairman and a couple of more conservative Democrats throughout the markup. "Your work here is a legislative tour de force rarely seen in these halls," Sen. Charles Schumer (D-N.Y.) told Baucus.
"I think that the dialogue is now for real," said Sen. Jay Rockefeller (D-W.V.), though he, like Schumer and others, said he plans to continue pushing for a public option in the final reform package.
Democrats didn't shrink from voicing changes they'd like to see in the final reform bill, but their main target was the health insurance industry, which released a report Monday claiming that reform will increase health insurance premiums. "It's one more indication that we're on the right track," Sen. Robert Menendez (D-N.J.) said of the report, while Sen. John Kerry (D-Mass.) said the "last-minute obfuscation" illustrated the need for a public option to keep insurers honest.
A much wider variety of complaints emerged from the Republican side of the committee dais -- and that was just from Kansas Sen. Pat Roberts.
"I am terribly concerned that we are riding hell-for-leather into a health care box canyon full of spending quicksand, cactus tax hikes, policy briar patches, complete with CMS regulatory scorpions, rattlesnakes and bad-news bears," Roberts said. "Something like riding your pickup over a whole tangle of barbed wire and getting out of this, Mr. Chairman, and back on solid ground to make Medicare solvent, is going to be a mighty rough and long ride."
Roberts also claimed that the finance bill would take a "Lizzie Borden ax" to Medicare and amounts to "a big shell game." He also reiterated his suggestions for the committee-room décor. "I know, Mr. Chairman, my colleagues, you are very tired of hearing me repeatedly say in hearing after hearing, we should have placed a big sign at the back of our hearing room that says, 'Do no harm.' We should have had it as a flashing light," he said.
Several Republicans suggested scrapping the current bill and starting over. But Democrats -- and Snowe -- said it was time to move forward.
"Is this bill all that I would want? Far from it. Is it all that it can be? No," said Snowe. "But when history calls, history calls, and I happen to think that the consequences of inaction dictate the urgency of Congress to take every opportunity to demonstrate its capacity to solve the monumental issues of our time."
Jeff Muskus contributed reporting
Popular in the Community