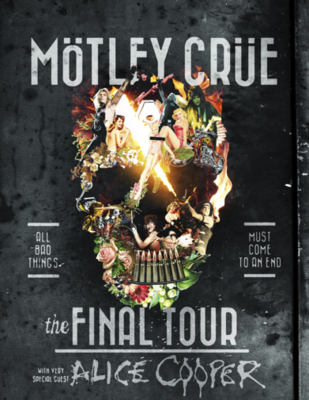 A Conversation with Mötley Crüe's Vince Neil
Mike Ragogna: A final tour? Say it isn't so!
Vince Neil: I know, but it's just about time. It'll be thirty five years; that's enough.
MR: Your final show on December 31st, 2015 will be a beautiful send-off, but do you think you guys might get antsy and decide to do something in the future?
VN: No. That's why we're doing this. We don't want to be that band that you go and see and there's just one guy left and somebody's brother, where the name carries on but it's not really Mötley Crüe. Mötley Crüe has always been just the four of us and that's it. Any other interpretation of the band would just be wrong. We want people to go, "Oh my God, yeah, I saw the final tour." We want to go off on top.
MR: When Mötley Crüe started it was one of the pillars of hard rock and heavy metal. Looking at it today, what do you think it is?
VN: We started out as a mix of everything, from Cheap Trick to AC/DC to The Ramones. We took all of those influences to become what we are today. We don't really see ourselves as a metal band. We see ourselves as just a rock band, that's it.
MR: For your perspective, what would you say was the evolution of the band like over the years? How did it change from point A to point Z?
VN: Well the interesting thing about Mötley is we could play country music and we'd still sound like Mötley Crüe. When we come on the radio you know who it is before they say it. I think that the trip for us from point A to point Z is we were always consistent in our sound and our songwriting; we know what the Mötley Crüe fans wanted and what we sounded like was what we wanted, so we've always stuck to our guns and never veered off too much.
MR: When you did the summer tour with New York Dolls, it seemed like they brought up some deep punk and even glam roots that have been in Mötley Crüe all this time.
VN: Well, yeah! If you look at what we looked like back in the early days it was total glam. The Dolls were a huge influence on us. Look at the pictures of us during Theatre Of Pain, it was totally androgynous, but we've always changed. You've got to remember the time, it was '85, '86 and every band out of LA started looking like that, with the big hair and high heels and lots of makeup, so you look at our very next record, Girls, Girls, Girls and we were completely different. We were bikers. We were always one step ahead of everybody else back then. We didn't want to fit into that cookie cutter way, but glam always had a huge influence on us in the beginning. Then everybody started doing it.
MR: What energized that originality?
VN: The live shows were the basis of all of our energy. We always had the biggest and baddest shows out there, but we created a monster because we always had to top what we'd done the previous tour. So that was always fun and exciting, coming up with different things, coming up with crazy stuff and asking engineers, "Can this be done?" It's either a "yes" or a "no." As far as songwriting, Nikki's lyrics and stuff always stayed contemporary to the times and had great stories and great melody lines.
MR: What was a typical writing session like with you guys?
VN: Well somebody would come in with a riff, like Mick, and we would just start playing it, and then I would start humming a melody line and then Tommy would come in with different ideas. If I wrote the melody I would tell Nikki how many syllables and then he'd come up with the words to go with it and all of a sudden it would evolve into a really cool song.
MR: Vince, you were gone from the band for a little while. When you came back, what were the band's changes?
VN: Yeah, I think Generation Swine was my first album back. Truthfully, I hated it. I didn't like the band direction, we still did not get along at that point, so that was a tough time for everybody personally and musically. I think I quit five times during the making of that record and I think I was fired ten times. It was a hard record to make.
MR: What do you think changed about the band that brought you guys closer together?
VN: God, we've been together thirty four years now, that's a long time. The only other people we've known longer are any siblings and parents. We've outlasted wives and girlfriends and trends and everything else. Blow the dust off and it's still the four of us going out and having fun and enjoying what we do.
MR: And, of course, the crowd still goes nuts for "Dr. Feelgood" and "Livewire."
VN: Of course! All last summer ninety nine percent of the shows were sold out. People love to hear those songs. I think most people grew up with the songs, so it brings you back to your childhood and stuff.
MR: Right. "Dr. Feelgood" is supposed to be one of the greatest air guitar songs ever.
VN: Oh, that's pretty cool!
MR: What advice do you have for new artists?
VN: I would say stay with what you're good at. I find that a lot of bands will start out as a great rock 'n' roll band but then the times will change into rap, so they'll try to incorporate that because they think it'll bring in more bands. Then it'll change again to boy band stuff, then they'll try to change to that. You can't do that. You're chasing your tail. You've got to just stick to your guns and if rock 'n' roll isn't in right now, who cares? Be the best rock band you can be, or the best pop band you can be. Don't try to be something you're not. I think a lot of people fail because they try to write too much for the times and not for their hearts.
MR: Right now, we're going through this major electronic and dance phase in popular music. How do you guys deal with the scene changes, like what do you listen to on the bus?
VN: I really don't listen to a lot of music because it's what I do for a living, but if I'm in my car I listen to classic rock. I listen to the stuff I grew up with. AC/DC and Aerosmith and Deep Purple and Bad Company and stuff like that. Rock fans don't say, "Oh, I was a rock fan, but now I'm not a rock fan, I'm an electronic guy." Rock 'n' roll does not get a lot of airplay except for classic rock stations and things like that, but you go to the concerts and there's twenty thousand people there who obviously are rock fans. They're out there, it just goes in revolutions. In another five years rock 'n' roll might be on top again for another five or six years, and then it'll slip away and become something else, but it just keeps coming back around. You can't wait for it, but it will happen.
MR: Nicely said. With Mötley Crüe winding things down live, are there acts that you're wishing some luck to?
VN: I'm sorry to say I actually don't have anyone like that. I don't listen to a lot of music now unless I'm in my car, I'm kind of too busy for it right now.
MR: What does the future bring post-Mötley Crüe touring?
VN: Well, here's the thing about Mötley: We're not breaking up. Most people think we are, but Mötley Crüe will still function as Mötley Crüe. We'll probably still be putting out music time to time for different things, but we're just not touring anymore. I don't think people really understand that. As for me, I have my solo band, I play tonight and tomorrow night and next weekend, I've been playing with them for years when Mötley doesn't play. I go out and have fun with them. I'll probably put out an album right after Mötley's done and continue with that, then I have the football team in Las Vegas and have all the adventures that I do. I'll be keeping busy, but I'll always still be doing music.
Transcribed by Galen Hawthorne
******************************
CON BRIO'S "KISS THE SUN"
According to Con Brio's lead singer Ziek McCarter:
"Creating music has always been a place of healing that's brought out the best in me. Since childhood, to express the joys and pains that aren't always the easiest to talk about has been the way it's manifested through me. So after losing my father, its meaning only amplified. For Con Brio, 'Kiss the Sun' embodies the purpose of our journey together: to create a platform of positivity for everyone. This is the inspiration behind the music we live for. And we live it 'with spirit.'"
******************************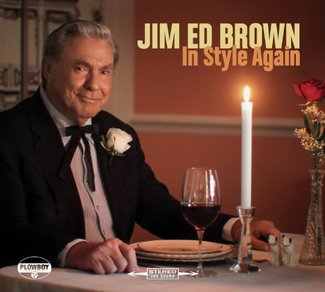 A Conversation with Jim Ed Brown
 
Mike Ragogna: Jim, I'm honored to talk to such a country music icon! So your new album, In Style Again, is your first album in 30 years. Why so long and how many unreleased Jim Ed Brown albums have been stacking up over the years? 
 
JEB: That's a good question and I'm not sure I have a good answer. I honestly just haven't spent much time in the studio.
 
MR: Can you take us on a brief tour of the new album's songs? 
 
JEB: Why sure! I absolutely loved recording with my sister Bonnie again. I wish Maxine's health had allowed her to join us, but unfortunately it didn't. "When The Sun Says Hello To The Mountain" is a beautiful song that I have wanted to record for decades and loved doing it with my sister. "Tried and True" is a great country shuffle that Vince Gill brought his great harmonies to. What an honor that was and I love the outcome. "Don't Let Me Cross Over" is a song I have been wanting to record for a long time and Helen was kind enough to come in the studio and sing with me. 
 
I've wanted to record with The Whites ever since they came to the Opry and I was so excited to finally get the chance. They sang on "I'd Choose You Again" and I just love listening to their harmonies. One of the great songwriters from the past, Cindy Walker, came to visit with me and my wife and I many times in the 60s and on one of those visits, she gave me a song. I have always wanted to record it and it's called "I Love It," and I'm really proud of it and thankful I got to honor her memory. Cindy was a great friend and we miss her a lot.
 
Hall of Fame member and my great friend, Bill Anderson, gave me a song called "Lucky Enough" and I was lucky enough to record it.  He is an amazing songwriter. "Laura" was s song written by Don Cusic and we had plans of releasing it in Ireland.  I am hopeful that will happen.
 
MR: What was the recording process like for you? Were there any challenges and what from your previous way of recording did you take into the new album?
 
JEB: Quite honestly, I just showed up ready to sing the best I could. I leave all the technical stuff to the professionals. Just stick me in front of the microphone and let me sing.
 
MR: Your new album is titled In Style Again but it's not really trying to compete with the Lady Antebellums of the genre. Was there a mission with this album? 
 
JEB:  My mission is always to the best I can:  find the songs I can and sing them to the best of my ability. 
 
MR: So what do you think of country these days? Do you have any favorite current country artists?
 
JEB: I love country music. I enjoy listening to all the girls and boys recording right now.  It would be hard to pick a favorite. I will say that I introduced the parents of Hilary Scott so Lady Antebellum would be at the top of my list and I love great harmonies and they sure are good at it.
 
MR: We played a little earlier about the concept of your being an icon, but with the depth of your catalog and all the hits you've accumulated, do you have any thoughts about your career to this point? And what is it about your music that makes it uniquely "Jim Ed Brown"?
 
JEB: I think I have always been a little different. The Brown's harmonies was unique because of the way our voices blended together. I feel like I always chose songs that leaned toward a smoother sound because that's what I sing best.
 
MR: Have you stayed in touch with your fans and what's your relationship like with them these days? Do you have a favorite fan story?
 
JEB: I do my best to stay in touch.  Facebook is one way, but it can be overwhelming for a young guy like me.  Technology is not my friend. 
 
MR: How often did people mistake you and Jim Ed Norman for the other over the years?
 
JEB: Not too often, but my daughter's nickname was Kim Ed and his wife's name was Kim Ed. My daughter had it on her license plate and was asked often if she was Jim Ed's wife. At the time, she didn't know who Jim Ed Norman was... I'm afraid to ask my daughter how she responded. 
 
MR: [laughs] Jim, what advice do you have for new artists?
 
JEB:  Work hard and appreciate your fans. And, keep your feet on the ground and your eyes on Jesus.
 
MR: I don't believe anyone's ever asked you this so I'll do it. Jim Ed Brown, what is your favorite animal and why? No, kidding, what are a few of your favorite Jim Ed Brown recordings?
 
JEB:  Ha, ha!  DOGS! My recordings are like children. You love them all and it would be hard to pick a few. I love them all. 
 
MR: Is there a shot you won't wait so long again before releasing your next album?
 
JEB: Yes, I am starting to work on the next one now.  Thank you for asking.
 
******************************
Mike Ragogna: Jim, there's a picture of you facing off against The Packway Handle Band over a game of foosball. How badly did you kick their asses?
I guess word leaked out about my sordid past as a foosball addict?  Back in the late '70s, I used to play competitive tournaments--the big one was called The $250,000 tournament sponsored by Tornado. I played both singles and doubles with some truly badass hustlers--guys who made piles of cash simply playing foosball at phenomenal levels, employing tactics akin to how pool sharks operate. A top-tier foosball hustler could bring in two grand a week without breaking a sweat. I never gambled because I was a born again Christian at the time, but I sometimes played back position for one such hustler, name of Tim Fazone, who was ranked in the Top 5 in the country at that time. He was from Pensacola and a big star in our little town, as back then there were thousands of pro foosball players scattered all over the south. So to answer your question, unfortunately during the Packway game, I was so many years removed from my prime that my shots no longer popped and whipped, to the point where as I recall it was a pretty close contest.  Thankfully no royalty money was wagered. Would have hated to lose that 27 cents I raked in for my Spotify payment for the year.
MR: So I take it your new Take It Like A Man mindset ties-in to this bullying of your musical contemporaries. Where did this boost in testosterone come from and do you think you'll ever come return to that gentle, singer-songwriter persona anytime soon?
JW: Hmmm, I was unaware the two were mutually exclusive. I guess that's just further evidence of my musical schizophrenia. My whole life I've struggled with issues of identity and easily shift from one musical style to the next, so this proposition was a relatively easy leap. I grew up listening to country and western and bluegrass and singing bluegrass style white gospel hymns in the Assembly of God churches I attended for much of my youth. Since straying from the church, I've followed diverse musical threads--rock, folk, country, rap, even dabbling in a funk direction a few times, but that did not end well. So the gentle singer-songwriter is present although his mouth is duct taped shut for the time being. He did manage to peel of the tape and howl out on the song "Sorrow's Shine" but that was about it.
As for the record title, we looked at the songs and realized that to some extent or another they were reflective of our collective, slightly dysfunctional male viewpoint. So, the title is a nod to our long-suffering male reflexes that are forever leaving us scratching out heads, elbows, asses and other body parts.
MR: Okay, Take It Like A Man. Take us on a tour of the album, the songwriting and recording process and how many songs are in the "can" as they used to say.
JW: The record came about as a result of a journalist from Aquarium Drunkard asking me to do a cover song for their Christmas issue a few years back. I never got around to it, but in the process inquired of the Packway fellas if they'd be interested in collaborating on it.  They were wide open for this proposition but we never could find a good schedule slot to make it work. A few months later, while working as a producer on The Skipperdees' Some Bright Mourning, I needed a bluegrass band to back them on one song, so I called the Packway guys. Again they jumped in enthusiastically and the resulting track "Ashes." "Ashes" turned out to be a real highlight on the record. 
Soon thereafter the Packway guys approached me to produce their upcoming record and at that point I began to scheme and wheedle and look for a way to insinuate myself into the picture, as I've always wanted to do a bluegrass record.  When I showed them my catalog of unrecorded country/bluegrass style material they liked what they heard and welcomed the opportunity to work together. Happiness.
So from there we traded CDs of demo songs that we thought apropos to the project---they were looking to branch away from their hardcore bluegrass sound and I was looking to focus my wandering eye on a narrower swath of musical expression---and so we met in the middle and began to shape a hit list of songs that we felt served our mutual needs.  It was a sort of sonic collision, hence the album title.
We took our material into Andy Lemaster's (Bright Eyes) studio here in Athens and in three days knocked out the core recording. Andy's a fast and talented engineer and things went very smoothly under his watchful eye. Then I took the material back to my home studio and began my remix work, layering, reinventing songs, tweaking the material in ways that hopefully heightened the impact of the songs. The orchestration and arrangements of a project grow on me slowly, and so that period post core recording is often where the record takes on the more compelling nuances and subtleties of it's identity.
We recorded two songs beyond the ones that appear on the record, songs that were eventually deemed a bit wide of the rest of the material and therefore left off. One was an ironic stoner anthem and the other was a bluegrass reinvisioning of Desmon Decker's iconic hit The Israelites.  We eventually recorded the DD song separate of the record and it's a favorite of mine from that project. Here's a link to it being played live:  
We all played on every song on the record, and there as lots of give and take with these guys, who are all fabulous musicians, so musically it's a bonafide collaboration, but in terms of song creation there's only one true collaboration, that being "Cornpone Refugee," with the music written by Josh, the incredibly talented flat picker guitarist, and the lyrics being provided by me and whatever intoxicated sonic genie that was dancing in my mind on that particular day.  It's a disjunctive ode dedicated to all those hillbilly OCD sufferers out there---an overlooked demographic to be sure.
MR: Which songs best show where your head's at these days?
JW: Well, I really love "Breathing Room," although I didn't write it, just helped with the arrangements. I love the cut and paste pastiche quality of it and how the diverse elements mesh. As I get older and more interested in the production end of making records, I'm more and more compelled by arrangements and ways to frame ideas in a coherent, yet nontraditional way. That song really goes in a wonderful, completely unexpected direction.
MR: Were there any problem children? Any songs that resisted with all their might until you made them take it like a man? By the way, that expression kind of creeps me out, was that the intention of that macho-y title?
The stoner anthem caused us lots of soul searching and grief. At one point, I decided a line written by one of the Packway guys offended me and that I wasn't really able to endorse it as a song I wanted on a record with my name on it. There was some discourse about it but eventually we realized part of our trouble with the song was that it just didn't fit with the other material, so it went on the scrap heap. My feeling is that you haven't done your job exploring the material in adventurous ways if you don't end up with a song or two that doesn't fit with the others. I always have one or two songs left over on my records that get scrapped because there's no way to blend them into the personality that the album eventually develops. Mike Nichols, the film director, once said that when making a movie at some point the film becomes a person, and you have to negotiate with that person and honor it's wishes, just as you do your own. Records are like that too. They take on a life force of their own. This record didn't want the stoner anthem on it.  We learned that down in the trenches while discussing our differences.
MR: You have a pretty impressive catalog and have been kicking around musically for a few years. Do you have any albums or songs that you're most proud of these days, especially in light of the new album?
JW: My favorite record was that one I did with Joe Henry. Drill A Hole In That Substrate And Tell Me What You See is the title.  Long story about the title, but it flopped commercially. That said, I'm really proud of how it sounds and feels. Joe really pushed me and the tone of the record in directions that I was reluctant to go to but happy to arrive at. He's courageous and shows utter faith in his players and leads without a lot of drama. He picks the players, the songs, the place then sits back and lets things happen. We're very different in the way we go about producing a record, and I was so grateful to get to study his approach--which is all about the moment--up close and in person. The end result is my most personal record, and as I said, my least successful commercially. Correlation there?
MR: Most artists feel like they're always growing or evolving, what's the process been like for you creatively and personally? And do you have a favorite artist whose music inspires you still?
JW: When I originally got signed to Luaka Bop, I'd been writing songs alone in my room for twenty years. My weird, off-beat songwriting habit was a form of self-therapy that I thought had no value in the larger world. In walked David Byrne to champion my work and all of a sudden I was thrust into a complex world of music and musicians. Getting started I had no idea there was even such a thing as standard tuning for a guitar. I had never played a live show, and knew nothing about traditional rock and roll arrangements; what sound a bass guitar made, what guitar pedals did, etc, so I came to the "music business" from an fairly unorthodox direction.  Much to learn. That said, I've always thought orchestrally, even those years when I was making home recordings in my room I was creating complex arrangements using pots and pans and bottles and found sounds, and as I've settled into making music with others--often very talented musicians---it's been a lovely journey of discovery. I'm producing records for other artists a lot now and often times I'm the least musically literate person in the room, and yet we find our way, joining hearts and minds, and manage to create records that have some value both aesthetically and commercially. 
At the end of the day, my favorite musicians are the ones who do it because they have a story to tell, so folks like Sam Baker and Eliza Gilkyson come to mind. Sam's the most gifted songwriter I can think of, certainly in the same league with folks like Townes Van Zandt and Dylan, and Eliza sings from a point of such clarity and beauty. And I really admire people who are unknowns and make music simply because they have to. It's in their blood. That kind of inspiration usually creates compelling content. Mike Ferrio from Tandy comes to mind. He never sought out a commercial path, although his work is loved and revered by many far more famous artists, Steve Earle for one.
MR: What advice do you have for new artists?
JW: Well, I have great sympathy for all the talented folks trying to decipher how to make a living in the music business at this juncture in history. There's never been a time like this in popular music, so far as I can tell---a real watershed moment in terms of aesthetic output, but sadly the opposite in terms of locating any kind of vehicle for getting paid a living wage for doing what you love. Everywhere you turn someone is releasing an amazing record.  Supply is wildly exceeding demand and so it's become virtually impossible to parlay your dreams into a viable livelihood. So I guess the advice I'd give informs on remarks from my last answer---make music because you love it, not to get famous or make a lot of money. Just make music because you love it, and ask nothing in return. I just heard a record from an Australian band called Anchor and the Butterfly that floored me. I figured they'd be superstars over there but I discover they are, like so many other truly brilliant musicians, virtually unknown.  
If you do decide to make a record, do it wisely. Don't think that rushing into a high end studio and maxing out your credit cards will lift your songs to a new level. 99% of the time that's not the case.  Use the various computer programs available to consumers to practice creating coherent material on your own. Invest in a good mic and a preamp and learn the craft of making a record.  That's what I did. I made 20-30 home recordings before anyone ever heard my music.   
And most importantly understand that the music business is about 30 per cent musical talent, 60 percent fashion and trend driven crap, and 10 percent sheer dumb luck. So it's a trip to the casino trying to rush to the center of the music business and expect anything rational to happen.  Occasionally, logic/beauty/meaning wins out, but not often.
MR: Would you have taken that advice? What would you have told yourself when you were starting out?
JW: I did! I continue to! Although I ventured off that path with my last big record and spent a pile of dough making a lovely recording, but bankrupted myself in the process.  I wasn't paying attention to what was in the wind, and so didn't realize until too late that almost every artist working at my level had slashed their recording budget by 80% because CD sales--which is how you recoup recording costs--had essentially disappeared. At the end of the day, no matter how you slice it, before you create art to send out into the world, these are the considerations you have to address. Do it as a hobby if this business talk offends you. That's the simple lesson I've learned from my years as a musician.
MR: Jim, how do you feel about your legacy and place in music?
JW: Well, I'm still waiting for Springsteen to write that big hit song about me....which is my way of saying, "WHAT LEGACY???" Jesus, I don't really even think of myself as a musician.  I think of myself as a person who feels compelled to make sense of life by telling stories and one of my reflex outlets for telling stories is with musical accompaniment. I'm touched that those stories and songs have value to others and hope that I can continue to create work that sheds light in dark corners. It's always gratifying to know that something you created was of service to others. A few days ago a young woman approached me at a show and said she and her mother always used to listen to my records together. When her mom died unexpectedly recently she played a song of mine at the funeral. She said it made her feel connected to her mom at that terrible moment. Wow. That's a good reason to create art--to help others find their way when darkness descends on them. That's a noble calling. But on this record, I'm not shining esoteric lights in obscure corners. I'm in the middle of life's dance floor, slightly drunk and not really giving a sh*t about my image. It's pleasant change of pace.  
MR: What's your dream future look like?
JW: Watching my kids grow up happy and whole.  So long as that happens the rest is inconsequential.
REAL LIFE. REAL NEWS. REAL VOICES.
Help us tell more of the stories that matter from voices that too often remain unheard.