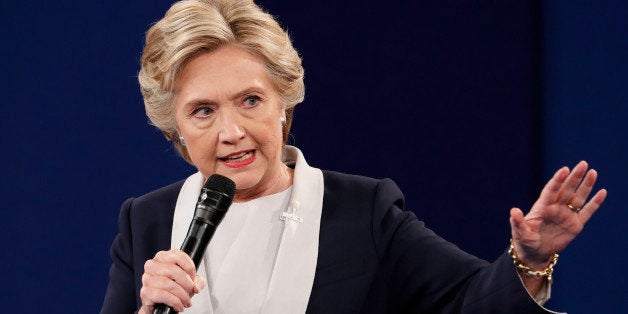 Tomorrow, Americans will -- for the first time this election cycle -- get to hear the two major party presidential nominees debate the issue of immigration reform. The lack of debate over immigration does a disservice to our immigrant and Latino communities, and it overlooks the important role immigration reform plays in our nation's economic future.
Our diversity is our greatest strength and we have all benefited from the contributions of people who chose to immigrate here. This election, however, has seen the rise of racist, scapegoating rhetoric, and xenophobic prescriptions completely at odds with our values. And yes, I'm talking about Donald Trump. Donald Trump's campaign was launched with vicious attacks on Mexicans, and his success in the Republican primaries was fueled by his "plans" to build a wall along the Mexican border and ban all Muslims from entering the country.
Since then, his rhetoric hasn't gotten better -- if anything, the more we've learned about Donald Trump's immigration ideas, the more we should be concerned about the consequences they'd have for communities across our country. His mass deportation plan would cost the U.S. an estimated $600 billion and reduce our GDP by over $1 trillion. His "deportation task force" would tear up families and communities and force undocumented immigrants further into the shadows of our society. And to make these deportations a reality, it would require a new system of mass incarceration and new waves of private detention centers in which immigrants would continue to be held in substandard living conditions.
Given the extreme and dire nature of Donald Trump's platform, it's inconceivable how little attention immigration reform has received in the debates. It is my hope tomorrow that Trump will have to answer for how he'd get Mexico to pay for a wall, how his deportation force would operate, how he'd make up for the hundreds of billions of dollars his plan would cost, and just how many families he plans to break up.
Thankfully, we have a choice in this election. Hillary Clinton has put forth the most progressive immigration platform of any major party nominee in history and is committed to reforming this inhumane system starting in her first 100 days as president.
Among the important policies she's proposed: fighting for comprehensive immigration reform with a path to citizenship; defending President Obama's executive actions that would protect 5 million immigrants from deportation; allowing undocumented immigrants to buy into the Affordable Care Act, so they're not forced to use the ER for primary care; and finally ending the practice of family detention and closing private detention centers, which have been exposed for their inhumane living conditions.
There has never been a more important election for the soul of America and for the well-being of America's immigrant families. The choice on immigration reform is clear.
As the Democratic Party, we should embrace this debate and elevate it as the national priority that it is. And we should never, ever abandon the values that make this country so great. The enduring symbol of our country is the Statue of Liberty, not a barbed wire fence.
Popular in the Community