Preview of EARTH: A New Wild, a new PBS series that takes a fresh look at humankind's relationship to the planet
I love nature documentaries. They take us to Earth's most spectacular places and teach us about its fascinating diversity of life. Yet something always seems missing. Where are the people who live alongside these animals? Even in the remotest landscapes, people are an integral part of nature.
That notion is at the heart of EARTH: A New Wild, a remarkable new five-part PBS series. The Nature Conservancy (TNC) is delighted to partner with PBS on the series, which examines people's relationship with wildlife in some of the planet's most beautiful and wildest places. Dr. M. Sanjayan, a gifted storyteller and TNC's former lead scientist, hosts the series, which was filmed in 29 different countries.
The first episode, which airs Wednesday night, is entitled "Home." Through powerful stories of how people and wild animals can thrive together, this episode helps us understand that the fate of wildlife and people are deeply intertwined. We learn about how collaboration and community-based conservation can lead to tangible results for the health of wildlife and people.
I recently traveled to northern Kenya, where parts of EARTH: A New Wild were filmed. It's a place where vast herds of wildlife coexist with a growing human population. While there I visited a TNC partner, the Lewa Wildlife Conservancy, a 62,000-acre wildlife reserve. Lewa has become a testing ground for innovative conservation strategies demonstrating that security for wildlife equals security for people.
Founded by visionary conservationist Ian Craig, Lewa attracts tourists and their dollars from around the world. Using these funds, Lewa hires local people to protect wildlife from poachers and supports schools, health clinics and micro-credit lending programs in the communities that surround the reserve.
As a result, local communities benefit directly from wildlife conservation. Elephants and rhinos, for example, now have value to local communities far greater than what their tusks or horns could fetch on the illegal poaching market.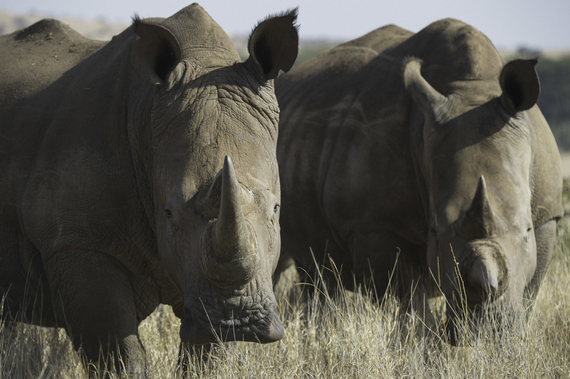 Critically endangered black rhinos graze at the Lewa Wildlife Conservancy in Northern Kenya (© 2013 Ami Vitale)
Part of Craig's vision is to share Lewa's learning with other community-owned conservation areas, known as "conservancies," throughout Northern Kenya. To extend the Lewa model, the Northern Rangelands Trust (NRT) was created to help protect natural resources, resolve conflicts among warring tribes and enhance security for the people and wildlife that share these lands. Visit A New Hope for a New Wild for stories and video about how the Nature Conservancy is working with NRT to transform both conservation and security in the region.
During my trip to Kenya, I sat down with two elders from the Namunyak Conservancy, a 1,500-square-mile community-owned landscape that surrounds the Mathews Range mountains. Sitting on the patio at a conservancy-owned lodge, these leaders described how profits from the lodge were helping pay school fees for local kids and for doctors to visit far-flung villages. They talked about how, with NRT's help, they had put in place governance to reduce conflict between villages and ensure forage was well managed so that wildlife and livestock could coexist.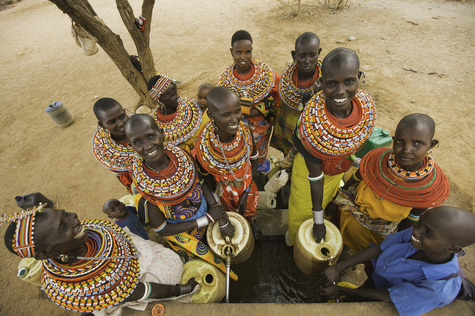 Samburu women collect water from a well built by Northern Rangelands Trust and the Nature Conservancy at the West Gate Conservancy in Northern Kenya (© 2013 Ami Vitale)
Since it was launched in 2004, NRT has grown to encompass 27 member conservancies and nearly 12,000 square miles of important wildlife habitat. Lewa and NRT's success shows that community-led conservation is scalable. And, perhaps most importantly, it shows that the health, security and well-being of people are deeply intertwined with the natural systems that surround us.
I hope you'll tune into EARTH: A New Wild for more stories like this that show it is possible for wildlife and people to thrive together.
Popular in the Community