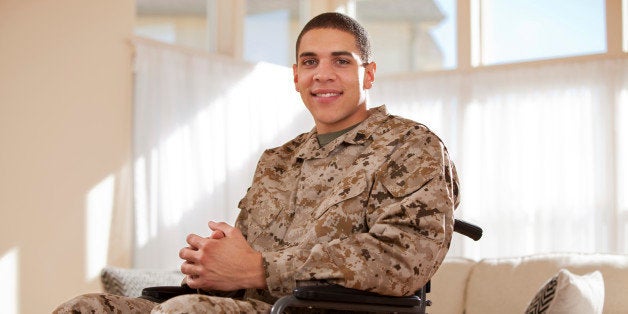 Robert McDonald, the new Secretary of Veterans Affairs, broadly outlined last week a series of plans to overhaul the department in the wake of the waiting list scandal that rocked the department -- and the country -- earlier this year. Among the most urgent necessities is hiring many thousands of health care professionals, from doctors to nurses and clinicians, to fill the significant shortage of people directly involved in treating patients.
The number of troops who have come home from Iraq and Afghanistan with damaged bodies and -- in far too many cases damaged minds -- requires such a comprehensive response. Advances in medical and military technology have greatly reduced the death rate, but soldiers who have survived attacks are doing so with amputated limbs, horrific burns, traumatic brain injuries and other life-altering wounds. From the Iraq and Afghanistan wars alone, more than one million veterans have returned with one or more disabilities. This, coupled with the increasing health problems of aging Vietnam era veterans, and even those from Korea and World War II, presents our country with a health care crisis of unparalleled proportions.
We need to do a better job of meeting our obligations to these veterans, and Secretary McDonald's plans represent a welcome and indispensable step in the right direction. America has a responsibility to ensure that our disabled veterans, who have given so much more than was asked of them, are never neglected or erased from our collective memory.
A permanent public tribute to these courageous men and women is nearing completion and will be dedicated on Sunday, October 5 in Washington D.C. I am proud to have conceived of The American Veterans Disabled for Life Memorial and to chair the Foundation that has worked so diligently over the past 15 years to build and endow it. The Memorial is also the rightful achievement of so many who devoted countless hours, energy and talent to the project. Chief among these were the late Jesse Brown, former Secretary of Veterans Affairs; and Arthur Wilson, past National Adjutant of the Disabled American Veterans. This grand edifice was built principally with private donations and largely from the disabled veterans themselves. It is their gift to a grateful nation.
Sitting across from the U.S. Botanic Gardens and in full view of the U.S. Capitol in Washington DC, this Memorial will serve to educate generations about the human cost of war.
I have been privileged to meet quite a number of disabled veterans and have witnessed their struggles to regain health, reshape lives shattered by disability, learn new trades or professions, and rejoin the civilian world. While their disabilities are a reminder of the fragility of life, these valiant men and women also inspire me with their fortitude, strength of character, and unflagging commitment to survive and flourish as devoted husbands and wives, fathers and mothers, sons and daughters, friends and colleagues, and hard-working and productive citizens.
Americans need to see first-hand the challenges our disabled veterans experience every day to fully understand the obligation we have to support them. Back in the late 1960s, I was working on Broadway as an actress in musical theater and was asked to entertain Vietnam vets at the Rusk Rehabilitation Center in New York City. I was young, naïve and clueless about the horrors that war can inflict on the bodies and minds of human beings. As I walked into a room filled with men lying on gurneys, hobbling on crutches, and sitting in wheelchairs, I was shocked.
A piano started playing and I began to sing the song Somewhere from West Side Story. As I got to the line "hold my hand and I'll take you there," I reached out to take a nearby soldier's hand but he had no hand for me to hold! That was the first of many lasting impressions which shaped my resolve to one day do something for disabled veterans.
Years later, I stopped to place my hand on my cousin's name inscribed on the Wall of the Vietnam Veterans Memorial. Beside me, a multiple amputee in a wheelchair struggled to lay a bouquet below a fellow soldier's name. My mind instantly snapped back to that day years before at the Rusk Rehabilitation Center. As I was leaving, I asked a park ranger if he knew where a memorial to disabled veterans might be. He said he knew of none. That was the catalyst that sent me on my two-decades-long quest to build this Memorial.
John Quincy Adams said: "You will never know how much it has cost my generation to preserve your freedom. I hope you will make good use of it." On October 5, as we dedicate the American Veterans Disabled for Life Memorial, let us heed the words of America's sixth President. Let us pay special honor and be as inspired as we are by the four million who continue to bear the scars of war long after the guns have fallen silent.
REAL LIFE. REAL NEWS. REAL VOICES.
Help us tell more of the stories that matter from voices that too often remain unheard.