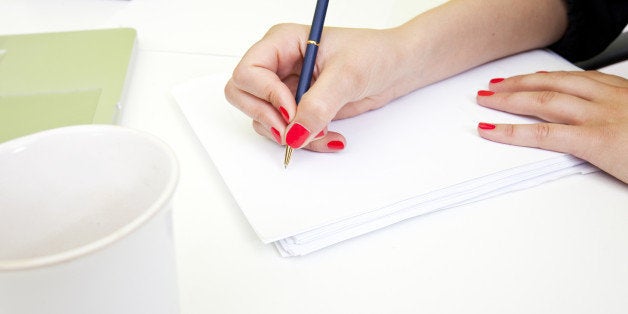 I have been writing my entire life. Surviving bitter disappointments and painful traumas, I have also celebrated new jobs, birthdays and graduations. I have documented births and deaths, marriage and divorce. I have often joked with family and friends about the "book I will write one day," referring often to the almost surreal quality of some of my life encounters. Surely they've meant more than a good line? Speaking casually about this book I'd "write one day" began to ring hollow. This joke, if you will, just didn't seem funny any longer. It was a real inner desire. It was a goal. To become a writer, one must write every day. Not out of a sense of duty, or a sense of discipline. Not out of a self-imposed deadline or even, with the thoughts of what others would think or feel when reading the words. I began to call myself a writer, embracing it as what I love doing. I also enjoy learning; there's rarely a day when I read something that does not create that sense of wanting to know just a bit more -- often a good deal more.
The world in which we live is a big place. There is room for billions of humans to inhabit this Earth. I've been witness to over five and one half decades of evolutionary growth in almost every field that is known or has come to be: anthropology, science, medicine, spirituality, education, and leading many of these practices in their evolutionary process: technology. I've been an observer of the news, once having read it in the form of a newspaper, folded lengthwise first, and then in half for the purpose of keeping just the piece in view that I was reading. Hey: Back in the day, as they say, this process was a honed art! Traveling on bus or train, one must be aware of personal space.
News was reported on the television, and my parents watched it on one of three stations. There were one or two other stations, but in those days the news was primarily local news, followed by national news, and occasionally international news. Today news is processed and communicated with incredible speed. However, speed and accuracy used to be synonymous with news. It is vital to check your sources when reporting: people's lives and reputations can depend on that.
However, with the advent of cellphones recording events that are posted to social medial, with commentary coming quick and furious on social media, there is little time to digest what is happening in the world. Is there a way to do to have both speed and accuracy any longer? Yes, there is. That is largely dependent on the sources that are used, and most definitely contingent on those whose responsibility it is to research and keep abreast of events. Research is critical, as is the formation of a balanced viewpoint. Personal agenda should take a back seat when reporting the news. Liberal and conservative are synonymous with U.S. politics. Both sides of the aisle, so to speak, sling those descriptions as though they are mortar shells. In truth, if one really wants to report what is taking place nationally and globally, the use of polarizing language is not necessary; indeed, it's a hindrance.
However, if one wants to write from personal experience and create imagery that draws the reader into their world, then one must write in descriptive and emotional words. Words are like a hook in a commercial jingle. You don't forget them once you hear them, they stay with you. Words are like blood coursing through our veins. They can enrich and imbue the reader in ways that are real and personal. Words can wither the very soul of a person who has lost their way in life. Conversely, they can restore life, and passion, and happiness, and they can remove hatred and anger and fear. The key for me is to allow them to flow through my hands from my heart, taking the reader down a path which, even if not familiar, will be enticing.
We all have dreams. This is mine: to use language in the written format. To encourage someone who thinks that their life is not as vital or important as another. To educate someone about a topic that they may not be familiar, but to do so without making that individual feel inferior for not having known the information before. Writing is the key to freedom for me, and the gift which allows me to reach inside and bring parts of me into the light that would otherwise remain shrouded. In this first week of the final month of another calendar year, I look forward and ask myself: will this writing bring me to places I've never been before? And then I laugh. I remember reading so much to my sons when they were just little boys, toddlers pointing at words and pictures with dimpled hands. And I thought recently of reading Dr. Seuss's books - most especially "Oh the Places You'll Go"!
Dr. Seuss's wisdom on many occasions reached into my being and bolstered me. His words instilled that sense of wonder, the reminder that our ability to encourage our best selves has to be embraced. As he wrote in that book:
"You have brains in your head. You have feet in your shoes. You can steer yourself any direction you choose. You're on your own. And you know what you know. And YOU are the one who'll decide where to go..."