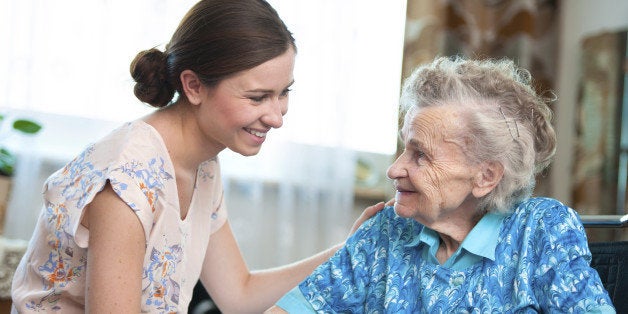 Home care worker Stella Moreno just got the news she's been waiting for--she is finally eligible for overtime pay. Through Medi-Cal, Stella works as part of Fresno's In-Home Supportive Services (IHSS) program providing round-the-clock care to Bianca, her 29-year-old daughter who is intellectually disabled, non-verbal and suffers from frequent tremors that limit her ability to eat on her own. As many as 70% of home care workers in California are like Stella, family members who want to provide the quality care their loved ones need in order for them to be able to live safely at home. Taking care of Bianca is demanding work with long hours and--although it's rewarding--home care doesn't pay very well.
In Fresno County, IHSS providers like Stella make $10.25 an hour. Although they are currently in negotiations with the County for a new contract, they haven't had a raise in almost seven years and, because of federal policies, they were not eligible for overtime pay, no matter how many hours they worked.
Starting today, that changes. Like employees that do similar work in hospitals and nursing homes, millions of home care providers across the country--including California's roughly 400,000 IHSS providers--will now earn overtime pay if they work more than 40 hours a week. They will also receive pay for wait time for when they accompany their clients to doctors' appointments and travel time for the time they spend driving between clients.
Because California's 400,000 home care workers make an average of just $17,000 a year, overtime pay will help to lift thousands of caregivers out of poverty. It will also go a long way towards giving home care workers, who are disproportionately low-income women of color, the same respect and recognition as other workers, who have had the legal right to overtime for decades.
This salary boost will make a big difference in the lives of Stella and her fellow caregivers. Overtime pay will make it easier to put food on the table, pay their rent and meet their financial responsibilities.
The critical step to pay home care workers fairly did not come without a fight. Hundreds of thousands of home care workers across the country joined together to call on the Obama Administration to change the federal rule regarding overtime to include all home care providers. With that change, California home care workers demanded that Governor Brown implement this new rule for the state's IHSS providers. They protested in rallies and petitioned for #overtime4caregivers online. Now, because of their united effort, our home care workers can finally say they are equally protected under the law.

Today, more and more elderly and disabled patients are choosing to stay in their homes, avoiding costly institutions or extended hospital stays. As a result, they now depend on home care workers to provide advanced medical care and assistance.
While extra pay will make a tremendous difference in caregivers' lives and help to ensure quality care for their clients, it is actually far less expensive for our state than placing those with care needs in expensive institutions. One study by the Center for Medicare & Medicaid Services (CMS) proved that home-based care delivered quality care for the highest utilizers of Medicare services at a lower cost than nursing homes and institutions. Staying at home can also help people retain their independence and social connections.
Statewide, over 450,000 disabled people and seniors rely on IHSS to keep them safe, healthy and comfortable. Caregivers are a critical lifeline for some of the most vulnerable people in our community.
Working overtime allows caregivers to provide more efficient and effective care because many disabled and elderly patients need more than 40 hours of weekly assistance. Without care that meets their full needs, these patients are left vulnerable to serious injury and hospitalization. Many home care workers already worked overtime to keep their clients healthy, but they weren't getting paid for their commitment. Overtime pay fixes this injustice and rewards them for their time.

Caregivers like Stella give so much to our state's elderly and disabled people to make sure they receive the best possible care. Stella wants to take care of her daughter at home and she deserves to make a fair wage doing this strenuous work. Today, I join her in celebrating an end to an unjust policy and a victory for home care workers here in Fresno, across the state, and across the nation. Now, they are finally getting the overtime wages, wait time and travel time pay they earned and deserve.
Calling all HuffPost superfans!
Sign up for membership to become a founding member and help shape HuffPost's next chapter