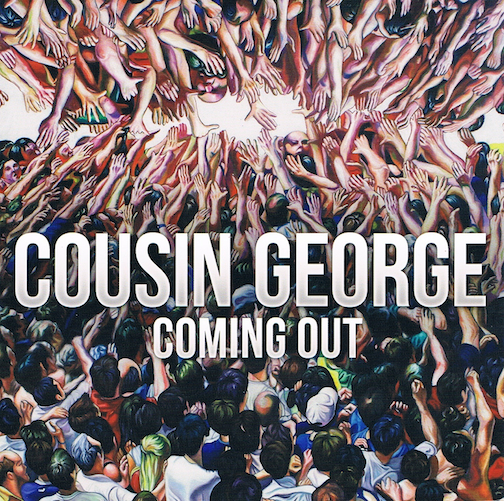 Created by Jin Meyerson
In late 2011, I was commissioned by one of my collectors George Haddad, aka "Cousin George" to produce a video for one of his tracks on his upcoming album Coming Out.
Not wanting to confuse this video with my own musical art videos, I decided to go out, buy a new wig, and try out some of my wardrobe that had not been worn. I also cast artist Nate Lowman as a lead to embody an estranged lover in "One More Chance". In the end, I loved the look, which served as inspiration for my character Kaye, who is now one of my leading alter-egos.
Kalup: I know you as a collector, but you are also a musician. How long have you been creating music?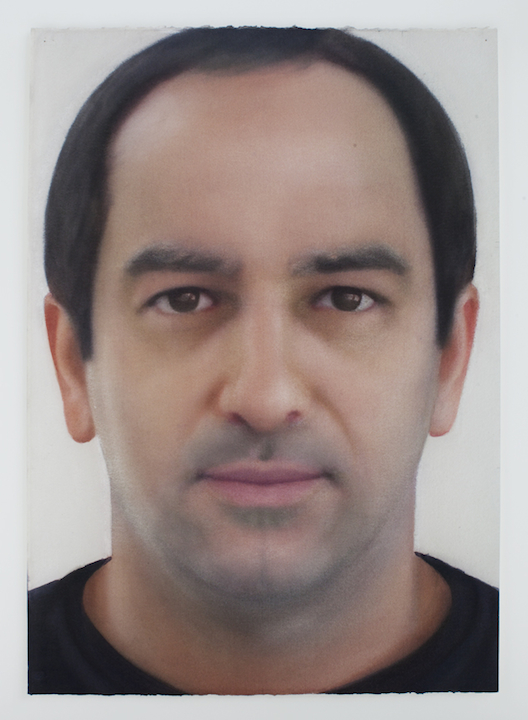 watercolor by Til Freiwald
George: I have been writings songs/music for over 25 years, both the lyrics and the music, but only started recording the last two years.  I had been in bands in college but was really bored singing other people's songs.
K: Myself included, you collaborated with other artists and musicians on this project. Can you tell us who the others are and what you came up with?
I have worked with Richard Dupont, Sean Metelerkamp (who directed the first video for "Die Antword" that got 20 million hits on Youtube), Kate Stryker and Lucas Millard, known as the Bottomless Well (who I met at the Bushwick Open Studios) and I am working on new projects with Luis Gispert, Summer Wheat and Monica Cook. Richard and I did a film for "One Hit Wonder" where a sculpture is created at the end using works done by "one hit wonders". The project with Sean (currently in post production in South Africa) was especially interesting, as it is more of a horror film that incorporates my music, where my head is cut off and served to my lover on a silver platter. We had to make a cast of my head that took over 3 hours, painful, but I wanted to stay with the vision of the artist, for the song "Lonely Without You". Luis and I are shooting the video for "Yellow Hair" in the Hamptons this summer, where I play an obsessed sheik.  
Kalup: Are any of these artists in you and your wife Lisa Applebaum's collection?
G: Yes, with the exception of Kate and Lucas, they are all in our collection. I wanted to start out working with artists that we had a relationship with, extending how we collect to a more collaborative relationship.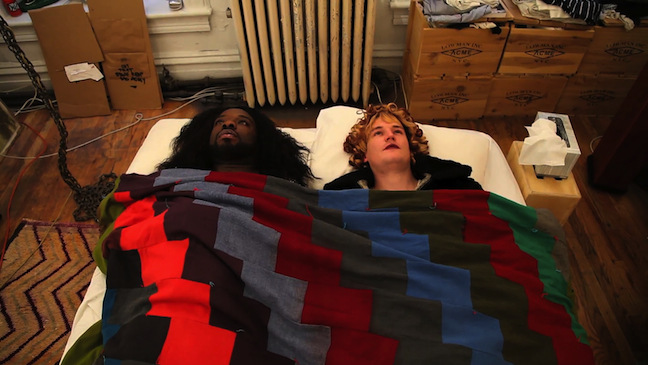 "One More Chance (still)" from Coming Out by Cousin George (to be released)
K: Who are some of the other artists in your collection?
G: We have a very diverse collection that includes sculpture, video and painting, with a few hundred pieces I believe.  It includes David Hammons, Kenneth Noland, Lisa Yuskavage, Jin Meyerson (who did the album cover), Jim Campbell and Nick Cave (the artist not the musician). Til Freiwald did my watercolor portrait that is on the inner CD sleeve. 
K: What do you want to accomplish or how do you want people to engage with your album Coming Out and Cousin George, one of your alter-egos? 
G: I have lived and worked all over the world, for me, now everyone has a Cousin George. The family element eliminates the barriers between people. I would go to galleries and see art and thought there was something missing. I liked the way Andy Warhol worked with the Velvet Underground and I wanted to create something that was entirely new, crossing over boundaries. It is funny, the work you did for me has been compared to Warhol in its simplicity and impact. Traditional music videos have become too much of a formula and I wanted to do something completely different.  Art is about interpretation, how people listen to the music and watch the videos, should be different for everyone. The title "Coming Out" can be interpreted in a number of ways. With the film project, I wanted to create something that could be viewed on both Youtube and in museums around the world. 
Readers, what are your thoughts on crossing boundaries and refusing to be placed in a box?
Calling all HuffPost superfans!
Sign up for membership to become a founding member and help shape HuffPost's next chapter