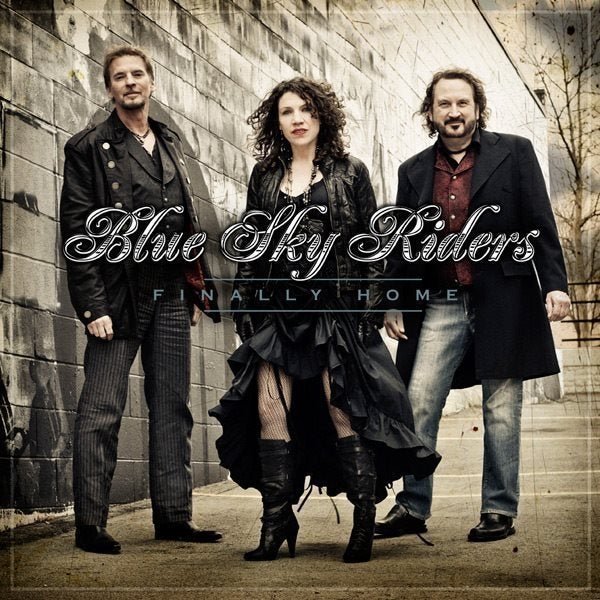 Yesterday, I held the new Blue Sky Riders CD in my hands for the very first time and was instantly reminded of a few other big "firsts" in my life:
•'Sitting In' - Loggins & Messina, 1971
Lying on my bed on a sweltering summer night in my $65/month duplex in East L.A. The radio is on and the FM jock is saying cooly, "We know who Jimmy Messina is, but who's this Kenny Loggins kid?" I immediately call the station and set him straight.
"It's me, and I'm listening."
"Very cool," he says. No artist has ever done that before. Thanks for calling."
Believe it or not, that's the first time I can recall being referred to as an "artist" by a civilian.
•'Celebrate Me Home' - Kenny Loggins, 1977
The transition into my solo career was as joyful as this BSR moment has been, and not without it's own "challenges" either.
But what really mattered was the music, and it was fresh, exciting and completely unknown territory for me. That little Victorian beach cottage on the cover and inner sleeve was my fist real grown-up home, and the lady on the front porch would become my wife and the mother of my first three children.
So much of life was about to unfold for me, and I could feel it in the air.
•'Return to Pooh Corner' - Me again, 1994
My first so-called "Children's Album" sent me flying to NYC on the day it was released, armed with CDs to give to radio stations on that CD's first promotional junket. After two radio stations jump immediately, enthusiastically onto playing this new version of "Pooh Corner," I call my A&R lady at Sony.
"Becky... In your wildest dreams, how many CDs do you imagine this could end up selling?"
It's three hours earlier in LA, and I can hear her stretching, trying to wake up as she replies, "Oh... maybe 100,000, I'm hoping."
"Really? Well, go back to sleep and start dreaming again. This sucker's gonna be huge! I suggest we press a million for starters!"
[Yawn] "Kenny, I love you, but that ain't gonna happen." (At this moment, it's at 2 million and still climbing.)
•'Finally Home' - Blue Sky Riders, 2013
Still celebrating myself home, eh?
When I look back, I can see that I've been searching for home since I started out in '71. It seems my life has been an endless quest for home, searching for that place where I know I belong. I admit there have been a few choice moments where I thought I was there, but I kept moving, perhaps because change is the only real constant. And yet, once again I've landed here at home, if only for only a while. Here with Gary Burr and Georgia Middleman. Here, where all the Fates have so clearly led me to be.
And I gotta say, it's damn hard work. The path of a baby-band is not glamorous. There are days when the words of my friend and business advisor ring all too true:
"Kenny, it's just too difficult. At your age, you should be thinking about retiring. Just use those well-earned laurels and sit-on back now." But common sense don't cut it when you're an "artist" -- that is, when you need to be creative to feel alive. Forming Blue Sky Riders was always my only choice.
When it gets crazy on the road... when the promoter "forgets" to give us a dressing room; when the audience is stripped down to 35 tired folks left at a banquet; when we get lost in our rent-a-car and drive an hour, only to arrive 15 minutes late for a 30 minute live-on-air interview; when we rush to unpack our guitars and I am suddenly struck by the sound of those three voices, Gary, Georgia's and mine(!) in 3-part harmony, and I am stunned by the sound, by the truth and freedom in the words we sing:
"I'm a Rider 'cross the Great Unknown.
That horizon don't need to get no closer.
Let the wheels keep rollin' cause wherever I go, 'cross the blue,
'cross the sky,
I know I,
I'm Finally Home."
Stay tuned. More to come.
Related
Popular in the Community