Opinion by Reboot Illinois' Madeleine Doubek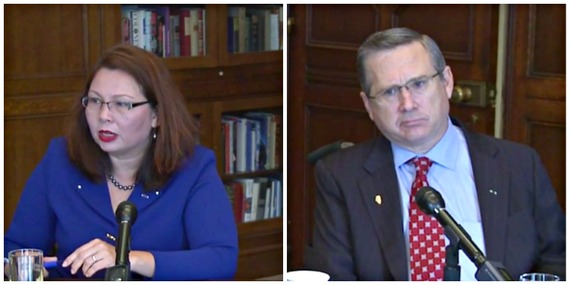 Finally some substance from Illinois' U.S. Senate contenders.
After months of bottom-feeding attacks on each other that did little to enlighten voters, Republican U.S. Sen. Mark Kirk and his challenger, Democratic U.S. Rep. Tammy Duckworth met Monday in an endorsement meeting that finally showed their differences on student loans, crime, job creation, Syria's civil war and more.
Just as significant, viewers also got a glimpse of who the candidates are and how they're doing.
Kirk suffered a massive stroke in 2012 and Duckworth lost both legs while the helicopter she was piloting was shot down in Iraq. Sitting in wheelchairs next to one another before the Chicago Tribune editorial board, an animated Duckworth went after a mostly subdued and often quiet Kirk. He sought to portray himself as the independent "glue" that binds a divisive Senate, repeatedly referring to strengthening his relationship with Democratic senior Sen. Dick Durbin. She sought to portray herself as the candidate who understands and will fight for average Illinoisans.
Asked to clarify where they were when America was attacked on Sept. 11, Kirk told of being in a meeting with former Defense Secretary Donald Rumsfeld and said he got "a nice note" from Rumsfeld about it later. Duckworth jumped at the remark, saying, "I have no memento from Secretary Rumsfeld from 9/11. The only memento I have is this purple heart pin right here."
The Illinois race for the U.S. Senate is considered to be among a handful nationwide that will determine which party controls that chamber. To date, the pair of disabled military veterans have spent most of their time tying each other to past controversies or controversial politicians like Rod Blagojevich and Donald Trump.
But Monday's editorial board meeting revealed real policy differences.
Student loans

Duckworth said she would work to craft a plan to address suffocating levels of student loan debt for young people and their parents who often co-sign for them, noting they should at least be allowed to refinance debt on loans that sometimes carry 12 percent interest rates.
Kirk said he worried that Democrats intended to create another entitlement program around student debt that could be as "bad as Obamacare." We've got to elect someone who doesn't promise more free stuff. Instead, he suggested government promote 401(k)-style savings accounts for children when they are born.
For more on what Kirk and Duckworth said about crime, jobs and Syria, click here.
Calling all HuffPost superfans!
Sign up for membership to become a founding member and help shape HuffPost's next chapter