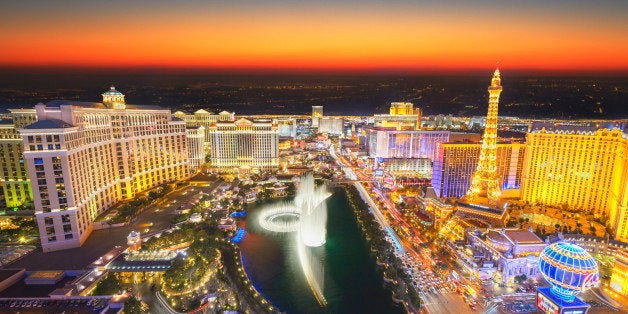 The movie The Hangover solidified Sin City's party image. So when did Las Vegas become the sophisticated destination?
Las Vegas is having some awkward growing pains -- or is it more of an image discrepancy? My favorite can-do town loves to reinvent itself, and it's at it again. Nothing too jarring, though; more of a slow roll. And it's left some confusion among the local populace. It was nothing short of thrilling to watch my adopted hometown soar to international acclaim in the admit-it-they-were-hilarious The Hangover movies; but fictional movie blockbusters aside, the big news coming out of Vegas is packed with artsy Cirque du Soleil shows, celebrity chefs and nationally-televised (elegant) charity galas.
What gives, Vegas? Are you the ultimate boys' club romp, or an activity-packed getaway for show geeks and foodies? Guys' trips to Sin City, where I lived off and on for the past six years, make the perfect backdrop for a comedy. The Hangover franchise has certainly fueled many would-be grooms from around the world to plan their bachelor party on the Strip, and I've laughed for days over some of the stunts they've pulled. Vegas will always be a boys' weekend mecca. Look around: The steakhouse is king, and this desert city will always be a fantasyland where women wear their skirts just a little bit too short. Yet, my next planned trip there is with my mom. We got tickets to see Book of Mormon. We love the stunning new Smith Center performing arts center, and the shuttles from the Strip make it easy to get there. My mother loves Vegas so much, in fact, that after helping me move to San Francisco recently, she stopped in Vegas on her own for a few days on her way home. A slot machine guru, she knows where all of her favorite machines are inside her favorite casinos and could walk the Strip for days taking photos. I assure you that she's never seen The Hangover. Ultimately, this city of lights is truly fun for everyone, but that doesn't make for the sexiest ad campaign.
For me, Las Vegas is an intoxicating package of stellar shows, incredible restaurants, first-rate shopping and mind-blowing spas, easily four of my favorite things. Oh, how I miss the yummy sunset cocktails on the open-air patio at Hyde watching the Bellagio fountains with the Paris hotel in the background. I miss those moments to be sure, but I also find myself pining for the Celine Dion, Rod Stewart, the irreverent Absinthe show at Caesars and all of the seemingly interminable Cirque productions sprinkled down the fabled Strip.
The last time I swung through town for a few days there were so many exciting new restaurants to try that I didn't have any time left to revisit my long-time favorites. And I won't stop until I get to float into Wynn Encore's spa for another massage. Sure, the nightclubs are there, and hipper, younger people still stand in line for hours to see their favorite DJ or maybe cause a little bit of trouble. But those clubs are far out-numbered by top-tier restaurants, shows, spas and other activities. And don't forget the people watching! Wandering aimlessly around Vegas is as much fun as anything else. Trust me. A dear friend of mine came to visit during one of my very last weeks as a Vegas resident; not into partying, she has apologized profusely over the years that she would never, ever visit me in Vegas. We met up in Napa, and even Argentina, but never Vegas until her husband begged her to go. And my leaving put the fire under her belly.
A funny thing happened on her way to the desert. While shopping for a few "Vegas dresses" to wear to the theater, she started to get very excited. During her visit, we had an amazing meal at Gordon Ramsay Steak, which she couldn't believe I had access to whenever I wanted. She raved about Cirque's Beatles and Michael Jackson shows. And her massage! Now we talk about when we're going to meet up there for a girls' weekend of good food and pampering.My answer is always, "Whenever you want." Las Vegas has quietly become a first-option destination for people like us -- all of us. Just don't tell the young men dreaming of The Hangover re-enactments. Las Vegas really has become anything you want it to be and isn't that what a world-class city should ultimately be?
Calling all HuffPost superfans!
Sign up for membership to become a founding member and help shape HuffPost's next chapter