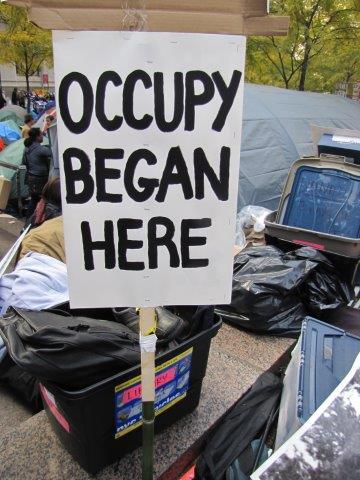 And, it's a good one - an invitation to join with a significant number of the original Occupiers and their supporters on Saturday, September 7 (S17) and celebrate Occupy's fifth anniversary in NYC's Zuccotti Park.
There is a good reason for a large number of Occupiers to be on hand. According to the Media Outreach Team for the OWS S17 Planning Assembly, many will be there that day to recreate the Occupy experience for activists, community organizers, visitors, tourists, historians, authors and expected media representatives.
Few people realize that Zuccotti Park was carefully divided into 'neighborhoods.' It had sleeping and cooking areas, a medical unit and fully-stocked library, a drum circle, information booth, a spiritual zone, communications center and more. Each of these areas will be staffed by Occupy volunteers who will interact with visitors and members of the press.
According to their Public Service Announcement, this will not be an attempt to re-occupy Zuccotti Park, although it is likely that this event will echo in many ways the spirit of the original event. Some items (i.e., marches, press conferences and speeches) will be planned, while some elements of Occupy will be totally unscripted...or even off script as is the wont of many Occupiers.
What if they gave a party...and everyone came?
Attendance will be influenced by the effectiveness of their social media campaign. A just-launched Facebook page hosted by the OWS Special Projects Affinity Group has already attracted the attention of the alternative media and there is a devoted website as well.
Author and activist, Rivera Sun of Occupy Radio, intends to do a show featuring OWS veterans in advance of S17, and broadcast these interviews nationally on that day.
Dean Edwards, Coordinating Editor for Democracy Watch News, is being even more aggressive in coverage. Labeling this as an OWS Weekly National Press Briefing - Special Event, his team of Democracy Watch News and Democracy Watch Media will partner with the OWS Media Group to do live Zuccotti phone-in interviews with Occupiers and other assembled activists.
Joe Ellen Green Kaiser will reprise her role as the originator of the OWS Weekly National Press Briefing and will co-host the show which is scheduled to take place from 1-3 p.m. EST.

And if you are elsewhere that day?
Thanks to a plethora of interviewers and live streamers around the country, and the ability to call in to a number of online interviewers, Occupiers in other cities will not need to feel left out. Organizers know that this programming will help connect out-of-the-area visitors deterred by time, distance and finances.
As example, Mike Perlman, President at World2Be Productions and documentarian who produced the award winning and Lou Reed narrated "The 99%: Occupy Everywhere" documentary, cannot be in town for S17.
"This will be a historical event and a wonderful opportunity for people to engage with actual occupiers as opposed to those selected to be stereotyped in mainstream media," Mike declares, fondly remembering individuals he had met at Zuccotti.
"How about the guy who pedaled the bike to provide electricity to our laptops and lights? The librarians? The cooks? Will the people who staffed the 'Empathy Table' be there," he asks? "Their presence highlighted then what is so much missing in society today - empathy!"
All are invited; some with caveats
Pointedly, there is one group of people not being encouraged to attend.
"Not invited: a police force with any agenda other than a desire to serve and protect those attending the event," OWS Media emails make clear. "No mace. No 'kettling.' Just keep the peace so that this gathering can enjoy and share its day in the sun. Nor do we invite troublemakers or provocateurs. This is a celebration and a remembrance."
Five years has not dimmed the memories of Occupiers who experienced the aggressiveness of New York's "Finest." Also likely to be disinvited are DHS and the FBI in their infamous JTTF (Joint Terrorism Task Force) role of surveilling and infiltrating Occupy.
Perhaps, five years later, they might simply recognize us as fellow citizens wanting to legitimately and peacefully improve society. Perhaps.
Given the costs to the city to inflict their disapproval of the Occupy campers and marchers ($33,000 for pepper spraying six people - another $365,000 paid out for destroying Occupy's library), one would think that the city might find it cheaper to welcome occupiers and visitors with open arms. Being a surly and abusive landlord is expensive.
One Media Spokesmen summed up the DNA of the day:
"S17 is our way of declaring, "Occupy is not dead. We simply became the seeds of so many of today's powerful activist movements. Long live Occupy. Long live its blossoms."
Popular in the Community