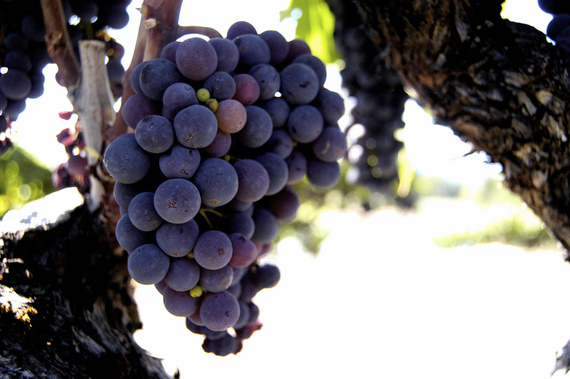 The California drought continues to drag on but there could be a silver lining, or two.
Before the impossible San Francisco real estate market, Silicon Valley and the drought, California was known for something a little sweeter: wine. With the drought bringing less water to fields, vintners are thrilled to say that wine grape quality has never been better. In fact, the 2014 wine grape harvest produced one of the best vintages this decade, according to the Wine Institute. Plants and fruits are actually thriving in the "deficit irrigation" (reduced H2O) environment.
"California vintners and growers across the state are grateful for another excellent vintage, despite an ongoing drought and earthquake that rocked south Napa in late August just as crush was getting underway," said U.S. Department of Agriculture economist Annemarie Kuhns.
Napa Valley grapes aren't the only place fruit has gotten sweeter. In early findings on experiments performed by a group of USDA scientists, deficit irrigation (DI), produced either equal to better quality fruit besides grapes after two under-watered years.
California peach farmer David "Mas" Masumoto, did his own experiment with DI and claims that his fruit bursts with flavor. Masumoto told the LA Times, "I realize all these years I've been pumping them up with fertilizer and water to try to get them artificially big."
In a study on the Wonderful Pomegranate Trees, a Fresno, California team led by researcher Tiziana Centofanti and USDA soil scientists Gary Banuelos, observed that the crops were smaller after two years of 35 percent less water, but showed no significant negatives in quality, taste or health benefits.
San Francisco-based company Imagine H2O hosts anti-drought tech competitions so residents can better understand just how much water they're using.
PowWow Energy, a young startup, developed the use of gathering electricity data from basic smart meters installed on the water pumps that can signal pump leaks and send a text notification to the farmer. This would prevent any water from being lost which increases reserve efficiency.
OnFarm launched a data management software, which includes tools for water management. Through the software, farmers can utilize analytics from real-time soil moisture to irrigation scheduling and more.
Two-year-old CropX uses sensors to aid in helping farmers designate where the most useful location for water can be put to use, as to avoid waste. Differing terrain of farmland and fields require different levels of watering dependent on their elevation and relation to the cold or hot weather.
The tech giants have also begun showing increasing interest. Google, Apple and Facebook have all pledged to adopt large amounts of clean energy to power their data centers, and the Farmer's Business Network recently raised $15 million from Google Ventures, Kleiner Perkins and DBL Investors for its social network which would allow farmers to collaborate with each other on field, crop and water issues including irrigation tools and weather information to increase yield.
Given, the bad news concerning the drought may outweigh the good. Wine and apps aren't a solution to the bigger problem, but a little optimism during these dry times can't hurt.
Calling all HuffPost superfans!
Sign up for membership to become a founding member and help shape HuffPost's next chapter