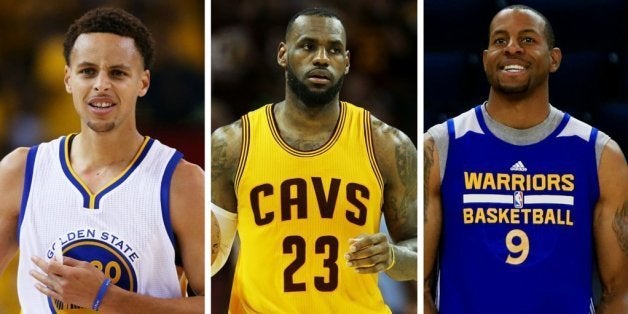 Despite putting together one of the single best Finals in NBA history, LeBron James was not named MVP. There would have been little historical precedent for James to win the award despite his team losing the series. In fact, you have to go back to 1969 for the last time it happened, when Jerry West averaged 38 points per game for the Los Angeles Lakers, who ultimately succumbed to Boston. And yet James, who averaged 35.8 points, 8.8 assists and 13.3 rebounds in six games against Golden State, single-handedly kept Cleveland afloat without the injured Kevin Love and Kyrie Irving.
Regular season MVP Stephen Curry, who rebounded from a sluggish start to the series, didn't take home the award either. Instead, it went to a seemingly unlikely candidate in Warriors reserve swingman Andre Iguodala, with his hounding defense on James and timely scoring.
But a case could have been made for why each of the three players deserved the honors. Here's why:

LeBron James
What hasn't the 30-year-old megastar done? Irving went down early and James was forced to become a point-forward, essentially creating all of Cleveland's offense. Most possessions come down to James making the correct read. If he drives and help comes, he looks to kick. If it doesn't, he's either scoring or getting to the line. LeBron has averaged a robust 11.8 free-throw attempts per game in the Finals, up from an already healthy 8.4 during the regular season. Moreover, despite a high usage and lower efficiency than normal, he "accounted for 38.3 percent of Cleveland's points in the Finals, the second-highest percentage of team points in Finals history," according to ESPN's Tom Haberstroh. Better yet, he did it while resting less than three minutes ... per game.
If the MVP comes down to "most valuable to your team," than it would have had to be James, because without him, the Cavs would have had next to nothing against a Warriors squad that won a league-best 67 games this year. All in all, James averaged twice as many points, rebounds and assists as Iguodala.
It's funny how quickly Curry put the Matthew Dellavedova lock-down theory to rest. As I noted earlier, the 26-year-old has made subtle, useful adjustments resulting in a significant spike in production. Curry averaged 26 points and six assists for the series, but provided clutch fourth-quarter scoring, time and time again. The key was his refusal to let Cleveland jump every pick-and-roll while also maintaining his patience, both as a scorer and facilitator.
To be fair, he has an ingrained sense of trust in his teammates that James simply doesn't. While Curry can kick to Klay Thompson or hit a slipping Draymond Green or a cutting Iguodala, James is often forced to rely on the enigmatic J.R. Smith, Iman Shumpert or Timofey Mozgov. In fact, according to FiveThirtyEight, this Cavs supporting casts ranks 60th out of the last 62 Finals teams.
"He does everything for us," Kerr said after Game 5. "He's our best defender on LeBron. He's an incredible decision-maker. I mean, seven assists, no turnovers. He rebounds. He guards everybody. ... The guy is brilliant at both ends. He sees the game."
With a net rating around 15, the stellar Iggy was second only to LeBron in net rating, a nod to his versatility and dynamic play on both ends. When the Warriors needed a big bucket, it wasn't Thompson who gave it to them, and at times it wasn't Draymond Green or Curry either, but rather Iguodala. Nobody can even remotely match LeBron's production because by his own (accurate) admission, he's the best player in the world.
But without Iguodala's presence on both ends of the court, we might not have been talking about Golden State's first championship in 40 years. The league may not have chosen the most popular or the most talented candidate for Finals MVP, but it didn't get it wrong by selecting Iguodala either.
For what it's worth, Cleveland -- even with the mystery of Kevin Love's future looming -- is listed as the favorites for next season.
Calling all HuffPost superfans!
Sign up for membership to become a founding member and help shape HuffPost's next chapter