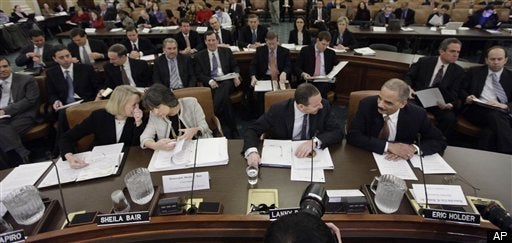 FINANCIAL CRISIS INQUIRY COMMISSION UPDATES:
The Financial Crisis Inquiry Commission held its second day of hearings in Washington today. (Watch the hearing live here.) Today's witnesses include Attorney General Eric H. Holder, Jr., Assistant AG Lanny A. Breuer, FDIC Chair Sheila C. Bair, SEC Chair Mary L. Schapiro and several state attorneys general and officials.
Click here to read HuffPost coverage of yesterday's hearing featuring Goldman Sachs CEO Lloyd Blankfein, Bank Of America CEO Brian Moynihan, Morgan Stanley Chairman John Mack, JPMorgan Chase CEO Jamie Dimon and several banking experts.
UPDATE 1:22 P.M. - BERNANKE WILL TESTIFY, ANGELIDES CITES MISSED WARNING SIGNS
The panel investigating the roots of the financial crisis plans to call former Federal Reserve Chairman Alan Greenspan to testify about his role in the biggest economic crash since the Great Depression.
During a break in Thursday's proceedings, the chair of the commission, Phil Angelides, told reporters that Greenspan will be among a group of former regulators who will be asked to appear before the bipartisan Financial Crisis Inquiry Commission.
"We will be asking regulators who were on the watch at the time. People during both the Clinton administration and Bush administration," Angelides said. "We'll be asking them to come before us because they were the watchers."
Angelides specifically listed Greenspan, current Fed chairman Ben Bernanke, and former Securities and Exchange Commission Chairmen Christopher Cox, William Donaldson and Arthur Levitt.
"I can assure you we will be as probing of the regulators who were on the scene at the time as we will be of people in the private sector," Angelides said.
His remarks came after the panel heard from current regulators Sheila Bair and Mary Schapiro, the heads of the Federal Deposit Insurance Corporation and the SEC, respectively. Both spoke of massive failures in the country's financial regulation apparatus, including the failure to act when regulators saw that subprime lending was spiraling out of control and the excess of leverage in the financial system. Both Bair and Schapiro appeared contrite.
"It was very clear that -- with respect to the SEC's regulation of the big banks -- there was failure. Why is it that they so badly missed what was happening at the big investment banks?" Angelides asked after their testimony before adding, "We'll look at why that happened."
The panel also heard testimony from Attorney General Eric Holder, who described how the Justice Department has responded to the crisis. The FBI has more than 2,800 active investigations into mortgage fraud, he said.
But the FBI knew about rampant mortgage fraud as far back as 2004. Angelides seized on that during Holder's testimony, asking what the FBI had done since identifying mortgage fraud as an "epidemic" more than five years ago.
"The FBI warned in 2004 - by the way, this wasn't an off-the-cuff remark, this was the head of the criminal division, an assistant director of the FBI - in public testimony that this was an 'epidemic'," Angelides told reporters after Holder's testimony. "These were measured words. They were clear. It was a clarion call."
It appears that Angelides is particularly interested in whether information and recommendations that were known and made by individual agents, examiners and investigators on the ground eventually were heeded by top officials in positions of power. Indeed, he likened the FBI's warning in 2004 -- which, given the collapse, was likely not seriously acted on -- to the warnings made by field agents prior to the Sept. 11 attacks.
"This may be akin to what the FBI agents were doing prior to 9/11. They were warning around the country about foreign nationals who were being trained to fly -- not land, not take-off -- commercial airliners," Angelides said.
"When it comes to subprime lending, what did the FBI, the Department of Justice, the Fed, and others know, when did they know it, and why didn't they act?" Angelides said.
UPDATE 12:20 P.M. - SEC CHIEF: THE SEVEN FACTORS THAT CREATED THE FINANCIAL CRISIS:
In her prepared remarks today, SEC chair Mary Schapiro weighed in on what she thinks caused the financial crisis. Calling these "interconnected and mutually reinforcing causes," Schapiro cited the following:
The rise of mortgage securitization (a process originally viewed as a risk reduction mechanism) and its unintended facilitation of weaker underwriting standards by originators and excessive reliance on credit ratings by investors;
A wide-spread view that markets were almost always self-correcting and an inadequate appreciation of the risks of deregulation that, in some areas, resulted in weaker standards and regulatory gaps;
The proliferation of complex financial products, including derivatives, with illiquidity and other risk characteristics that were not fully transparent or understood
Perverse incentives and asymmetric compensation arrangements that encouraged significant risk-taking;
Insufficient risk management and risk oversight by companies involved in marketing and purchasing complex financial products; and
A siloed financial regulatory framework that lacked the ability to monitor and reduce risks flowing across regulated entities and markets.
Read Schapiro's full testimony here.
UPDATE 11:47 A.M. - FDIC CHAIR ATTACKS WALL ST. PAY
One of country's top financial regulators drew a direct link Thursday between the lack of adequate consumer protection and pay on Wall Street to foreclosures on Main Street.
Compensation was for "short-term results" which created "perverse incentives for risky behavior," said Sheila Bair, chair of the Federal Deposit Insurance Corporation.
"The crisis has shown that most financial-institution compensation systems were not properly linked to risk management," Bair said in written remarks before the panel created to investigate the roots of the financial crisis, the Financial Crisis Inquiry Commission. "Formula-driven compensation allows high short-term profits to be translated into generous bonus payments, without regard to any longer-term risks."
Which is interesting, Bair noted, given the fact that many investments and financial instruments are actually structured to be held for the long term.
"Many derivative products are long-dated, while employees' compensation was weighted toward near-term results," she said. "These short-term incentives magnified risk-taking."
The mortgage market also fell victim to this short-termism.
"The standard compensation practice of mortgage brokers and bankers was based on the volume of loans originated rather than the performance and quality of the loans made," Bair said in her written remarks. "From the underwriters' perspective, it was not important
that consumers be able to pay their mortgages when interest rates reset, because it was assumed the loans would be refinanced, generating more profit by ensuring a steady stream of customers."
"The long-tail risk posed by these products did not affect mortgage brokers and bankers incentives because these mortgages were sold and securitized," she said. "The lack of a downside in these compensation schemes ultimately hurt both those who could not pay their risky mortgages and the economy."
That, combined with the lack of adequate consumer protection, Bair said, has had "toxic" effects. She told the panel that foreclosures are occurring at a rate of nearly three million a year, and that 15 million homeowners owe more on their mortgage than the house is worth.
The head of the panel didn't waste any time asking the nation's top law enforcement official about a 2004 FBI statement that the mortgage fraud "epidemic" could be contained.
Phil Angelides, the chair of the Financial Crisis Inquiry Commission, asked Attorney General Eric Holder whether the Justice Department had conducted any reviews of the agency's performance since the FBI told Congress in 2004 that the nation was suffering from an "epidemic" of mortgage fraud.
Back then, the FBI warned it could lead to another savings-and-loan debacle, but was confident it could contain the problem from mushrooming.
Holder said he was "not familiar myself with that statement." But, he added, "we will review what Justice has done since that time."
The S&L crisis in the late 1980s eventually cost about $150 billion. The current crisis is expected to far exceed that.
The Federal Bureau of Investigation is investigating more than 2,800 cases of mortgage fraud, Attorney General Eric Holder told a bipartisan panel investigating the roots of the financial crisis.
It's a 400 percent increase from just five years ago, Holder said.
Popular in the Community