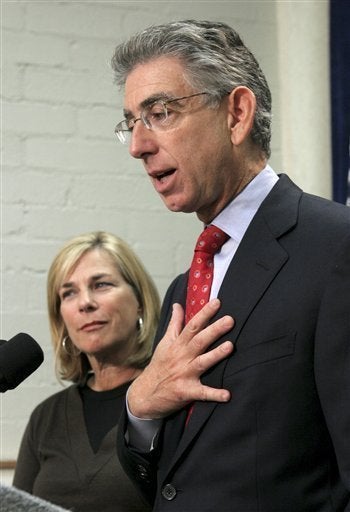 Two senior staffers have quietly left the Financial Crisis Inquiry Commission, a panel working under a tight deadline that has been dogged by rumors of discord among key personnel.
Matthew Cooper, a former journalist who joined the FCIC as a senior adviser, left the unit Aug. 13. Bradley J. Bondi, counsel to the Securities and Exchange Commission who joined the financial crisis investigation as an assistant director and deputy general counsel, left Aug. 6. Neither immediately returned emails or phone calls seeking comment.
Formed in July of last year, the FCIC is charged with examining the root causes of the current financial and economic crisis -- specifically, 22 areas designated by Congress, all of which are highly complex. Its final report is due Dec. 15.
The departures of Cooper and Bondi, following two others from earlier in the year, leave 10 of the original 14 chief staffers to complete that report. Martin Biegelman, a fraud and white-collar crime investigator who served the commission as an assistant director, was the first top staffer to exit. He was followed by Beneva Schulte, formerly an assistant director involved in communications.
Three other full-time staffers as of June 30 have also since returned to their pre-commission employers, FCIC records show.
Sources familiar with the FCIC investigation said Cooper's and Bondi's departures were the result of disagreements with Chairman Phil Angelides, a Democrat and former California state treasurer. Angelides and Vice Chairman Bill Thomas, the Republican former chair of the House Ways and Means Committee, have been particularly involved in the commission's operations.
Officially, however, the commission denies that personal friction with Angelides led to the staff shakeup.
"I don't think the two are related," spokesman Tucker Warren said. "Brad was always going to go back to the SEC, and it was time for him to do that. ... Matt has some opportunities before him that could not wait until the commission's work was finished, and he is pursuing those opportunities.
"Neither left as a dispute with the Chairman," Warren added.
Bondi had served as counsel to SEC commissioner Troy A. Paredes, a 2008 George W. Bush appointee. He worked with the crisis commission as an SEC employee, Warren said.
Bondi helped lead the commission's hearing investigating Citigroup's pre-meltdown activities. The global banking giant recently agreed to pay $75 million to settle federal charges that it misled investors regarding its massive holdings of subprime mortgage-linked investments that ultimately cost the firm tens of billions of dollars. Taxpayers saved the firm from collapse with a mixture of guarantees and direct aid totaling more than $300 billion, federal records show.
Bondi also was heavily involved in the investigation into credit-rating agencies.
One of the commission's top investigators with significant securities-related experience, Bondi has authored at least six published academic articles on securities law. While in private practice, he worked for Kirkland & Ellis LLP and Williams & Connolly LLP, two of Washington's most prominent litigation firms.
Cooper's departure comes at an even more surprising time. A former White House correspondent for Time magazine who has covered Washington for a variety of publications, he was hired primarily to lead the writing of the final report, weaving the disparate elements of the global financial crisis into a compelling and understandable narrative.
In Cooper's absence, at least six former journalists on a staff of nearly 60 will help write the final report, Warren said, including former Bloomberg News reporter Greg Feldberg. Warren noted that the 10 commissioners are the ultimate authors of the final report. Little, Brown is slated to publish the commission's findings, and taxpayers may profit from book sales.
Still, the timing of these departures lends credence to sources familiar with the commission's investigation who say Cooper and Bondi clashed with Angelides, already well-known for his hard-charging style.
Cooper and Bondi -- as well as other current and former staffers -- are bound by confidentiality and nondisclosure agreements limiting what they can say about the financial crisis commission and their time there. Except for the 10 commissioners and designated spokespersons, staffers are barred from discussing the FCIC or its work until Feb. 11, 2011, and that deadline can be extended.
Reports of turmoil within the commission aren't new. In April, the commission's executive director, Thomas Greene -- a former top lawyer under California's attorney general -- was replaced by Wendy Edelberg, an economist at the Federal Reserve who had been serving as the FCIC's research director.
Another former top staffer, Kim Leslie Shafer, who once worked as a senior managing director at defunct investment firm Bear Stearns and as a top aide for the Senate Banking Committee, recently switched from full-time to part-time.
"When you have an organization like this that's really demanding a lot from people, and one that's going to come to an end in December, people are going to be presented with opportunities," Warren, the FCIC spokesman, said of the staff turnover. "A lot of people here have made tremendous sacrifices to work for the commission. And that asks a lot of people."
The commission resumes its public work next Wednesday, when it is scheduled to hold its final investigative hearing. It will examine Too Big To Fail, systemic risk and government intervention during the crisis. Witnesses have yet to be announced.
*************************
REAL LIFE. REAL NEWS. REAL VOICES.
Help us tell more of the stories that matter from voices that too often remain unheard.