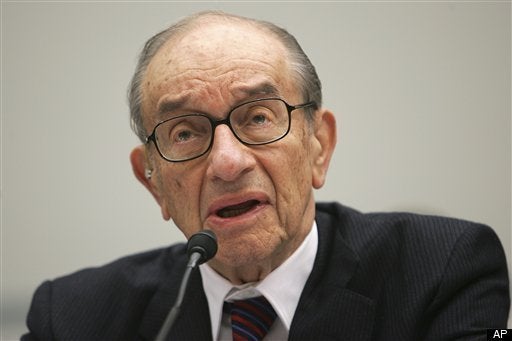 Former Federal Reserve Chairman Alan Greenspan headlines a cast of witnesses to be questioned next week by the panel investigating the roots of the financial crisis.
The Financial Crisis Inquiry Commission kicks off Wednesday a three-day round of hearings focusing on subprime mortgages, their securitization and the role played by government-backed mortgage giant Fannie Mae and bank regulators.
Top current and former officials of Citigroup -- arguably the megabank most harmed by loose lending and the eventual financial meltdown -- will dominate the hearings: eight of the 17 combined witnesses are from Citi, including former Chairman and CEO Chuck Prince and former U.S. Treasury Secretary and member of the firm's board of directors Robert Rubin. Prince was forced out; Rubin left the firm shortly after Citi took $45 billion in a taxpayer-funded bailout.
Financial Crisis Inquiry Commission Announces Details for Next Public Hearing

(Washington, DC) -The Financial Crisis Inquiry Commission (FCIC) today announced details for the Commission's next public hearing, "Subprime Lending and Securitization and Government-Sponsored Enterprises (GSEs)."

When:

Wednesday, April 7, 2010, 9am EDT

Thursday, April 8, 2010, 9am EDT

Friday, April 9, 2010, 9am EDT

Where:

Rayburn House Office Building, Room 2123, Washington, DC

Day One - Wednesday, April 7

Session 1: The Federal Reserve

Mr. Alan Greenspan, former Chairman
Board of Governors of the Federal Reserve System


Session 2: Subprime Origination and Securitization

Mr. Richard Bitner, Managing Director of Housingwire.com,
Author, "Confessions of a Subprime Lender: An Insider's Tale of Greed, Fraud & Ignorance"

Mr. Richard Bowen, former Senior Vice President and Business Chief Underwriter
CitiMortgage Inc.

Ms. Patricia Lindsay, former Vice President, Corporate Risk
New Century Financial Corporation

Ms. Susan Mills, Managing Director of Mortgage Finance
Citi Markets & Banking, Global Securitized Markets


Session 3: Citigroup Subprime-Related Structured Products and Risk Management

Mr. Murray C. Barnes, former Managing Director, Independent Risk
Citigroup, Inc.

Mr. David C. Bushnell, former Chief Risk Officer
Citigroup, Inc.

Mr. Nestor Dominguez, former Co-Head, Global Collateralized Debt Obligations
Citi Markets & Banking, Global Structured Credit Products

Mr. Thomas G. Maheras, former Co-Chief Executive Officer
Citi Markets & Banking


Day Two - Thursday, April 8


Session 1: Citigroup Senior Management

Mr. Chuck Prince, former Chairman of the Board and Chief Executive Officer
Citigroup, Inc.

Mr. Robert Rubin, former Chairman of the Executive Committee of the Board of Directors
Citigroup, Inc.

Session 2: Office of the Comptroller of the Currency

Mr. John C. Dugan, Comptroller
Office of the Comptroller of the Currency

Mr. John D. Hawke Jr., former Comptroller
Office of the Comptroller of the Currency


Day Three - Friday, April 9

Session 1: Fannie Mae

Mr. Robert J. Levin, former Executive Vice President and Chief Business Officer
Fannie Mae

Mr. Daniel H. Mudd, former President and Chief Executive Officer
Fannie Mae


Session 2: Office of the Federal Housing Enterprise Oversight

Mr. Armando Falcon Jr., former Director
Office of the Federal Housing Enterprise Oversight

Mr. James Lockhart, former Director
Office of the Federal Housing Enterprise Oversight
Popular in the Community