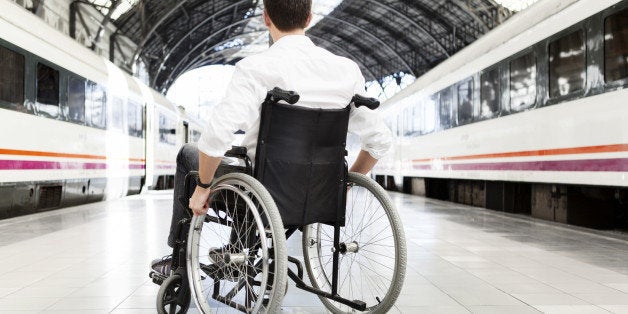 Thanksgiving Day in big cities and across rural America is so much more than sitting down with family and friends and enjoying turkey and all the side dishes and dessert choices.
It is also a time of reflection, a moment in time to appreciate who we are, our circle of support, our sense of freedom, independence, and strength in our diversity. These enduring values of our founding fathers to establish an open society that respects inclusion, protects against discrimination, and promotes equal opportunity to advance self-sufficiency have withstood the test of time.
This Thanksgiving Day, I would ask us all to reflect on a group of Americans growing faster in size than any other, a group that cuts across the usual dividing lines of gender, race, ethnicity and age who deserve our attention and support - people with disabilities. One in five families nationwide now includes a member with a disability. The family member may be a parent, a child, a brother or sister, grandparent, cousin, or an aunt or uncle. If an adult, that individual is likely to be struggling to make ends meet and living in poverty - as adults with disabilities are two times more likely to be experiencing poverty than their nondisabled peers. If a child, their future prospects of continuing their education and receiving a college degree and following a career pathway to advance their economic freedom are bleak. Only 19 percent of people with disabilities are actively in the labor force, as compared to 68 percent of people without disabilities.
Twenty-five years ago, President George H.W. Bush signed into law the Americans with Disabilities Act (ADA). "Every man, woman, and child with a disability can now pass through once closed doors into a bright new era of equality, independence, and freedom" was the prediction and expectation of, not just President Bush, but millions of Americans with disabilities. Physical and communication barriers have been removed and closed doors have opened to dramatically change the accessibility of stores, movie theaters, transportation and recreational facilities. Yet too frequently, the vast majority of adults across the spectrum of disabilities are still on the outside looking in, challenged to find a pathway to be an active participant in the economic mainstream and realize the promise of the ADA "to advance their economic self-sufficiency."
In July, National Disability Institute convened the first Economic Advancement and Financial Inclusion Summit, which brought together more than 150 leaders from government, private industry and the disability and asset building communities at the Newseum in our nation's capital. In roundtable discussions, policymakers, practitioners, self-advocates and subject matter experts contributed their ideas to focus on a post-ADA@25 agenda. This agenda puts a spotlight and larger focus on what we collectively need to do to reduce poverty, increase financial inclusion and create a new roadmap to shared prosperity.
One reason for optimism and excitement generated is the signing into law of the Achieving a Better Life Experience (ABLE) Act by President Obama on December 19, 2014. ABLE provides a new option for millions of Americans with an age of onset of disability, of 26 or younger, to engage their family and friends to join with them and contribute up to $14,000 per year to their personal ABLE account. ABLE accounts require rethinking life goals and needs to advance self-sufficiency through three game-changing features. First, the beneficiary, who is also the owner of the account, has an opportunity to build up the savings in their account without fear of loss of federal public benefits like Social Security, Medicaid, housing and food assistance. In the past, a single individual could have no more than $2,000 in net assets to remain eligible for public benefits which was a de facto life sentence of poverty including not being able to make ends meet, poor quality of life and loss of dignity and self-respect. Second, ABLE account funds can be used for more than 12 categories of qualified disability expenses as diverse as education, healthcare, transportation, housing and technology. Third, the distribution of funds from an ABLE account are tax-free. Beginning in 2016, states will establish their ABLE programs and be ready to open accounts with varied strategies for growth short- and long-term and levels of risk. More than five million individuals with disabilities are expected to open accounts during the next five years. Putting funds into an ABLE account becomes a down payment on freedom.
On December 10th, National Disability Institute will unveil the short list of recommendations generated at the Economic Advancement and Financial Inclusion Summit in July. As we reflect on the principles and enduring values established by our founding fathers to promote freedom, inclusion and opportunity that will impact the diverse group of Americans with disabilities who want to be savers, asset builders, and contributors to the vitality of inclusive communities and our economy, please join with me and National Disability Institute's thought leaders to focus our collective attention on Financial Inclusion and Shared Prosperity: the Next Frontier for People with Disabilities.
In 2016, through social media and special events in cities across the country, National Disability Institute will build momentum to identify and take practical, small and transformative steps to reduce poverty by 50 percent among working age adults with disabilities. We will engage individuals, families, communities, cities, states, and government, financial institutions, employers, faith-based organizations and nonprofit groups to adjust thinking and behavior that supports financial inclusion, economic participation and shared prosperity for 20 million working age adults with disabilities. The conversation is long overdue.
Calling all HuffPost superfans!
Sign up for membership to become a founding member and help shape HuffPost's next chapter