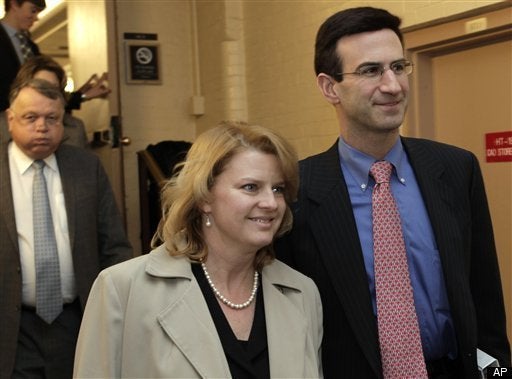 Members of the House Financial Services Committee have received, on average, $138,422 in campaign contributions from the financial services industry so far this year -- more than twice what non-committee members have taken in. And ten committee members who are cosponsors of two industry-friendly amendments received an average of about $200,000 from the financial sector.
"Financial services members in general receive a lot from the sector they regulate," said Taylor Lincoln, a researcher for Public Citizen, which on Tuesday published a report drawing attention to the money flow. "These members receive an extra lot."
It's the latest in a series of reports suggesting -- but not proving -- a direct connection between campaign contributions and legislation. Members of Congress never admit that campaign money affects lawmaking, though backers of campaign finance reform call the current system "corrosive" if not corrupt.
Public Citizen and other good-government groups are much more skeptical.
"People should ask themselves if there's a likelihood that these amendments would exist if it were consumer advocates giving hundreds of thousands of dollars to these members and the banks didn't make any contributions," said Lincoln.
The amendments in question, from Rep. Walt Minnick (D-Idaho) and Rep. Melissa Bean (D-Ill), would scrap the proposed Consumer Financial Protection Agency and forbid states from enforcing stricter financial regulations than the federal government's, respectively.
The Bean amendment was beaten back after a fight between Democrats on the committee. Minnick held off on introducing his amendment in committee reportedly because chairman Barney Frank (D-Mass.) objected.
It's up to the Rules Committee whether the amendments will come up on the House floor.
The top contributors to the members who sponsored the two amendments were the American Bankers Association, PricewaterhouseCoopers, and New York Life Insurance.
Not all the cosponsors of the two amendments received outsized amounts of money from the financial industry. Seven cosponsors who do not sit on the Financial Services Committee received less than $80,000 from the sector this year.
Support HuffPost
The Stakes Have Never Been Higher
Popular in the Community