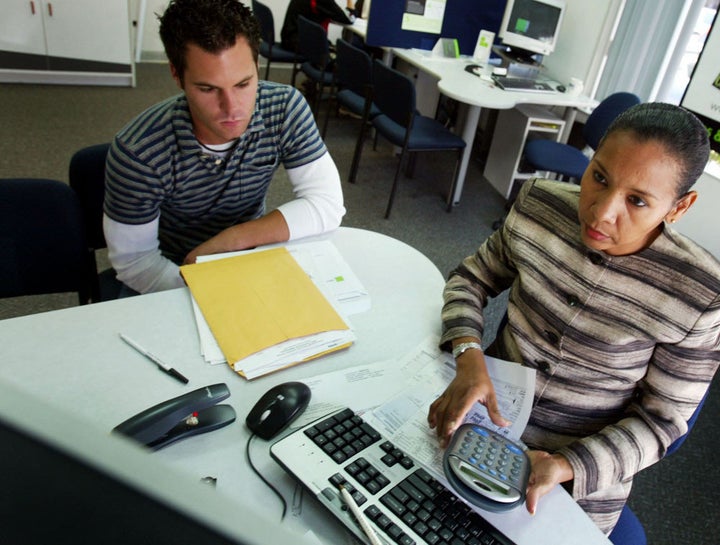 As the nation acknowledges Financial Literacy Month, 2011, it is more obvious to me than ever that what we are going through now is not a just an economic recession, but a global reset, and that financial literacy is so much more than a brochure or website.
It became obvious to me as early as May, 2006, when Bob Gnaizda of Greenlining Institute and I sounded the public alarm in the American Banker that "irresponsible and predatory subprime mortgage lending was a substantial hazard for the overall economy," that this is not just economic crisis, but a crisis of virtues and values.
Somewhere along the way we lost our storyline. We moved away from the concept of capitalism and free enterprise as something that builds or adds value to and for an "us," on some level, and reduced it to "that thing" that simply makes money for me.
For 100 years, America has been that place where the power of an idea created amazing value for society, for customers, workers, shareholders, and yes the entrepreneur that created it all. All good, inasmuch as money, power and position in the world should be the bi-product of creating something of real value.
The problem is, in the last 10-20 years, American capitalists have confused value for money, effectively making the bi-product (money, power and position in the world) the product.
You ask anyone today, why are you in business, and nine times out of 10 they will tell you "I am in business to make money." Why are you a basketball player? "To get paid." Why are you on Wall Street? "To make money." Why are you a drug dealer? "To get paid." It seems the only time during my lifetime when the professional on Wall Street, and the pimp on my old street are the same guy, standing for the same sad thing. We have lost our storyline.
When someone on Wall Street "shorts" a stock of an otherwise healthy company and for no other purpose than "getting paid," we must understand that this was not him or her making money, but transferring wealth. They created nothing, and we have lost our storyline.
The whole game became about money, which is wrong, and as a result we lost our storyline as a nation.
As a result of this, responsible subprime lending, which is actually a good thing and has arguably done more to lift poor people out of poverty than anything else over the past 50 years, turned into predatory subprime lending, which is not a good thing at all. We have lost our storyline as a nation.
But rainbows only follow storms, and people do not change in good times, they change in bad (times). They do not change when they are comfortable, but rather when they are uncomfortable. Well, it's time for a change in America, for America's future.
Capitalism for all people
The 20th century was a time marked by the rise of Democracy all around the world. Quoting my personal hero and HOPE Global Spokesman Ambassador Andrew Young, "communism failed because it could not create a middle class, and capitalism succeeded precisely because it did create a middle class, but capitalism itself has begun to fail because it has not made itself relevant to all people."
This then is my cause, and my life's mission: "To teach the world's poor, under-served and the struggling middle class, the universal "language of money" (financial literacy). To make sure that every human being has the dignified right to a basic, electronic, debit card accessed bank or credit union account, and ultimately the economic empowerment tools to change their own lives."
At a time when even reasonable people are beginning to question whether free enterprise and capitalism is somehow a system somehow rigged against them, financial literacy empowerment holds the promise of bridging differences between races, cultures and classes, and even nations.
Teaching individuals the universal "language of money" breaks down barriers and creates a sense of real opportunity and fairness in the mind, heart and soul of those who feel left behind, and even preyed upon in the midst of this global economic crisis. Financial literacy empowerment is a door to the world of small business ownership and entrepreneurship.
Individuals, including oh so many well-educated and middle class American consumers, simply felt taken advantage of because they didn't truly understand the language of money, and others who did, played them for all they were worth.
At the end of the day, the essence of this crisis involved individuals who when purchasing a home and acquiring a mortgage loan, asked "what's the payment" and not "what's the interest rate," and you never ask what the payment is when there is an interest rate attached. We purchased a home like most folks purchase a toaster at Sears; by asking "what's the payment?"
This is why I strongly believe that financial literacy is not only "capitalism for all people," but represents the new civil rights issue for this, our generation, and the first global silver rights empowerment tool for the next.
This is why I believe that financial literacy will become the gateway to practical 21st century job creation, and for a generation of young people effectively graduating from college and into a future of "no jobs." This done as more and more individuals will by necessity have to become self-employment projects, small business owners and entrepreneurs. More than 100 million new jobs are needed in the Middle East alone over the next 10-20 years, for a majority population that will be 25 years old or younger.
This is why I believe that financial literacy, combined with the legacy and amazing story of one Martin Luther King, Sr, can "reset" the storyline of and behind American free enterprise and capitalism; representing something that works for all people, and not just a narrow band of the population. Dr. Martin Luther King, Jr. would not have had the support needed to pursue the civil rights movement "in the unique way he did" without the key assistance and support of his father, Martin King, Sr, otherwise known to friends as "Daddy King."
Daddy King and Dr. Martin King, Jr. co-pastored Ebenezer Baptist Church in Atlanta, Georgia, but Daddy King was also a smart businessman in addition to being a pastor, civil rights leader and activist. That's right, a successful businessman, up from almost nothing. He owned real estate and had built a solid middle class existence for his family; an existence that allowed Dr. King to achieve a Ph.D, as a black man during the 1950's in America. Daddy King even served on the board of a bank, Citizen's Trust Bank, for more than 40 years. Yes, a bank.
It was Daddy King that often bailed Dr. King out of jail, and it was Daddy King that provided a foundation for his son, allowing Dr. King to pursue the civil rights movement in earnest, for zero compensation. Daddy King did that.
Capitalism and free enterprise are not bad, but rather the greed is. Financial illiteracy is fuel for greed, and an unreasonable enticement for financial predators.
That's why I like it when Professor Elizabeth Warren of President Obama's new Consumer Financial Protection Bureau tells me that while the agency must and will deal with federal regulatory issues on the front-end of its existence, the agenda should be almost all financial literacy empowerment issues on the back-end, as well as the agency's enduring legacy. I am with her here.
And so, Operation HOPE has taken its call for a silver rights movement seriously;
By partnering with Reverend Dr. Raphael Warnock and Ebenezer Church in Atlanta, Georgia, on the King Center complex, along with the FINANCIAL SERVICES ROUNDTABLE, Operation HOPE is building a new HOPE Financial Literacy Empowerment Center at Ebenezer, as an anchor for the new Martin Luther King, Sr. Community Resource Center, and the new moral "center" for our work globally.
By partnering with DHS/FEMA, later this month, Operation HOPE and HOPE Coalition America will establish itself as the "economic Red Cross" for a nation, responding when disaster strikes, with the economic and financial solutions and interventions that everyone then needs.
By partnering with the Gallup organization to create the Gallup-HOPE Financial Literacy Index, where we will measure and track the correlation between financial literacy, hope, wellbeing and engagement, for the first time ever, we can change the world for our children, and our children's children.
By launching a movement with Quincy Jones and Ambassador Andrew Young, called 5 Million Kids, to make smart cool again in America's schools, and turning around the high-school dropout rate in America by making education "relevant" to our children. Enter the 5MK Make Smart Cool Tour in America's schools, launching May 9th, 2011 with none other than the iconic Quincy Jones in New York City. Quincy Jones says it takes 20 years to change a culture, and in the last 20 years it could be argued we have all made dumb sexy. We need to make smart sexy again in our culture and society.
We are launching Wikia-HOPE Global Money, which is the world's first global financial literacy curriculum. Free, translated and locally contextualized for each region we launch it in, Wikia-HOPE Global Money will empower individuals in countries around the world with the basic and universal "language of money" skills they need to compete in this increasingly economic world. The best part about Global Money is, you can help! If you want to help us translate it into your home language and help spread the word in your home country or neighborhood, it is as easy as logging on, getting involved and getting engaged.
Already Wikia-HOPE Global Money has been translated into North African French, Arabic, Spanish and of course English. Forty-five additional languages are yet to come.
For a complete array of what Operation HOPE is up to during Financial Literacy Month, and the silver rights movement to come, join us at www.operationhope.org.
Help us make financial literacy empowerment the new civil rights issue for our generation, a global silver rights empowerment tool for generations to come, and ultimately, "capitalism for all people."
Related
Popular in the Community