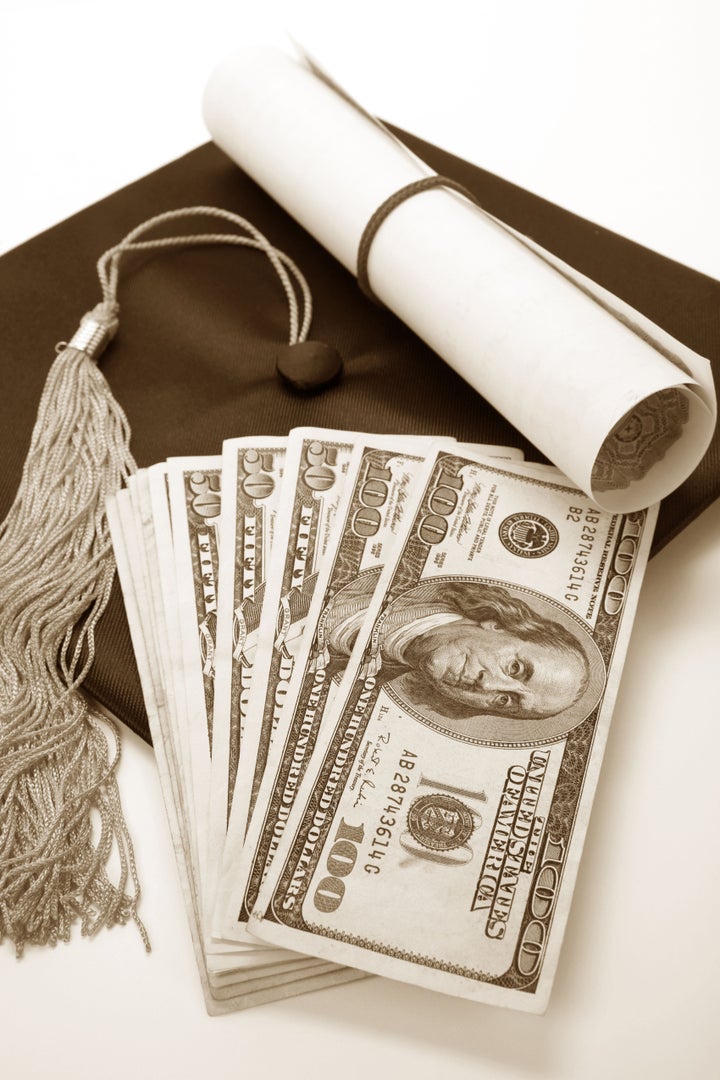 A college degree is and will continue to be a major key to economic security, social mobility and prosperity for millions of Americans. But as college costs continue to rise and family income remains stagnant at best, attaining that goal requires an increasingly significant investment of financial resources. College loans have provided a vital lifeline for most students and families, but affordability remains a top concern. It's time for a shared commitment to rebalance this equation.
Student loans are now second only to home mortgages as the biggest debt Americans are holding. This, coupled with growing frustration over the economy, lack of employment opportunities and underemployment among recent college graduates undergird the expanding Occupy Wall Street movement. Many college graduates are overwhelmed by the enormity of their student loan obligations and worry about what their future holds. And while at least one presidential candidate has gone so far as to propose the drastic measure of eliminating student loans altogether, it's time to step back and reiterate the importance of access to the financial means to attend college.
Anyone who has lost a job recently knows that virtually any high-paying job opening requires a degree just to get past the initial screening processes. College graduates also experience much higher earnings potential than those without a degree. According to the U.S. Census Bureau, adults with bachelor's degrees earned an average annual salary of $47,422 (2010 dollars) compared to just $26,349 for high school graduates; nearly 80 percent more. And businesses remind us daily that our economic future depends upon knowledge workers -- people who can think critically and can anticipate and solve problems.
I have spent over 25 years of my career in higher education advocating for college affordability. I know first-hand that access to student loans, particularly low-interest federal student loans, has unlocked the door to this wealth of opportunity and empowerment for students who otherwise would not be able to afford college. In 2008, almost 60 percent of college students nationwide had student loans, with the amount of debt owed continuing to rise. Let's not forget that the overwhelming majority of students and their families handle their student loan obligations responsibly. We must ensure that this remains the case by helping students manage their finances and their loan obligations more effectively before, during and after school.
As I speak with college and university administrators across the country in my current role as financial literacy advocate, I am struck by resounding concerns and observations which cry out the need for more personal finance education. Undergraduates may understand that student loans represent a lot of money, for example, but they don't quite grasp the impact this debt may have on their lives after college. Many have never had to make a monthly payment, and may not understand basic financial concepts such as the difference between principal and interest. They may not know or haven't been told the total debt they will incur to complete their degree. Others struggle with managing their financial aid and take out more student loans than they really need to cover their educational costs, or do not use it as wisely as they should, spending too much on food and entertainment, for example.
Every stakeholder -- students, families, colleges and universities, government and business -- has a role to play in protecting and developing our most valuable assessment, our human capital. Positive steps have been taken to provide more transparent tools, such as required net price calculators, the model financial aid disclosure form designed to help estimate how much financial aid students may be eligible for, and the Consumer Financial Protection Bureau's Student Debt Repayment Assistant that's under development. But more is required:
Prospective students and their families must do their own due diligence in understanding how much they can afford and how much loan debt they can comfortably incur before enrolling. Families also could consider starting to save even earlier for college.
Federal and state governments can ensure that need-based grant aid programs such as the Pell grant keeps pace with college costs. Loan programs could be augmented with more consolidation and repayment alternatives during hard times, and more outreach so that students know what their options are. It is ironic that we ask young adults to undergo far more education and testing to obtain their driver's license than we do to take out a student loan. Perhaps a first step would be a requirement that students estimate their likely total debt and month payments and compare that to projected earnings during entrance counseling before they sign on the dotted line.
Colleges and universities also must do what it takes to keep college costs down through innovation and increased efficiencies. In addition to refocusing on core missions and strengths, The Delta Cost Project and Center for American Progress's recent report (PDF) on using fiscal metrics to steer innovation offers enlightening thoughts on how to revamp postsecondary cost models.
Educational institutions also should expand financial literacy education and outreach opportunities for students. There are some great examples of proactive financial literacy models being developed at places like Sam Houston State University and Champlain College, but these require leadership and commitment. As the American Association of State Colleges and Universities so eloquently observed in fall 2010, "... colleges and universities have a unique opportunity to provide leadership on this critical topic by weaving financial education into the fabric of their campus."
Financial institutions could consider reversing recent trends and provide low-cost banking options for college students. While the Credit Card Act of 2009 put important safeguards and protections in place for young adults, terms and conditions of credit and other financial products must be more transparent so that students understand their costs and obligations before signing on. Financial literacy tools and information also should be expanded through partnerships with colleges and universities. Higher One's online community -- One For Your Money -- for example, is devoted exclusively to providing students with free information, tools, and resources to promote the development of good money management habits.
Let's work together to ignite new hope and confidence among our nation's young adults. Help them navigate and overcome the financial obstacles to educational attainment, and support them in their quest to achieve their best.
Currently, Mary is the financial literacy expert for
, a leading company that works closely with colleges and universities to ensure students receive financial aid refunds quickly, can pay tuition and bills online, make on-campus and community purchases, and learn the basics of financial management. Higher One is not a student loan company, nor does it offer students any instruments of credit. More on Mary on Twitter
Popular in the Community