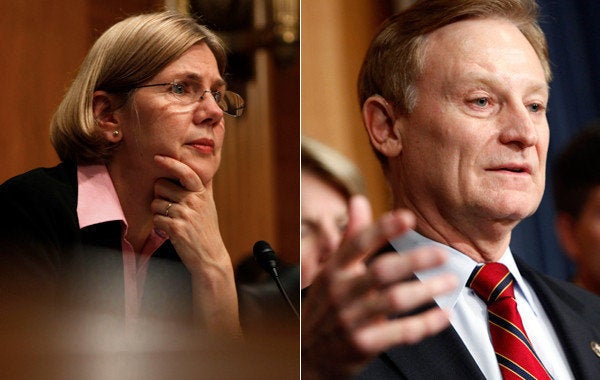 In a challenge to the recent financial reform legislation, House Republicans sent letters asking inspectors to exert "rigorous" oversight on the new Consumer Financial Protection Bureau.
Reps. Spencer Bachus (R-Alabama) and Judy Biggert (R-Illinois) sent letters to the inspectors general at the Treasury and the Federal Reserve, the Wall Street Journal reports. The letters, which ask for information about how the agency is being set up, are the first major example of how Republicans, who now control the House but not the Senate, plan to challenge the summer's financial reform through non-legislative means.
"History indicates that the process of setting up a new government agency is extraordinarily challenging and difficult," the two lawmakers wrote, according to Bloomberg. "To date, we know very little about the activities being undertaken by the Treasury to establish the Bureau."
Bemoaning "a clear absence of accountability and transparency," according to the WSJ, the lawmakers wrote that they want information about the meetings held by Harvard law professor Elizabeth Warren, whom President Obama appointed to set up the agency, which she reportedly conceived of in 2006. The letters criticized Warren herself, according to the WSJ, expressing concern "that Professor Warren will be approaching this task without any experience managing -- or creating -- an organization of this scale and importance."
Other GOP lawmakers, including Sen. Richard Shelby of Alabama, have also criticized the CFPB. "I thought the creation of it and the way it was created was a mistake," Shelby said in September, according to Reuters.
The letters could lead eventually to hearings, the WSJ notes.
The CFPB isn't the only part of the financial reform that Rep. Bachus, who is likely to replace Barney Frank (D-Mass.) as chairman of the House Financial Services Committee, has attacked. In a letter sent to the Financial Stability Oversight Council earlier this month, and obtained by the Financial Times, Bachus said the Volcker Rule, which limits (but does not ban) banks' ability to invest their own money, will "impose substantial costs on the American economy" and "may spark a mass exodus of clients." Bachus also targeted other regulations.
"The derivatives provisions in Dodd-Frank alone... as they stand now they're going to take a trillion dollars out of our economy. Think how many jobs that's going to kill," he wrote, according to FT.
As has been extensively reported, the use of derivatives, securities that take their value from some other asset, contributed to and worsened the recent financial crisis.
Calling all HuffPost superfans!
Sign up for membership to become a founding member and help shape HuffPost's next chapter