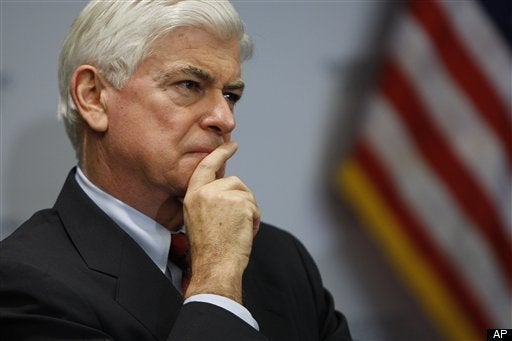 Republican leadership made it clear on Tuesday that, even if Democrats drop from regulatory reform legislation a suddenly controversial $50 billion fund to help wind down failing banks, they will still denounce the bill for including an unlimited bailout.
The announcement, which came in the form of an email from House Minority Leader John Boehner's office, is yet another indication that the GOP is edging towards a major fight on regulatory reform. And it left Democrats with a queasy feeling of déjà vu. As with health care reform, the White House is telling congressional Democrats not to make too big a fight over a controversial provision. But it remains unclear -- at least to those on the Hill -- exactly what the party is getting in return for backing down.
"The pressure from the White House on the bailout fund is frustrating," said one Senate Democratic aide, who asked to remain anonymous to discuss negotiations. "Why drop a $50 billion fund if [Republicans] are still going to say it is in there?"
The frustration peaked on Tuesday morning when Boehner's office fired out an email insisting that the bill crafted by Senate Banking Committee Chairman Christopher Dodd (D-Conn.) "would empower the federal government to provide Wall Street with permanent bailouts, courtesy of American taxpayers." This would be true, the Ohio Republican said, even if Dodd took out the proposed $50 billion fund to help wind down dying banks, which Republicans have erroneously called a bailout. (As it stands now, no decision has been made on the fund, though multiple Hill sources tell the Huffington Post that the White House is not committed to the provision -- one person said it never was -- and is pressing for its sacrifice.)
Boehner's argument seems specious. His office says that Dodd's bill gives the Federal Deposit Insurance Corporation authority to borrow cash from the Treasury for a "resolution fund" that would include 90 percent of the value of assets for too-big-to-fail firms. Left unmentioned, as Dodd's office remarked, is that the money can only be used to wind those firms down -- not to keep them propped up.
"The language specifically says that only the FDIC has access to those funds," Kirstin Brost, a Dodd spokesperson told the Huffington Post, "and they can use them only to liquidate firms. They have no discretion beyond that."
The basis of Boehner's attack is, in a way, almost secondary to the fact that he is attacking the bill this hard in the first place. Republicans in the past week have ramped up their criticism of the legislation by turning to fine-tuned arguments crafted from Republican talking point guru Frank Luntz. In a rather bold gambit, moreover, they've done it all while proclaiming that it's the Democrats who have refused to reach across the aisle.
As Dodd declared on the Senate floor the other day: Senator Richard Shelby (R-Ala.) took part in staff meetings with the Treasury Department back in February 2009; by April, he and Shelby were discussing the committee's "first substantive proposal;" dozens of meetings were held throughout the summer; in August, Shelby again was brought in to discuss an initial draft of a bill; and even after that "bipartisan working groups" were established to resolve lingering differences.
Once Shelby dropped out of negotiations, Senator Bob Corker (R-Tenn.) came in for talks. In fact, the bailout fund that has become vilified by Republicans was the byproduct of a bipartisan negotiation between Corker and Sen. Mark Warner (D-Va.). Back in late March, moreover, the Tennessee Republican all but admitted that it was a strategic choice by the GOP to fully oppose Dodd's efforts.
"Had everybody come together around that bipartisan negotiation, and I think had Chris [Dodd] seen that other Republicans would actually join in at that time, he might have continued on. But I think the fact that didn't occur ... the die was cast," Corker told Politico.
Currently, Senate sources confirm, Dodd remains in talks with Republican colleagues (Shelby specifically) to try and hammer out a final deal. The White House, meanwhile, insists that the end vote will be bipartisan. But questions about strategy are mounting. Congressional Democrats find themselves, as in health care, putting out feelers and making legislative alterations for GOP support. And, so far, they aren't getting many -- if any -- bites.
"The difference now is we absolutely have to do some negotiating with Republicans," one Democratic Senate aide said, "And with health care in fall, we didn't have to because we had 60 votes."

Popular in the Community