Saudi Arabia's $3.5 billion investment in global transportation company, Uber, grabbed headlines yesterday, and rightly so. After all, it was the largest single investment ever made in a private company. The generally mixed reactions were also understandable given that Saudi Arabia has numerous critics. However, one can't help but say that some of the criticism appeared blatantly misguided and extremely far from the realities on the ground.
Specifically, there were some wild and unfounded speculations that Saudi Arabia is investing in Uber to maintain its ban on women driving. Others ridiculed Uber for seeking business, leave alone investment funds, in a country that bans women from driving.
Some activists even called for the boycott of Uber for accepting money from Saudi Arabia, a country which they said discriminates against women. Now, while one must emphasize that these activists are certainly free to say or do whatever makes them feel good about themselves, I would urge such people to first look within, before getting judgmental over "bad deals".
As such, if the driving-ban forms grounds for these so-called activists to boycott Saudi Arabia or Uber, then I expect them to go all the way and not just do what is convenient. Otherwise, one can't help but suggest that it would be extremely hypocritical for these people not to boycott US or Chinese products too!
After all, wouldn't purchasing any American product be an endorsement of a government which uses drones that indiscriminately take innocent lives around the world? Or is that okay, because women are allowed to drive in the US?
Furthermore, these critics should immediately cease buying Nike shoes and Apple devices, unless they can assure us that they have been manufactured under international labor standards in China!
More importantly, such ridiculous claims miss the point and are disconnected from the realities on the ground. In my opinion, the question in Saudi Arabia was never if women will be allowed to drive but rather, when and how will they be allowed to drive.
What stronger message could there be more than the Kingdom's powerful Deputy Crown Prince, Mohammed bin Salman, personally and publically endorsing women's' right to drive?
Furthermore, it is not like the topic is a taboo anymore. It is regularly discussed in the Shoura Council and in Saudi media (this includes an article that I personally wrote on this website back in 2011).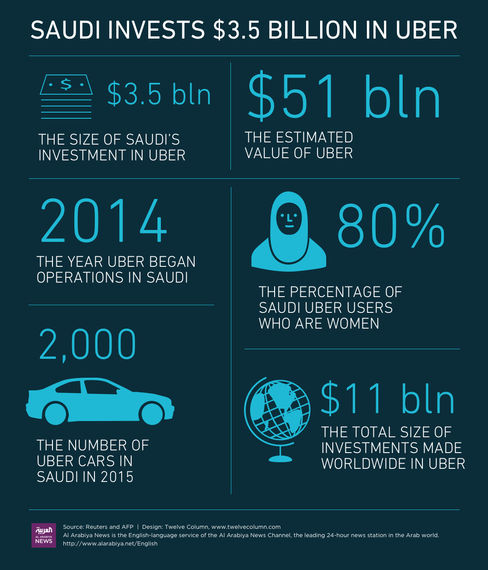 As such, nobody should view the Uber investment as a way to enforce the driving-ban, on the contrary: it is an immediate and practical 'work-around' that actually empowers women and facilitates their movement and productivity.
If you are unaware of the situation in the Kingdom, you should know that 80 percent of Uber users in Saudi Arabia are women and that the introduction of this app, alongside its main local-competitor Careem, has really helped in solving a big logistical hurdle.
After all, not all women can afford hiring their own driver and male chaperons (such as fathers, brothers, husbands...etc.) are not always available. Have those who called for the boycott thought that they may be stopping a mother from taking a crying child to the hospital? Did they think that they could be preventing a perfectly eligible fresh female graduate from getting a job which may not only help sustain herself but her whole family as well?
Just for background, public transport is sadly unreliable in the kingdom and traditional taxis are incredibly inconvenient to hail and largely unsafe to use for women. Uber and Careem, on the other hand, provide a much safer, traceable, cost-effective and convenient substitute.
As such, this recent Saudi investment should be taken within its correct context: the Kingdom's 2030 Vision. I say this not just because experts believe this is a sound financial decision, which serves in diversifying the Kingdom's stream of revenues, but because part of the Vision's objective is also to reduce female unemployment.
In fact, sources within the pool of consultants behind the vision suggest that Riyadh is considering paying female employees an additional allowance for transport to help them overcome this hurdle and find jobs.
I don't know if you are convinced or not, but to me, these are certainly not signs of a government that wants to further restrict women! However, if we were to go by the whims and speculations of those unreasonable critics who slammed the Uber deal, I am certainly glad that The Saudi Public Investment Fund did not invest in driverless cars.
Judging by the silliness of some of the Western analysis I read, I wouldn't have been surprised that they made an assumption that Kingdom's real intention is to eliminate women altogether!
Support HuffPost
The Stakes Have Never Been Higher
Related
Popular in the Community