"The financial services industry will see more change in the next 10 years than it has in the last 100. And that transformation is being driven by a group of smart insurgent startup companies. The Fintech 250 are the most promising of these insurgents." — CB Insights CEO Anand Sanwal. According to CBInsights, there are now more than 250 tech startups redefining the financial services industry.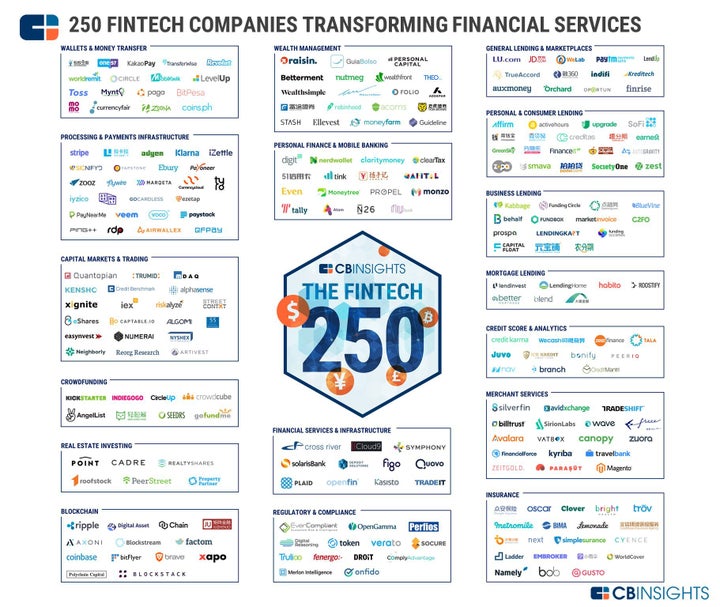 To learn more about the innovation in the financial services industry, retail investing, and analysis of the largest technology companies in the world, Ray Wang and I invited Ophir Gottlieb to our weekly show DisrupTV, where we cover the latest and most impactful leadership, business and technology disruptive trends.
Ophir Gottlieb is the CEO and Co-founder of Capital Market Laboratories. Ophir Gottlieb is the CEO & Co-founder of Capital Market Laboratories. Mr Gottlieb's mathematics, measure theory and machine learning background stems from his graduate work at Stanford University. He is a former option market maker on the NYSE and CBOE exchange floors and has been cited by dozens of various financial media including Reuters, Bloomberg, The NY Times and the Wall St. Journal. Gottlieb is the inventor of the Forensic Alpha Model (FAM) and a co-inventor of Accounting and Governance Risk Model (AGR), both now owned commercially by MSCI. FAM and AGR are used by asset managers worldwide with over $1 trillion of assets under management. The FAM model has made Gottlieb one of the most recognized names in all of quantitative finance. Gottlieb is very active and accessible on Twitter (@OphirGotlieb) and a great follow.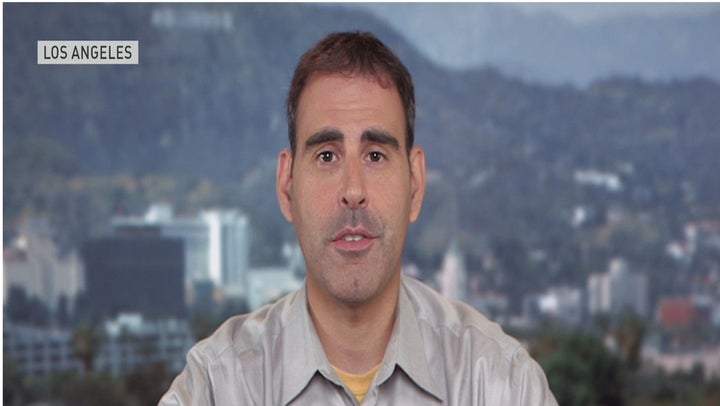 Gottlieb founded Capital market Laboraties (CML) in order to break the information asymmetry that has benefited the few at the expense of the many for far too long. CML research sits next to Goldman Sachs, JP Morgan, Barclays, Morgan Stanley and every other multi billion dollar institution as a member of the famed Thomson Reuters First Call. The difference according to Gottlieb is that while those investors pay upwards of $2,000 a month for their live terminals, CML is created to be the anti-institution, breaking the information asymmetry by providing unprecedented access to information and insights for pennies on the dollar. CML is democratizing information for investors.
The 3 Waves of Innovation in the Financial Services Tech Industry
According to Gottlieb, there have been two waves of innovation in financial services technology, and we are positioned for the third wave.
Wave 1 - The Internet: The dawn of the Internet was the first wave of innovation in fin tech. In the early 1990's many people were still get stock prices from Newspapers a day later than the price. With the Internet came access to stock quotes and stock trading -- both of which were tightly held by the finance industry as barriers to entry for a retail investor.
Wave 2 - Democratization of Data: This started in 2009 after the great recession and really took hold about two-years ago: the democratization of all financial data -- that is financial statements, events, insider trading, and more. As small fin techs scraped the SEC filings, the data sets became available to smaller firms to re-publish in their own portals. People were then freed from depending on the e-broker for data and the birth of fintech came about.
Wave 3 - Turning Big Data to Knowledge using Machine Learning/AI: With all the data accessible from many sources has come a wave of poor journalism, sophomoric analysis and generally faulty conclusions. This is a necessary step in order to move forward yet again. The third wave will be the consumption of this data and the transformation of it into knowledge. This echoes the same transformation in technology turning big data into knowledge using machine learning broadly and AI specifically.
There are now 1907 artificial intelligence (AI) startups that have raised $21.2 billion in venture capital funds across 13 AI categories, according to Venture Scanner.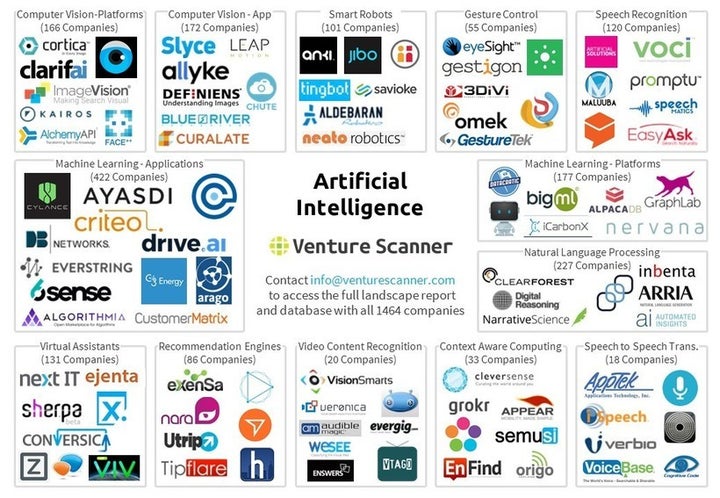 Four False Narratives About Apple
Gottlieb researches top brands and most valuable technology companies like Amazon, Google, Facebook and Apple. We asked Gottlieb to share his point of view on Apple. "Broadly speaking mega tech has never had more control over the technology landscape than it doe today. Apple, as the top "click catcher" for news organizations has been suffocated with sophomoric analysis from well meaning journalists that lack the knowledge in both technology and finance," said Gottlieb.
CML's view of Apple is that there have been 4 false narratives that have been broadly accepted due to misinformation and it has directly cost retail investors.
1. The smartphone market is not shrinking - The smartphone market is growing, and it is not the new desktop. The PC market has shrunk for seven years in a row. The smartphone market is expected to grow 44% from 2014 to 2019. If you measure success by profits, the Apple iPhone, introduced in 2007, is the most successful technology in the world.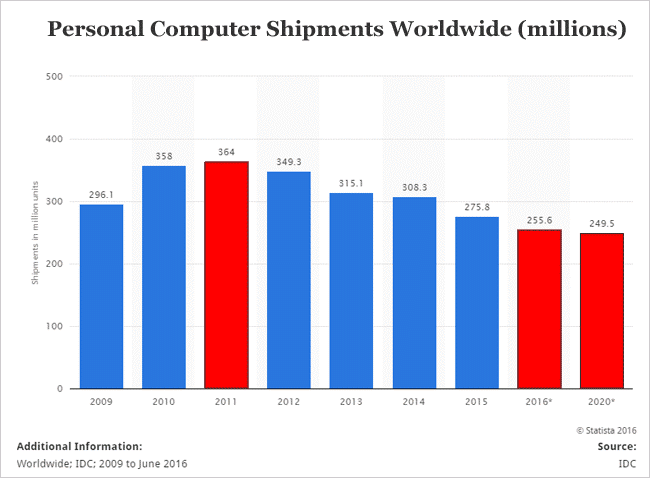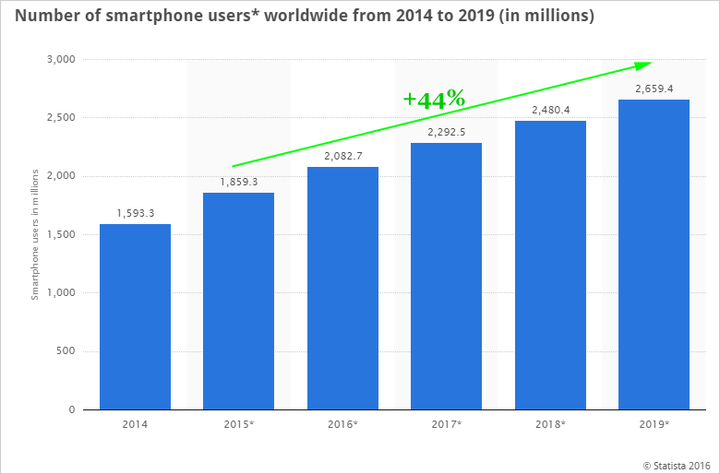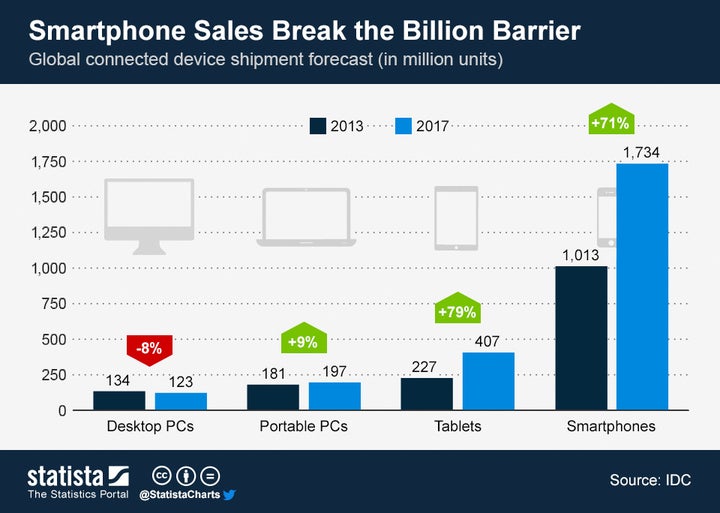 2. Apple is not a "phone company" - 55% of revenue in the latest Q came from iPhone, down from 63% in the same period 2-year ago. Apple Services is 16% of revenue, growing at 22% CAGR and is now the size of Facebook. Facebook has 98% from one product, ads. Google has 80% of revenues from ads. Apple Services - Apply Pay, iTunes, App Store - is now 1/6 the Apple total revenues; the Apple Services revenues is the size of Facebook! Apple Services is also growing 22% per year, per Gottlieb.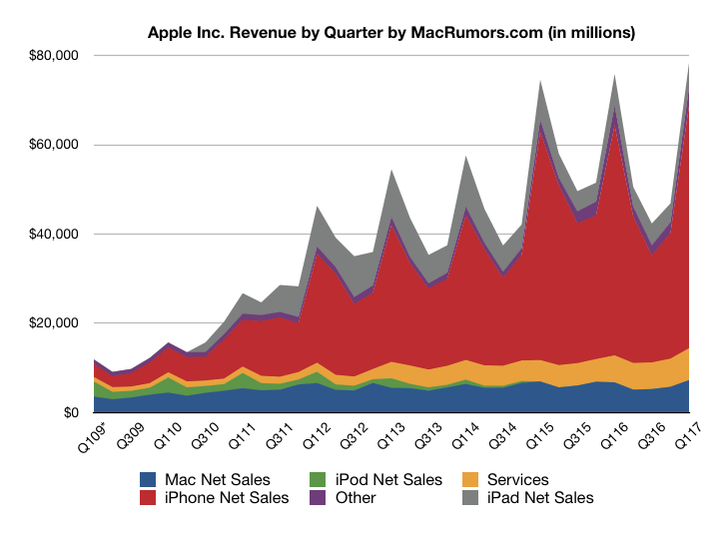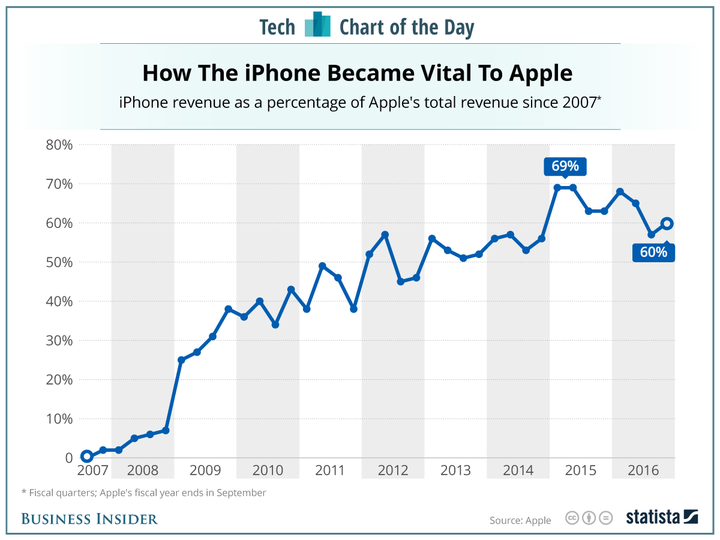 3. The Apple Watch is not a failure - The first version of the Apple Watch sold more units than the first iPhone, and year two as very similar. With the wearable turning to LTE (no longer need the watch to be tethered to the iPhone), combined with AirPods (still on a one-month back-order) Apple has by far the best selling wearable technology in the world. Versions 1 and 2 of Apple products are not the large successes people see today – it's rounds 3 and 4 that create the disruption.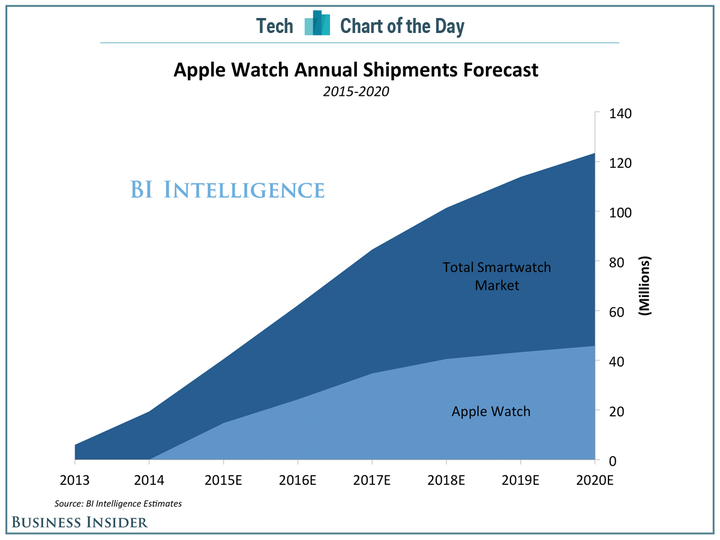 4. Apple does have a "next big thing" - Tim Cook has said out loud that they are health care tech and augmented reality (AR). These two markets are measured in trillions of dollars and the scale of Apple.
Rapid Innovation Velocity Means The First Mover Advantage is Now a Disadvantage
First to market has rarely been and continues not to be a measure of success nor it necessarily an advantage . Technology evolves fast enough that second, third and fourth comers to market often times capture the investment that the first mover made to make a market. Gottlieb references cloud computing and media companies as examples of how first mover advantage no longer exists. First movers now get punished. The top five largest companies in the world (Apple, Alphabet, Microsoft, Amazon and Facebook) are sty-filling innovation according to Gottlieb by developing platforms for imitation. With the exception of Telsa, a first mover on electric and autonomous technologies, is an exception to this trend.
More Than Half of Americans Do Now Own Stock Investments
According to a Bankrate Money Pulse survey, more than half of Americans don't own any stock investments at all, potentially missing out on a big investing opportunity to build retirement savings and overall wealth.
Gottlieb believes that this is rationale behavior. Retail investors are acting normally by not investing based on their limited knowledge of the market. Investing hard earned money in the stock market based on limited knowledge is irrational. Retail investors must find trusted resources before investing. The third wave of innovation will enable conversion of data to knowledge, unlocking trillions of dollars of potential for retail investors. "Find the places that turn data into information and then knowledge that empower you to make your own decisions while standing firmly in a position of expertise, not hobby," said Gottlieb.
According to the same survey, only 26% of people under 30 invest. "This is not a new trend, it's the same trend that has persisted. The first two waves of fintech disruption were necessary to get to wave 3. But waves one and two were not the disrupters that wave 3 will be – it's the creation of knowledge that will change this dynamic," said Gottlieb.
Please watch our video conversation with Ophir Gottlieb to learn more about retail investing and the impact of machine learning and AI on the future of fin tech. Gottlieb is also a brilliant follow on Twitter (@OphirGottlieb) and his blog.
Related
Popular in the Community