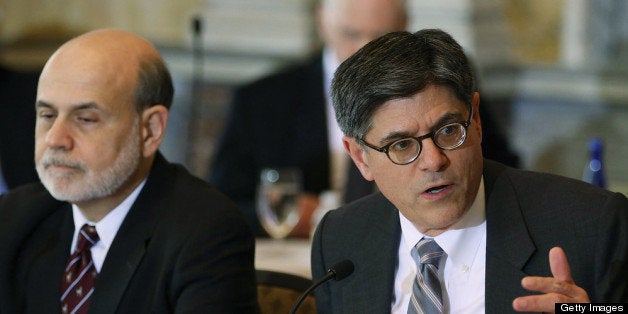 WASHINGTON -- U.S. regulators led by the Treasury Department have targeted an oft-criticized benchmark interest rate as a risk to financial stability, putting further pressure on authorities overseas and the industry to discard a rate embedded in hundreds of trillions of dollars of loans and securities.
The Financial Stability Oversight Council (FSOC) recommended Thursday in its latest annual report to Congress that policymakers "promptly" identify other interest rate benchmarks that could replace the London Interbank Offered Rate, which the council said was "unsustainable in the long run." The lending gauge, known as Libor, comprises a set of rates used to price financial instruments worldwide and is based on self-reported borrowing costs for unsecured loans between banks.
The regulators' call to move from a regime in which banks self-report their borrowing costs to one anchored in actual, observable transactions would shake up the current underpinnings of the financial system. The recommendation is the first of its kind for FSOC, a collection of regulators ranging from the Federal Reserve to the Consumer Financial Protection Bureau that was formed after the financial crisis to spot risks.
FSOC said that Libor and similar benchmarks that are not based on observable transactions diminish market integrity, in part because they may distort how market participants manage risk, price financial instruments and allocate capital. Finding transactions-based alternatives and transitioning to them "would mitigate the risk of a significant threat to U.S. financial stability," FSOC said.
More than $360 trillion in loans and securities, including home mortgages and student loans, are linked to Libor, which has been called into question after it emerged that banks likely were under-reporting their borrowing costs throughout the financial crisis.
The present lack of lending between banks, along with allegations that more than a dozen financial institutions attempted the manipulate Libor for years, has cast doubt on the reliability of the reference rate, with the potential to infect common household loans.
Gary Gensler, chairman of the Commodity Futures Trading Commission, an FSOC member, has consistently over the last several months questioned the accuracy of Libor and pushed for its abolition, despite initial objections from other regulators in Europe and the U.S., who wanted to slowly phase out the benchmark.
Some global regulators, however, have begun to warm to the idea of using rates from observable transactions as a basis for benchmarks. An International Organisation of Securities Commissions task force recently concluded that reference rates should be tied to transactions. The U.S. Treasury Department, which initially had concerns with Gensler's proposals, also has slightly shifted its view on tying benchmarks like Libor to real transactions.
The Libor recommendation was one of several to emerge from the FSOC, wich reiterated its call for policymakers to continue reforming the $2.6 trillion money market mutual fund industry and a separate key bank funding market. The council also echoed recommendations made by its member agencies, such as ordering the financial sector to improve protections against breakdowns in technology and other business disruptions, and to beef up internal controls and corporate governance.
In addition, FSOC identified several potential threats to the financial system, including vulnerabilities in certain funding markets; the government's heavy involvement in the housing finance system; and fiscal policy, such as the threat of a fight in Congress over raising the cap on the amount of money the U.S. government is allowed to borrow.
Calling all HuffPost superfans!
Sign up for membership to become a founding member and help shape HuffPost's next chapter
BEFORE YOU GO
PHOTO GALLERY
Libor Scandal Timeline