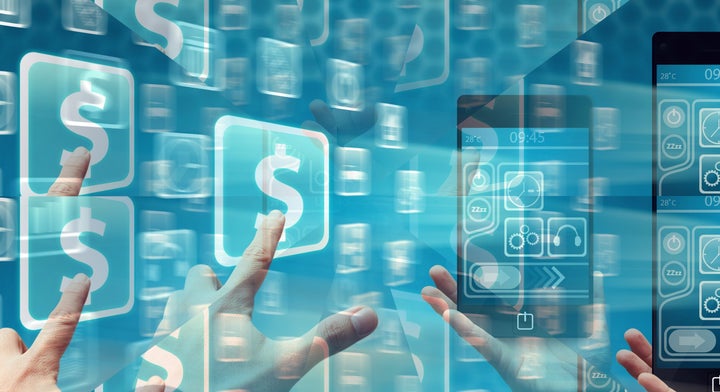 Ever wonder why Financial Technology seems somewhat antediluvian in comparison to things like Virtual Reality (VR) or Artificial Intelligence (AI)? Are online security and primitive banking apps the only "technology" that comes to mind in regards to FinTech? You should have come to Finovate with me!
I had always wanted to impose spending budgets on my wife's fashion needs. Apparently, she thought similarly in regard to my car budget! If Siri and Alexa can order stuff for me on the internet, why do I still have to type to log into and deal with my bank? And why does opening an account for financial anything seem ridiculously complex and almost never get done in one go? Dealing with the snail mail deluge of statements that show up after you get an account definitely is no fun either! If it is this bad for us here in a country like the USA, you can just imagine the travails of folks in third world countries.
Fortunately there is hope for it all!
This last month, the best of FinTech innovators gathered in New York City to demo their latest innovations in technology for the financial sector. I personally, was quite charmed by the magic and reality of what is to come … very soon!
I almost called my wife with glee (and then decided to keep this nugget to myself) when Proactive Budget demonstrated their Cash Envelopes concept. Joint account holders can now save or allocate money for specific purposes. If my wife decides to execute a spontaneous shoe related budget reallocation, Proactive will affect an unassailable (only because it is programmatic) veto and alert me to her transgressions! Thereafter, Proactive could if required support a democratic reallocation of budget! Watch it below:
Interesting and essential as security is there are too many conversations about it and I would have been happy to avoid them. There were many demos about secure login but it got really interesting when Ori Eisen – founder of Trusona revealed his plan to forever do away with passwords! Read Trusona's manifesto here so we can reclaim internet security and stop helplessly giving money away to hacks and nefarious purposes. With a simple combination of the account holder's registered mobile phone, thumbprint and an instantaneously generated QRCode (that expires almost as quickly) Trusona eliminates the need for a password.
One might ask what makes this better or even more interesting than using Eyeprints (like fingerprints but based on the veins in your eyes) from EyeVerify or the extremely fun demo by Conor White of Daon as he logged in to his bank account (live!) by using his mobile phone camera to identify himself via facial recognition! Watch here:
Your bank probably already makes you provide two separate things to identify yourself when logging in. Two factor authentication like that is going to either become multifactor identification (which Trusona does – something you are, something you know, something you have) and/or lean towards giving you more than a few options (password/fingerprint/facial recognition/eye balls) for your convenience like Daon does.
Many financial institutions are piloting some of these security mechanisms and will allegedly make them available to customers in the very near future. Rumor has it that you might feel quite masterful with your MasterCard soon!
Was that cool? Now imagine having to actually type after you skated quite so smoothly into your account! So uncool! Fortunately, companies like Kore and Clinc and Bankjoy are giving you some cool financial guru tricks! With some speech recognition, some Natural Language Processing (NLP), and some Artificial Intelligence (AI) they are building ways for you to dictate your instructions to your bank account or even ask questions without ever needing a human service professional. Neither NLP nor AI are mature by themselves but if you confine them to a domain like banking then they do not need to be very mature to seem magical. Watch BankJoy (what an appropriate and fun name for this startup) below drop some moolah on a friend via their bank account by talking to Amazon's Alexa!
If you have a Mint account you may think that logging in or even effecting one or two transactions is just table stakes. The real questions are – how many different things can you see in one place and is adding more stuff in easy? You either have one or are thinking of getting a space age financial account that shows you your savings, the value of your stock portfolio and the current market value of your house! Each of these by itself requires a couple hours to just create an account with the corresponding company and if you wanted to see it all in one place then it is either impossible or just more time verifying identities or even finding the right information to provide. With aggregators like Avoka, Finicity, Backbase, Urban FT, Consdata the business of validating your identity via a simple online camera scan of your driver's license takes just a second. After that some of these companies which are also personal finance management (PFM) providers can seamlessly integrate accounts from multiple financial institutions to very quickly and securely show you a single view of all your financial accounts. In an effort to make customer onboarding easy and also to provide truly valueable customer experience many financial institutions are adopting these kinds of aggregators. Consdata lets you snap a picture and put it on a credit card you might get from your bank. Imagine giving your newly college going child a card with your face on it!
Avoka and Finicity aggregate everything from Identity Management, Form Pre-Fill, Address Validation, Electronic Signatures to Core Banking. Backbase allows you to efficiently design, test, improve and redesign customer onboarding or other experiences.
And then there is the problem of dealing with the copious amounts of bills, statements and other communications that come with each of these accounts. Enter FutureVault! If you thought DropBox was super useful wait until you meet its big brother FutureVault where you can securely receive, classify and file away multiple documents and anything digital for different aspects of your life. Carefully constructed foldering and taxonomies for different things like taxes, mortgages, or even enrollment legalities along with samples and templates of important documents like w9s etc make for a one stop document storage and processing stop. When FutureVault adds in granular permissions and workflow this will become a commoditized and expected experience that all financial institutions will integrate into and probably provide to you for free. Its like being given a backpack that already contains everything you might need when you join school! Are you listening Ed Tech?
One of the many interesting spaces in FinTech is Money Transfer. Companies like Circle and GoAbra seek to build a bridge of BitCoins between countries and currencies. It is difficult to tell how this will turn out. We will have to wait for international money laws and related regulations. More traditional companies like WorldRemit and CurrencyCloud operate without BitCoin and within current financial regulations. WorldRemit has a worthy vision of bringing financial inclusion, access, and opportunity to underserved populations across the world. CurrencyCloud goes one step further and brings money transfer abilities to small banks and other financial institutions who could not otherwise offer international or even local money transfer to their clients.
In the same vein of financial inclusion, and opportunity for Africa, Lidya is starting out as a small and medium business capital provider with the aim of helping Africans build credit scores that will allow them access to more. Lidya expects to be a full-fledged bank in Africa in the near future!
There were also a few fantastic one offs like:
MarketX is an online investment platform for investors to access the pre-IPO shares of high-growth US startups. They connect international investors in Asia with early shareholders of US companies such as Uber, Airbnb, and Snapchat.
Sindeo makes sure you get the absolute best mortgage for your house by matching your specific needs and qualifiers to a large range of providers! By demystifying and making the process transparent Sindeo makes sure you can have confidence in the deal you get. They already provide support via chat, video and phone but when they start underwriting the loan itself I expect some market disruption very advantageous to the mortgagee!
My favorite one off was Bluescape! Imagine 180 acres of touchable, multi user and multi device accessible electronic design space! Bluescape is not just a design tool, it can support the visualization of full and deep company dashboards. Many a software has taken on the task of plotting and visualizing a full company as either a balanced scorecard or a dashboard that can drill all the way down to individual employees and their tasks and processes. This is finally possible! Access control and seamless sharing make Bluescape potentially the defacto C-Suite toy of the future! While Bluescape shows off its might on 80 inch or larger digital screens currently, I cannot wait for them to integrate a VR or gesture controlled interface! Minority Report – we are almost there!
At the end, the verdict really is that innovation in FinTech is definitely ongoing and very exciting. If either your job or your curiosity warrants it there is no better way to stay abreast of such advances than to go to Finovate. Short snackable demos that cover the full range of possibilities rather than long drawn out speeches and panels make this an easy and productive time. Even as soon as early next year we should see widespread use of the above technologies … possibly in a financial institution you use!
Related
Popular in the Community