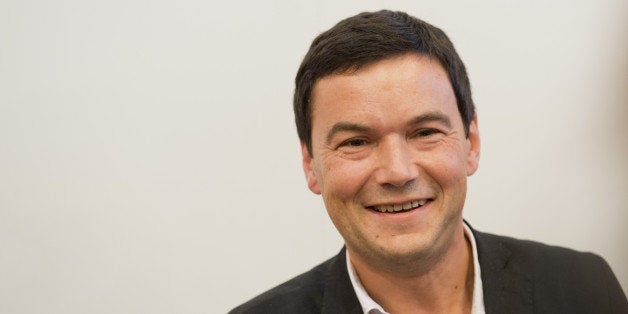 The Financial Times has declared that Thomas Piketty's Capital In The Twenty-First Century is the best business book of the year, which kinda-sorta makes up for that time it declared the book was riddled with errors.
Capital, for the uninitiated, warns that unfettered capitalism tends to widen the gulf between the haves and the have-nots, and that the major economies of the world could be doomed to Gilded Age-style inequality if they don't take steps to stop it. It was, unexpectedly, a red-hot bestseller, exposing broad public anxiety about the fairness of the global economy.
It was not universally praised. Back in May, FT economics editor Chris Giles started a weeks-long brawl with Piketty by saying the book was "undercut by errors" and that "the rock-star French economist appears to have got his sums wrong."
Now the FT itself seems to have come down on Piketty's side, too.
"Capital in the Twenty-First Century emerged after vigorous debate from an incredibly strong field," FT editor Lionel Barber, who chaired the panel of judges that picked the book, said in a press release. "While not everyone agreed on the policy prescription, we recognised the quality of the scholarship. It's a challenging but ultimately important book."
That has not stopped criticisms of the book's data and conclusions. Salim Furth, an economist at the Heritage Foundation, a conservative think tank, criticized Piketty's data on Swedish inequality on Wednesday, in a Wall Street Journal blog post.
Giles himself continued to slam the book's data, in a Policy Exchange panel discussion on Tuesday. "Truth-telling with data is important, and I don't think this book does it," Giles said.
In that talk, which happened just hours before the FT's announcement of the business-book award, Giles took a moment to acknowledge the strangeness of the situation: "It is perfectly possible, given the eclectic organization that the FT is, that we will say Capital is the business book of the year and also sort of slagged it off at the same time this year."
The Financial Times did not immediately respond to a request for comment. Giles declined additional comment.
This post has been updated to reflect that Giles declined to make additional comment.
Calling all HuffPost superfans!
Sign up for membership to become a founding member and help shape HuffPost's next chapter