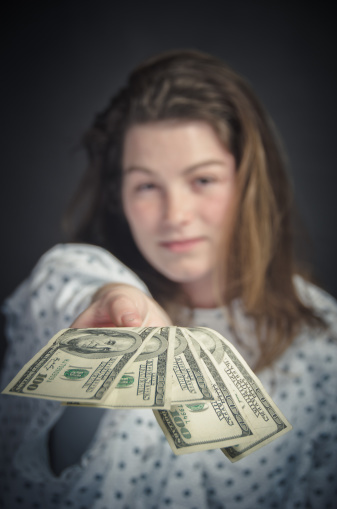 Financial toxicity. It's a relatively new phrase pioneered by Yousuf Zafar, MD, MHS from Duke, that's gaining traction in cancer circles and making its way into mainstream vernacular as a means of equating the effect of out-of-pocket expenses with the adverse physical effects of cancer care - things like nausea, vomiting and hair loss. It sounds insidious, poisonous and painful, and based on the findings of my organization's new study "Insight into Patient Access to Care in Cancer," I would say that it's spot on. The high cost of cancer care is an uncontested fact. Yet I was dismayed at the picture that emerged from our study of patients with insurance. They too are left reeling from the cost of treating their cancer.
"I had pretty good insurance, but it still cost us six figures to get through this experience."
"What doctor can I put off seeing because I don't have that $75 co-pay? And which doctor is more important? But then you sit down and realize they are all important."
"I've fallen into the trap that a lot have fallen into in that they don't get prescriptions or take medications once every other day instead of every day."
"There were times when I didn't go for that PET scan when I was supposed to right away because (pause) of the cost."
This is just a sampling of what patients told us about their financial realities as they faced their cancer diagnosis in our survey of 480 adults who are currently living with cancer or have had cancer. 37.1 percent of our respondents overall and 58.8 percent of patients ages 18-44 reported being seriously or very seriously concerned about bankrupting their families.
Patients' top three cost concerns are:
1- out of pocket for insurance premiums
2- co-insurance for services like lab work or physician visits
These direct costs related to access to cancer care can quickly become substantial, but equally impactful are the less frequently mentioned collateral costs, such as loss of income due to taking time off from work, the time and cost of traveling across large distances to see in-network doctors and child care. But there's more. In an effort to cover costs, patients with cancer will use money originally set aside for another purpose. Our previous study, "
," gave a vivid picture of the choices patients and their families make in seeking to manage the cost of care:
37 percent cut their grocery expenses
48 percent gave up vacations, celebrations and social events
24 percent borrowed against or used money from a retirement plan
The impact of the financial burden caused by out of pocket expenses cannot be overstated. Cancer places a financial burden on all patients, even those with insurance, which is associated with their taking measures that may significantly impact quality of life and may negatively affect treatment outcomes. Patients are making decisions, potentially detrimental ones, about their treatment based purely on financial considerations. Yet, according to respondents, only a meager 34 percent discussed their financial situation with their health care team and a whopping 70 percent did not receive social and emotional support services including screening for distress.
Part of the Cancer Support Community's mission is to collect, analyze and share information about the experience and needs of patients with cancer and their families throughout the cancer journey to ensure that policies and coverage decisions are informed by the stated needs and priorities of patients. Our findings show us that people are suffering and living in fear, not only because of the life threatening disease they are facing, but also because of the costs related to accessing comprehensive, quality cancer care. While we as a society are accustomed to talking about the physical toxicities of treatment regimens, we are less familiar with thinking about the "financial toxicities" of cancer and their impact on individual patients and their families. This must change. Further research is needed on financial burden in terms of the implication on health care use and outcomes over the long term. It is imperative that we monitor the direct and indirect costs of cancer and related care for patients throughout the trajectory of disease. The cancer journey in and of itself is challenging enough. We cannot allow the financial burden of cancer to negatively impact the patient's quality of life, course of care and health outcomes. Financial toxicity must be addressed and the total burden of the disease must be stemmed so as to not be ruinous for years to come.
Related
Popular in the Community