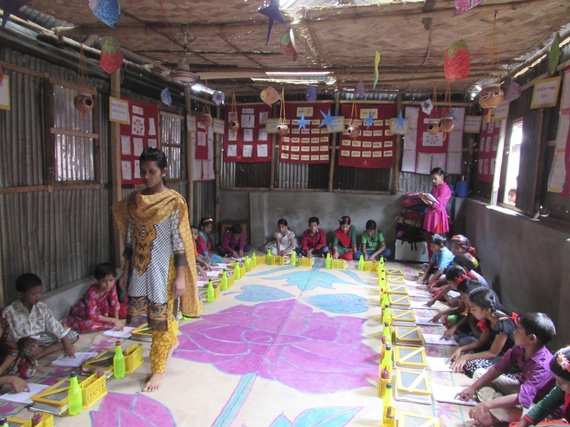 Setting the 'ground rules.' That's the best description I've heard so far for what the Third International Conference on Financing for Development (FfD) this week in Addis Ababa Ethiopia will actually do. Set the ground rules for investing in the post-2015 Sustainable Development Goals (SDGs) to be launched at the UN General Assembly in New York in September 2015.
As development professionals, advocates, economists, heads of UN agencies, government officials and political leaders pour into Addis Ababa, these ground rules make-up the draft outcomes document -- 30+ pages and 134 key points. You only need to read the first point though to see that the stakes are very high.
'Our goal is to end poverty and hunger, and to achieve sustainable development... promote peaceful and inclusive societies and advance fully towards an equitable global economic system where no country or person is left behind, enabling decent work and productive livelihoods for all, while preserving the planet for our children and future generations.'
That's a big deal. That means that these ground rules are for building the political will, to create systems and invest the resources necessary to finally end poverty and prevent environmental degradation. It is an outline for the future of humanity.
That's a lot for a three-day meeting. And it is way too much to cover in one blog. So let me sum up. These ground rules must all work towards one simple thing.
Equity. Policy change and increased resources in the new development framework must have as their primary goal creating far greater equity in outcomes.
A great deal of progress has been made since the 2002 Monterrey Consensus and the 2008 Doha Declaration on which the Addis meeting builds, but inequality within many countries and societies has increased dramatically. Women, indigenous peoples and the most vulnerable continue to be excluded.
Where we failed in the Millennium Development Goals (MDGs) launched in 2000 is in reaching those who are hardest to reach. Though we committed to get all children at least a primary education by 2015, nearly 60 million of the most vulnerable children remain out of school. More than half of them live in conflict and emergency situations and the majority are girls.
Equity in outcomes is the impetus behind the creation of a Global Humanitarian Platform and Fund for Education in Emergencies to stop the neglect of education for children in crisis that came out of the Education for Development meeting in Oslo last week. And equity in outcomes should be the guiding principle behind all development work. We must throw the best of our intellectual and political weight and increased financing at the challenge of reaching the most vulnerable people in the most complex situations.
This does not mean investing the same amount of resources per child or per country, it means investing the necessary amount per child or per country to get equal outcomes. Focusing on equity means investing what we know is necessary for every child, family or community and investing more to reach those with the greatest disadvantages -- such as girls, those that have a disability, those that live remotely, and people in conflict and emergencies.
The end of poverty may be able to trace some of its roots to this week's meeting in Addis Ababa -- to subsequent reforms in regulatory frameworks, financial and tax systems, trade policies, consumption and production patterns, technology, transparency, rule of law and the fight against corruption and hopefully to far greater investments -- but this will not happen without a more targeted focus on equitable development through every single one of these different pathways and beyond.
It's understood that the 2002 Monterrey Financing for Development Conference was essential to the launch of the MDGs, but Monterrey did not happen in isolation. Over that same period, as John McArthur of Brookings points out, several breakthroughs kick-started the progress we would see particularly in health over the next 15 years.
The lesson here is this: Addis will be an important moment, but it will be only one of several that will be needed to kick start the final phase of the fight against poverty. We will need to be creative and focused. We will need new instruments, new ways of coordinating and partnering, new research, technology and innovation and new policies and we will need to commit to targeting all of these things and greater investment where it is needed most. The potential new fund for education in emergencies as well as the recently announced Commission on the Financing of Global Education Opportunities are two potential breakthroughs for this next phase but they are only the beginning of what it will take.
Despite progress, too little attention, aid, financial justice and too little of the right kinds of investment are currently targeted at the countries and people that need it most. We must aggressively work towards equity of outcomes in order to reach those people left behind by the last development framework.
Without a focus on equity the end of poverty will continue to elude us.
Related
Popular in the Community