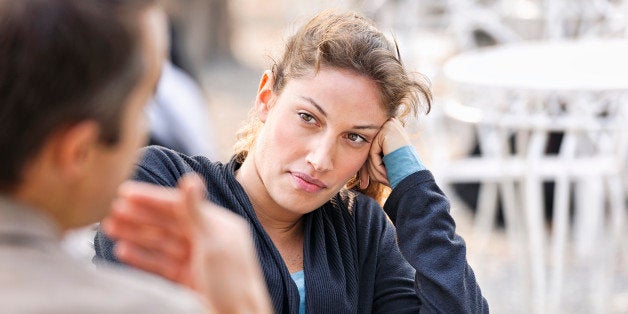 Creating a Date a Month Club is a great way to make love happen. Just ask my friend's daughter, Jenny, who also happens to be my friend.
At age 28, Jenny -- a bright, attractive, worldly woman -- was single, living in New York City, and so swamped with work that she hadn't been on a date in ages. Her friend in San Francisco had found a great job in Silicon Valley by networking and applied the job-search principles to a new way of dating: She started her own Date a Month Club.
Jenny decided to try it too. Did she want to find love? Sure, but Jenny explains that she wanted a low-key approach. She was not looking for Mr. Right, just looking for Mr. Right Now.
Jenny started by making a list of female friends, cousins, co-workers, former classmates as well as anyone else she could think of. And then she sent the following email:
A dear friend had the incredible idea of starting a Date A Month project. She committed to go on one date each month with someone new and she spread the word far and wide for friends and colleagues to suggest potential suitors. In the end she had a number of fun times, a number of mishaps, and some great stories.
I am hereby launching Date a Month Club for myself.
And I am asking for your participation -- any friends, friends of friends, colleagues, cousins, men you see on the subway -- who might be eligible for one crazy date -- please send my way. It can be anyone with any potential for an engaging date -- I'm not looking for Mr. Right, just Mr. November.
Please keep your eyes peeled and your ideas flowing -- and I will keep you updated on my escapades.
Besos,
Jenny

"This is such a fun idea," says Jenny, "that it didn't seem desperate. I was simply taking control of the situation. I wasn't asking for Mr. Perfect, just looking for one fun date a month.
Jenny began receiving replies to her email. "People said, 'Maybe I could take December.' 'Maybe I could take January.'"
At first, around five friends offered to participate. And sometimes Jenny had to follow up. She emailed her November friend, "You said you would take November -- do you still have someone for me to meet?"
Her friend sent an email introducing the two:
Jenny meet Rob, Rob meet Jenny. I love you both and think you would enjoy grabbing a drink or dinner sometime! I'll let you guys take it from here. :)

And so the dates began: ice skating, theater, drinks.
Jenny reports back to friends on her first Date a Month Club date, the one with Mr. November:
It was a good date but then nothing came of it after. It was a cold night. We found a bar with hot toddies. He was attractive and we had lot to talk about, a lot in common. I was having a birthday party in a couple of weeks. He didn't come, but I wasn't so upset because I had another date in December.
Let your Date a Month Club become part of your vernacular:

"It also allowed me to approach anyone," says Jenny. "It started with the email list but became part of my vernacular. I met my cousin's new mother-in-law, and told her about the club. She loved it, and the next day she sent me Mr. March, a young artist she knew."
Usually the first date is not a whole meal and not a weekend.
Jenny's three-date rule says that if he's good enough to go on a second date with, even if the second date isn't so good, consider going on a third date, a tiebreaker.
It's best not to tell the guy he is now a member of the Date a Month Club.
"I did this for two years," says Jenny. "Then I went for a drink with Mr. July. That night I emailed friends about the great date. The next day, he emailed, saying he wanted to see me again. Next summer, we'll be getting married."
"My best friend from high school introduced me to Mr. July, my fiance. I see my friend who introduced us all the time and we're very close. You would think she would have set us up sooner. They went to college together! But it wasn't until she had an assignment for Mr. July that she thought of him.
Three of Jenny's friends have started their own Date a Month Clubs.
Don't get discouraged if someone doesn't call back. There's always someone else in the pipeline.
"A first-rate personal essayist, Susan Orlins delivers the goods time and again. Underneath her self-mocking voice, her abundant humor, her brio, there is the serious candor of a moralist who worries the problems that won't go away."
-PHILLIP LOPATE, author and editor of The Art of the Personal Essay

"Susan Orlins is America's funniest neurotic since Woody Allen. Just be careful you don't crack a rib reading Confessions of a Worrywart."
-PATRICIA VOLK, author of Stuffed and Shocked
Popular in the Community