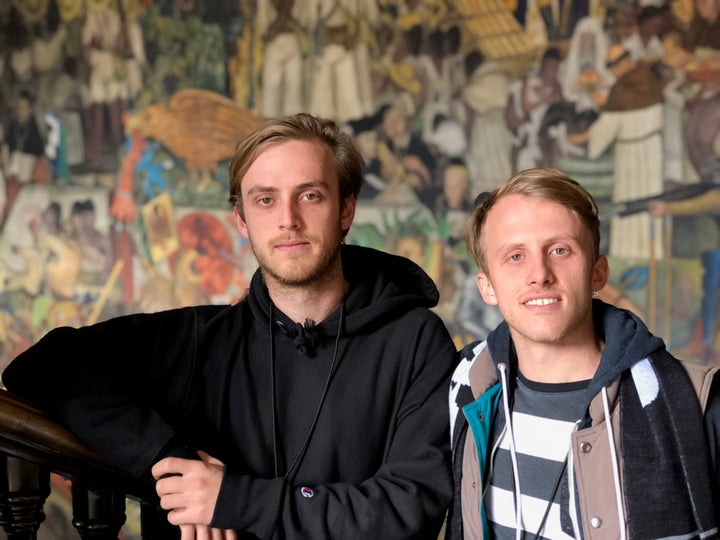 New York City holds the dubious distinction of being the second-priciest city in the country in which to rent an apartment, behind San Francisco. Rents for a 682-square-foot, one-bedroom apartment can top $3,000, and many can only afford the expense by living with roommates ― often strangers in the same boat. But how exactly do you find a roommate and an apartment in New York City if you live thousands of miles away?
Kenny Durell, 28, did precisely that. He grew up in Northern California and lived in New York City for five years while attending Columbia University and working at his first job after graduation. Another job lured him to San Francisco for the next four years, but an even better opportunity recently brought him back to New York.
Having lived in the city before, he admittedly had a leg up on total newcomers. He knew the neighborhoods ― at least as they were a few years ago ― and he had friends who still lived in the city. Best of all, he had a younger brother in Queens who was willing to meet prospective roommates and see apartments for him.
Still, the New York housing market is competitive and ever-shifting. Below are some things to think about as you launch your apartment and roommate hunt:
Post publicly.
Durell took a systematic approach to finding a place to live from afar. Turns out, lots had changed since the last time he lived in New York. Neighborhoods that were once up-and-coming could now be yesterday's news (or too expensive). Is Queens really the new Brooklyn? Which neighborhoods would be most fun for a single guy with a demanding job?
The first thing Durell did is something anyone can do: He posted publicly on Facebook because he wanted to connect with people outside his immediate circle of friends. He knew that some rental situations get snatched up before they even hit the market, and the good ones tend to move quickly.
He sought leads from the widest circle of people he could ― friends of friends, relatives of friends, anyone and everyone who personally knew of apartments or roommate situations that would likely be opening up. By posting publicly, his message was seen not just by his friends, but by everyone they were connected to.
"I went for the reach," Durell said, and he got multiple leads.
Word of mouth can provide a jump on the competition. While Durell isn't old enough to remember it, finding an apartment was so competitive in New York in the 1970s and '80s that people used to scan the obituary columns for a lead on an apartment opening and leave a note on the manager's door.
Figure out what's really important to you.
Durell developed a list of neighborhoods he liked, some of which had changed since he'd last lived in the city. Also, he had changed: He left New York as a recent college graduate and was returning with work experience and maturity under his belt. Things that might have worked for him before wouldn't likely work now.
He placed a premium on the roommate situation. "You [and your roommates] have to be on the same page about what kinds of things will get under your skin and how you will resolve conflict," said Durell.
Some things to consider: What time do you rise and what time do you like things to quiet down? Do you or your roommate(s) like having friends over to play music all night? How many nights a month can visitors stay over? What are the kitchen rules? Do you basically like one another? Can you envision being friends? And does that last question even matter to you?
"If you wind up not liking the person you are living with and can't get along, it gets old fast," said Durell. "I put my energy into finding the right situation."
And then, of course, there is the balancing act between how much rent you can afford and the number of roommates you need and want to have. Durell said he absolutely did not want a railroad or shotgun apartment ― a situation in which you must walk through someone else's sleeping area to get to your bed. Railroad and shotgun apartments were constructed to meet the needs of New Yorkers in the mid-1880s, when multiple families might have shared rents. Today, shotgun apartments are generally less expensive and are often in desirable neighborhoods, so competition for them can be fierce.
Durell both preferred to save some money on rent and liked the idea of broadening his circle of friends by having a roommate.
"But preferably, just one!" he said. "And no walking through someone else's room while they are asleep." He definitely wanted a private room and held out hope for a private bathroom. He got both.
Find a stand-in.
Durell's big advantage was that his brother was willing to act as his surrogate. Durrell would make the initial contact with prospective roommates and would suggest switching to Facetime or another video-chat program so they could talk. "Seeing the person adds a deeper level to figuring out if this will work," he said.
If things clicked, he arranged for his brother, Forrest, to visit the apartment and meet the roommate.
"Forrest was great," he said. "He knows me, knows my friends, and I trusted him to know if the situation would click for me."
From inside the apartment, Forrest would provide a live video chat tour. He'd offer commentary along the way. And as soon as he left, the brothers would do a "post-apartment tour analysis" and Forrest would offer up his uncensored opinions.
Short of having a Forrest in your life, definitely meet your prospective roommate(s) online in a video format. And ask for a live tour, even if a virtual tour is posted. You want to see how neat the apartment is kept on days when no one is expected to see it.
Get some professional help.
Some apartment hunters use brokers who charge the tenant a percentage of the annual rent. This is generally found in higher-end apartments. Some landlords will only consider tenants who have been prescreened by a broker. Durell went the do-it-yourself way.
He used Nooklyn, an app that both matches up roommates and available apartments. There are multiple other apps to use as well. The app Roomi has been called "a Tinder for roommates." And he consulted Craigslist.
Durrell considered two approaches to renting an apartment: One was to form a group of a few people first, designate someone as the master tenant, and then search for an apartment to move into together. He also tried looking for an opening in an existing apartment by himself ― basically a room to rent that was controlled by someone else as the master tenant.
A master tenant is the one whose name is on the lease and who is ultimately responsible for making sure the rent is collected and paid on time. In exchange, some master tenants claim the larger bedroom as theirs, or charge the leasing tenant(s) more money toward the total rent than an even split.
Some like the idea of being the master tenant; others prefer the freedom of being able to live on a month-to-month or six-month lease.
Durell explored being a master tenant and forming a group with strangers he screened online. It just got too complicated, he said. "I was starting a new job and didn't want the hassle."
And so he opted for a situation where he would move into an already furnished existing apartment, taking the second bedroom of a two-bedroom apartment in Brooklyn where the owner ― a man about his age ― occupies the main bedroom.
His new landlord greeted Forrest with an offer of a glass of bourbon. Deal sealed.