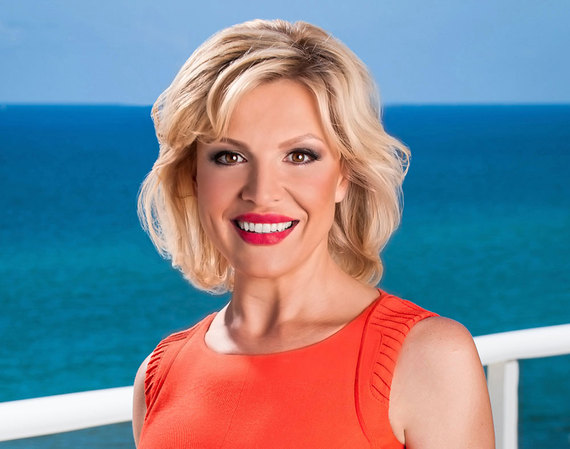 South Florida is known for many things, included among them being a very nice place to call home. Pleasant weather, a vibrant environment and quick flights to New England up north and the Caribbean down south, make the region attractive to pretty much everyone in North America. It's no surprise that the real estate market is booming, but what may surprise you is the woman who is the powerhouse behind over 250 million dollars worth of the sales. Senada Adzem has a colorful past, with a personality cultivated in the midst of violence embodied by war, bombings and snipers, eventually giving way to kindness in the form of a United States Colonel and a startlingly safe start in New York. But let's start at the beginning.
Born in what is now Bosnia, Senada Adzem found herself, along with her family, in nearby Croatia when war broke out in 1991. "In all the mayhem, you don't know what to do next. All the banks are closed, so you cannot withdraw any cash. There is bombings in the background. So, at the time, Bosnia, or a different part of Yugoslavia, was safe. There was no fighting...so we went to Bosnia." Anyone familiar with the conflict would know that safety did not last long and within a few weeks 14-year-old Adzem found herself again in a warzone. "There was a complete siege of Sarajevo, and a lot of civilians being shot or killed by snipers or mortars...I would say it was our Holocaust." During what would be four years of violence, Adzem grew up and eventually began working for the United Nations' humanitarian division. She told me they "were delivering food and toys to different orphanages" and "going to different camps and recording things."
Senada's work in humanitarianism would be rewarded with an assignment to tour orphanages with the Colonel in charge of US forces for all of Eastern Europe. He introduced her to the US ambassador to Bosnia and as a result she was one of the first people to leave the country once the US Peace Corps was signed on. At the young and, thanks to her upbringing, less-than-fragile age of 18, Adzem boarded a plane to start a new life in New York City. Not surprisingly she suffered from post-traumatic stress disorder and had a hard time coping with her new life. It "took a while to adapt, from the two extreme environments," she admits, "one day you are getting shot at by a sniper, and then you are in this amazing environment."
What Adzem would do in her new environment would eventually prove to be wildly successful for her. Anyone who has been closely following the real estate market will probably already be aware of the enormous boom happening in the Miami area. Condo buildings are going up at an incredibly fast rate and people are flocking to the vicinity chasing dreams of a warmer climate, tax breaks and an overall more bang for your buck. Last month the Miami Herald proclaimed that less than three years after the South Florida high-rise building boom started in May 2011, the 50th new condo tower formally began construction. That's a lot of condos.
The average price tag of a home Senada sells is about five million dollars, but she works anywhere from the $500,000 dollar range all the way up to homes like this one at One Thousand Ocean, coming in at over $13 million. And compared to equally pleasant, but pricier Southern California? "A $10 million dollar house [in Laguna Beach] would be five million here...and of course the property taxes are very different as well. So you get the money to go much further when you talk about property value." And people appear to be taking notice. According to Adzem there seems to be a bit of an increase in Californians moving to the Sunshine State. "...There are a lot of people moving to Florida," she explains, "from California for tax season...it's only been [the past] year and a half that we have relocated huge companies from California for tax season." Adzem thinks that the allure of "a better quality of life for the money" will continue to draw new residents who find that you can "buy better values for the homes; put your kids in better schools for less in Florida, while in California it is more expensive."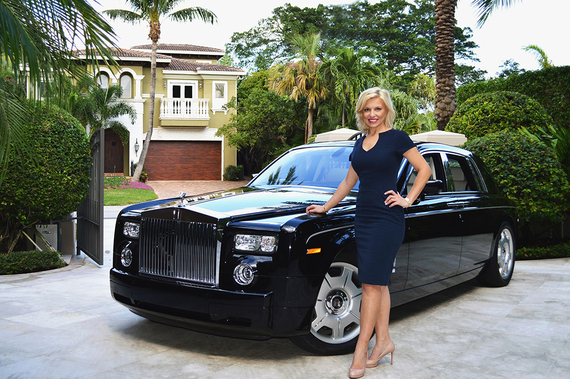 Seemingly inspired by Miami's strong nexus with art, another new trend is also affecting the real estate market in South Florida, as reported on by Susan Kime late last year: art collecting is, in some circles, aligning with the purchase of real estate in more ways than one, a movement born from not only convenience, but also in some cases simply a need for space. "...Buyers purchase second, third or fourth homes so they can have adequate places for their collections, whether it is art, furniture, or rugs, or anything collectible." Rick Moeser, Senior Vice President of Christie's International Real Estate told JustLuxe last December during ArtMiami, citing that there is a "synergy between collecting fine art and collecting beautiful homes."
In some cases, that connection is about finding placement for things you already have and other times it is about purchasing a home already furnished and decked out in valuable pieces. The latter is of course appealing to younger high net worth individuals who are just starting to collect, or busy executives that simply do not have time or energy to put into making their new house a home. "I think when you deliver something fully furnished, including the artwork, that's the lifestyle added on." Senada commented. "You are saving them time and money of course, if they like the interiors. So they can just move in, and a lot of people who are moving to a new area, say from New York to Florida, they don't want to go furniture shopping. They don't want to deal with designers, unless they know the designers...they see a huge lifestyle add-on once they see the luxury items."
If you are wondering how the buying process works when pricey art fits into the picture, it is really no different than buying an empty home. "I actually just had a $750,000 property [and] the client said 'I am staying in New York, why not include the car or have [potential home buyers] buy the car?' It was a Jaguar. And I called him out there, [and said] 'listen this is really great, but I am not a car sales person.'" Senada recollected. "I am a little cautious about that. I think when it comes to the concept of the actual home, be it art or interior design, you don't price it separately. You price it as a whole, you know as one big chunk. And they get actually more value, because, a buyer coming in who gets fabulous art...they're willing to pay premium."
When I asked Senada about the inevitable "difficult" client, she said she stands her ground and has actually fired three or four of them. "I realize, that regardless of who the person is or the potential for money," she explained, "there are certain values that one should not compromise on, be it taking inappropriate language or just inappropriate energy or things that you would not tolerate in your personal life." Her turbulent background has kept her levelheaded and in the right mindset to work with high and ultra-high net worth clientele, a trait that was molded in a bomb shelter when she was a kid. "There was so much death, and so many atrocities," she recalled. "I became so humbled and so grateful for anything and everything. I realized our lives are so fragile and, you know, one small occurrence and we can be hurt, we can die, it is a very sobering experience in a way when it comes to what your life to be. So it brought me to appreciate...life in general, it brought me to see every person in general, regardless of socioeconomic status as a human being. You know, it didn't matter if they were wealthy people, or lower status people, it was all the same. We were all in the same bomb shelters doing the same thing."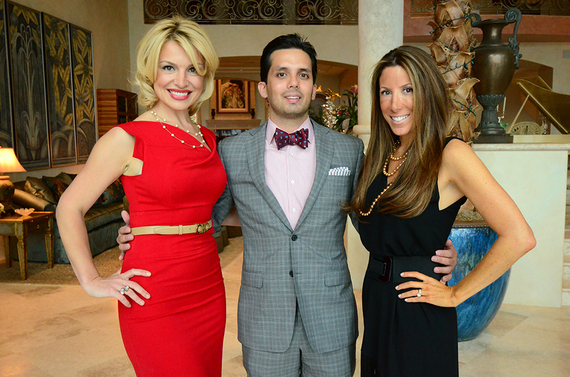 Of course it's true, in the end we are just people going about our lives and valuing the blessing of being alive is something that Adzem is familiar with. "I was so happy I got to live," she reflected. "You know you really want something so bad, and then it happens and you cannot believe it." Her mentality has clearly defined who she is today and how she approaches relationships with her clients; in fact she considers many of them to be dear friends. "I think that I am truly blessed to have such amazing people in my life...I think I like to see what is truly amazing about every single person, and I would always be so inspired when I see a really great family or, you know, the level of success that they reach...what it took for them to build the level of life that they are enjoying...some of the wealthiest people that I have worked with were the most humble and wonderful people ever. I think the people that would pretend or wear every single piece of jewelry they own, to me that is not really authentic. And to me that is not really inspiring."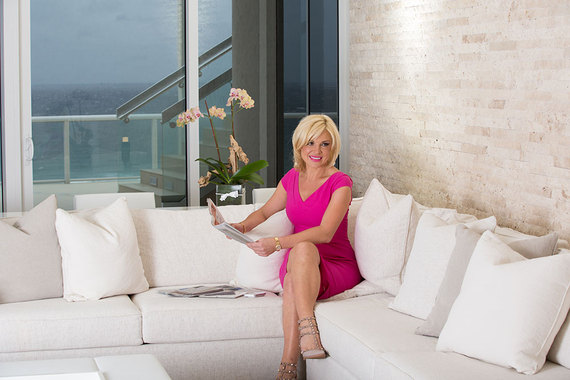 They say you should do what you love. Senada makes no secret of enjoying her profession and 263 million dollars say she is good at it. Her secret? Adzem says, "I work 24/7, firstly. I don't think hard work is a secret. Secondly, working on real estate from a completely different perspective. I don't see it as real estate; I see it as part of their lifestyle that my client wants to fulfill on. Trust me, they don't need a third condo that's worth five million dollars, the lifestyle is not a necessity...one of the serious things is [also] authenticity. Whoever I am, I am very humble, very simple, I am all about my clients, like, whatever they want. I never think about myself first and they can feel that. I think every person can sense your intent and your energy. And the last thing is looking at your business very creatively. You know, be it cooperating with great designers, with great wealth managers, with whomever are the trusted advisers to my clientele."
What probably does not translate vividly enough to print, is just how genuine Senada Adzem is. Her authentic personality shines brightly and is more than likely infectious, which would explain her continued close relationships with her clients. The woman's passion and excitement for her industry is apparent and clearly she is centered on her work: "You get what you focus on in life, if you focus on what is not working, that is what you are going to get. If you focus on how you are invincible, that is when you are going to have the most humbling moment." That humbling moment was probably one of success.
By Courtney Driver
[Top Photo: Courtesy of Senada Adzem]