One Monday this month, my Dad, Bob Harmon, texted a photo of his second ever hole in one. The next Monday, another photo popped up and I was sure it was a joke. But it wasn't. Two holes in one, two weeks in a row.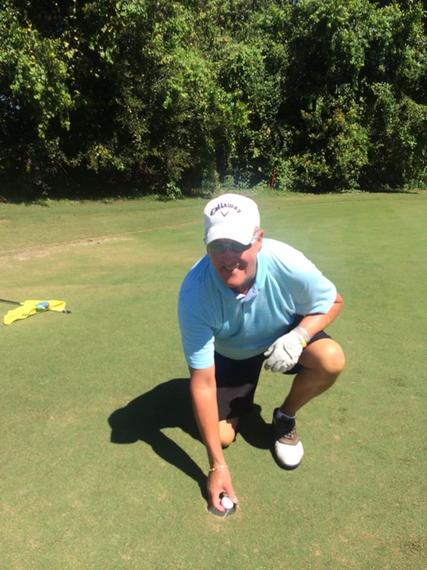 And he's had Parkinson's Disease since 2006.
The odds of that happening are astronomical, even for a player who doesn't have Parkinson's.
I reflected on the accomplishment and tried to put in context. I have spent the last eight years living with Parkinson's and preaching to all that will listen to keep active, positive and fight the fight. You never know what you can accomplish when you try.
Maybe next Monday they will find a cure for Parkinson's."
Instead of just calling everyone and bragging about his success (or sheer luck), my Dad turned to Facebook and turned the attention off him. He wrote:
"Here USA picture of the ball in the hole and me taking it out. I would give up both for a cure to PD. This is nothing compared to Nancy Mulhearn run this weekend. You rock Nancy."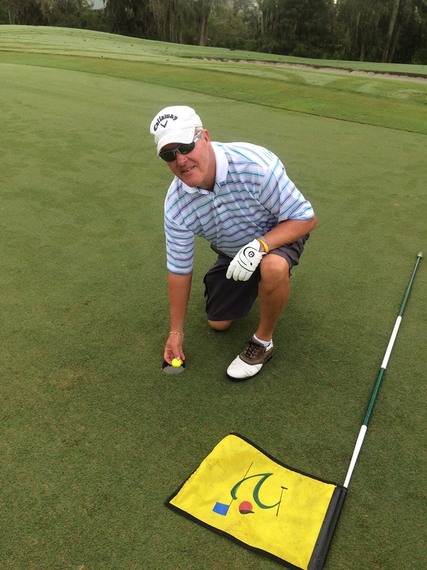 And a lot of his friends and Team Fox family flocked to Facebook for congratulations.
Jimmy Choi Another one?!? That's 2 this year no?
Bob Harmon: Jimmy Choi in 15 months. Nothing like your marathon history
Debi Daniels Bob Harmon you are one terrific man and we are proud to know you
Nancy Bowie Mulhearn: Bob, I think you are the rock star this weekend; I am the background singer! Still seems unbelievable to achieve, but a hole-in-one takes center stage!!! Wow!!! Congratulations!!
Nancy Bowie Mulhearn: Actually, shaking my tambourine with a rock band is next on the bucket list...
Jimmy Choi: I'd trade the marathons for 1. 10 years ago I was a 2 handicap and I have never had a hole in 1!
I clearly remember the night my Dad told me he had Parkinson's. He told me about my mom's reaction. That she was glad it wasn't something that was going to kill him in 90 days. He told me about my sister's reaction, as she took her science smarts to talk about what was going on. And all I thought at first, was that I was going to lose my father. Maybe I wasn't as brave as the three of them.
But years later, as a family and a community, we've raised more than $200,000 for the Michael J. Fox Foundation. Mom and Dad have done clinical trials. Emily and I have signed up to do them, too. Mom and Dad run a monthly support group for patients and caregivers. Emily and I do what we can to be supportive.

But in the end, we as a family, are so very lucky. So lucky that when I meet people suffering through it, I wish I could share my feelings. I wish I could change places for a moment. Parkinson's is no joke. But I have been blessed to meet so many wonderful people struggling and persevering with the disease. Sure, it's not all pretty. But at moments, it's absolutely beautiful.
There's my friend Nancy. Who in a few years worth of awesome fundraising parties, has raised thousands for the cause. She recently did one thing she told me last year she'd never do. She ran. Ran a 5K for the cause.

There's my friend Laura. And no matter what she's going through, she always takes a moment to share some optimism with those around us. Most recently: "Show a little faith. There's magic in the night." A woman who when her hands don't allow her to type, she finds a way through. She uses voice to text, to tell us what she's thankful for. And boy are we thankful for her.

There are my dear friends like Mary and Jennie Kelly. Women who I love and admire. The fear of losing the people we love, and the passion to not take that sitting down. They fight so hard, and they make me so proud.

There are my other friends Gwen and Missy. Who in this past year have lost their fathers to our journey. In our paths together, we know each other's hearts, fears, sorrow and even, joy.

And there's my dear friend John. Who no matter what, has a smile on his face. And so much love to give. Who years into early-onset PD, told my dad last year that he was going to run the NYC Marathon. He did. And we were there with bells on.

So what is the moment you've been waiting for? Is it a hole in one? Is it a marathon? Is it a 5K? Is it just facing your day with bravery and making it through another? It doesn't matter what your goal is. It doesn't matter what's on your bucket list. It doesn't matter if you're having a bad day, week, months, etc. Or if you're facing adversary or disease. Because the one thing I have learned, and I learn every damn day ... you are not alone. And while Parkinson's is the thing that's tearing some of us down, it's helped me meet the most amazing people in the world.

I'm thankful for that every day.

So find that hole in one. Find that marathon, that race, the donation you make, the hugs you give. Even the moments you just know to listen and be there. Some days, I feel like I'm struggling. But other days, I feel like there's so much hope out there that all I can do is try and share it.

And if you still don't know what I'm talking about. Watch this.