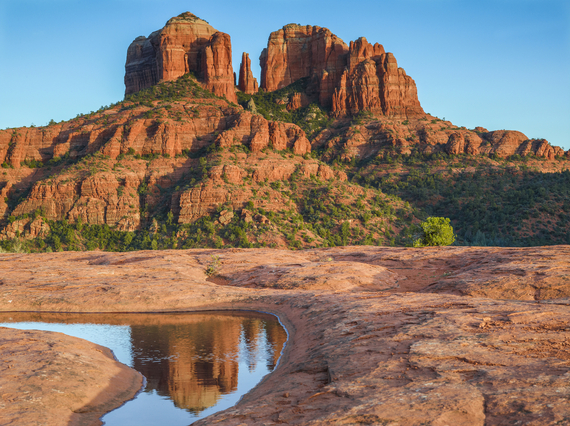 It is in Sedona, Arizona where I have my annual, personal retreat of solitude. Here I find mental, physical and spiritual balance. Over 40 times I have made this trek.
My grandmother introduced my mother to Sedona in the 1950's. At that time few tourists journeyed north from Phoenix to capture the beauty and the mystique. The splendor of the red rock formations and the strange sense that something magical is happening were the lures. Later, I would bring my wife and daughter.
Sedona was and still is a special place to me.
Today, I am here at the beautiful Los Abrigados Resort and Spa conducting a full day seminar. You can feel the psychic energy the moment you arrive. My soul is dancing. I am very happy.
For five decades this small place on the Earth has been my personal, spiritual retreat. This is a place that I've escaped alone from the hustle and bustle of my business life.
In Sedona I...
• Wrote my first book, Tennis & Kids: The Family Connection.
• Created my book, S.C.O.R.E.® for Life.
• Created my book, Pebble in the Shoe.
• Received my first psychic massage (That was an experience!).
• Enjoyed great meals in my favorite Sedona restaurant called Shugrues Hillside Grill (bummed that is now closed).
• Walked (100 times) the electro-magnetic vortex of sacred Boynton Canyon (ancient Indians made their home here thousands of years ago).
• Fell in love with red rock formations called Cathedral Rock, Bell Rock, Snoopy Rock, Lucy Rock, Flintstones Rock, King Kong, Rabbit Ears Rock, Madonna and Child, Cowpie Rock, Eagle Rock, and Coffee Pot Rock to name a few.
• Enjoyed picnics at Red Rock Crossing, Crescent Moon, and Slide Rock State Park.
• Observed bald eagle, blue heron, deer, tarantula and coyote in the wild.
• Jumped off the cliffs at Grasshopper Point.
• Saw no UFOs or aliens, but heard many stories from eyewitnesses.
• Indulged in multiple spa treatments in Mii Amo Spa (one of the world's best).
• Met scores of people from around the world on the veranda of the Enchantment Resort.
• Saved a person from suicide because of my energized intuition (listen to audio version).
• Enjoyed fly-fishing in Oak Creek.
• Enjoyed many lunches at Indian Gardens Café & Market (dine in their garden).
• Prayed with my mother in the Chapel of the Holy Cross (site built on one of Sedona's many vortexes)
• Experienced many hikes, jeep tours, helicopter excursions and plane rides.
• Enjoyed creek side dining at L'Auberge Restaurant at sunset.
• Fell in love.
• Skinny-dipped in Slide Rock at dawn (I was in my 20's. What did I know?). This natural waterslide is amazing.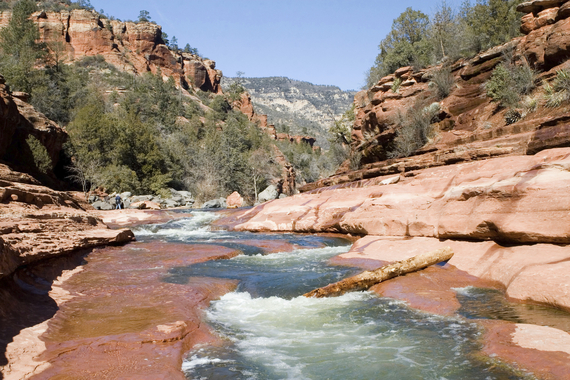 • Experienced a one-on-one encounter in the woods (alone) with a coyote.
• Attended a sweat lodge.
• Ate many breakfasts at the Coffee Pot Restaurant.
• Met amazing healers and spiritual guides.
• Connected with my Native American roots.
• Increased my ability to meditate.
• Cleared my mind and replenished my soul.
Religion and spirituality are everywhere in Sedona from the amazing Chapel of the Holy Cross to the presence of most other monuments of faith. Why are they here? It's the energy connection.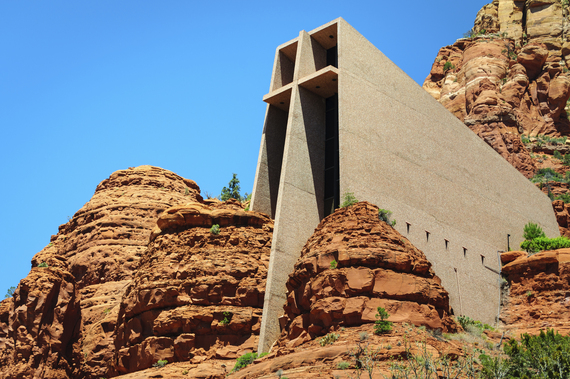 Even the McDonald's in Sedona is different! It's the only one in the world that has turquoise arches and they are so small you can easily miss it. Thank you city council!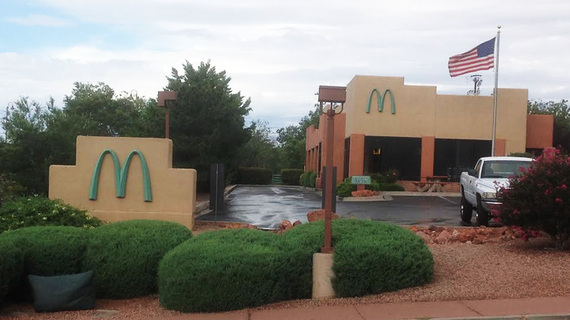 What do I love about Sedona? Once you leave the 100 art galleries and New Age shops on the main drag, you'll find solace in the hiking trails. Hearing the water whisper over the rocks in Oak Creek will soothe your soul. Climbing Cathedral Rock, Bell Rock and other rock formations is liberating. I love the Enchantment Resort and Mii Amo Spa, Los Abrigados Resort and Spa, Junipine Resort, and L'Auberge de Sedona.
Find your Sedona. There are many places in the world where peace, harmony, and tranquility reign supreme.
I'm here in Sedona now. I feel at home. My grandmother and mother are spiritually resonating, as I view the splendor of the red rock formations. Speaking of rock... I'm ready to rock this seminar! I can be alone tomorrow.
Find your Zone place.

P.S. If you are interested in my Couples Retreat in Sedona in fall 2016, please contact me at askjim@jimfannin.com.
Calling all HuffPost superfans!
Sign up for membership to become a founding member and help shape HuffPost's next chapter